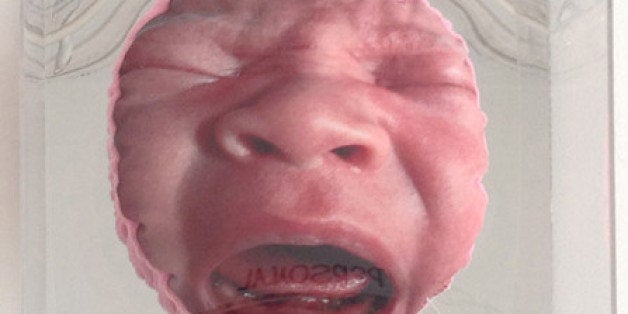 Anyone who has opened a photo album, a graphic news story or a stunning issue of National Geographic knows the power of a piercing photograph. Although we're far from knowing the secret to a masterful image, it's safe to say those who snap a memorable shot aren't afraid to get all kinds of intimate with whatever is on the other side of that lens.
Today we're salivating over Fuchs Projects' "Up Close and Personal," an exhibition that explores the vast potential of a camera when it invades the personal space of its subject, be it Miranda July or a fast food hamburger. Curated by Ruben Natal-San Miguel, the 63 images on display range from funny to touching to eerie to shocking. One photographer captures the expressions of his family members directly after revealing his AIDS diagnosis, while another uses a skin condition called "dermatographia" to render designs on her flesh, capturing the results on camera. The only thing the images all have in common? Their bold choice to crop out extra space and capture their subjects in all their unbridled intensity.
Big names like Zoe Strauss, Annie Leibovitz and Hank Willis Thomas mingle with emerging photographers in the Bushwick exhibition, aligned in their hunger for the perfect shot. Behold, 10 photographers who aren't afraid to get up close and personal, with commentary provided by Fuchs Projects' Rafael Fuchs. Let us know your favorites in the comments.
"Up Close and Personal" runs until May 13, 2014 at Fuchs Projects in New York.
REAL LIFE. REAL NEWS. REAL VOICES.
Help us tell more of the stories that matter from voices that too often remain unheard.