London's Notting Hill Carnival is one of the largest street festivals in the world. Starting its life as a local festival set up by the West Indian community of the Notting Hill area, it has now become a full-blooded Caribbean carnival, which attracts millions of visitors from all over the globe. On Saturday 23 August, coinciding with the Notting Hill Carnival, Tate Modern presented Up Hill Down Hall: An indoor carnival. Informed by the history of the Notting Hill Carnival, Up Hill Down Hall showcased performances by artists Hew Locke and Marlon Griffith against the backdrop of an architectural design by Gia Wolff and a soundscape by Dubmorphology (Gary Stewart and Trevor Mathison). Watch this video to get some impressions of the event.
Trinidad-born, Japan-based visual artist Marlon Griffith presents No Black in the Union Jack, a performance inspired by the 2011 London summer riots. In this piece, Griffith fuses the nationalistic Caribbean motif of the humming bird with anti-riot police shields in body adornments that blur the boundaries between masquerader and police officer. Also a trained masman--the Trinidadian colloquial for Carnival designer--Marlon Griffith has a longstanding experience in creating carnival performances both for the Trinidad and Notting Hill. Griffith is collaborating with Elimu Paddington Arts Mas Band for which he designed two carnival bands in the past.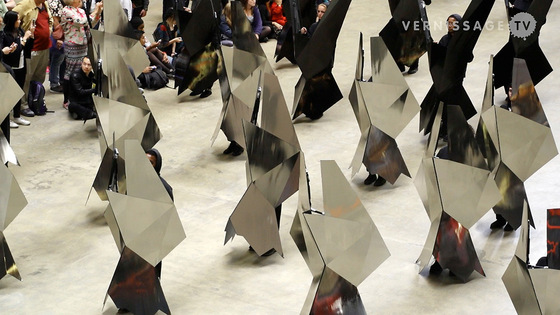 London-based artist Hew Locke creates his first performance work, Give and Take, an exploration of the changing spatial politics of the Notting Hill neighbourhood. Give and Take both critiques the gentrification of the area and embraces the Brazilian influence on this historically pan-Caribbean festival. A piece about the tensions between residents and street revelers it asks 'Who owns the streets of Notting Hill?' Locke's first carnival-inspired performance is the outcome of decade-long meditations on Carnival in Guyana and London and continued engagement with carnival aesthetics that have long suffused his work. Give and Take is realised in collaboration with the Batala Samba-Reggae band.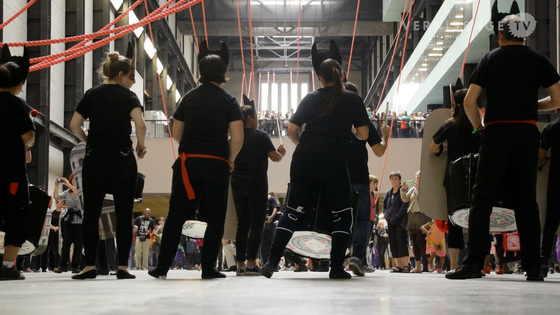 For more videos covering contemporary art and architecture go to VernissageTV.
Calling all HuffPost superfans!
Sign up for membership to become a founding member and help shape HuffPost's next chapter