If there's anything that can help New York City meets its goal of attracting 67 million annual visitors by 2021, it is arts and cultural events such as the Uptown Arts Stroll. On June 1, the Sugar Hill Children's Museum of Art & Storytelling hosted the kickoff celebration of the Northern Manhattan Arts Alliance's (NoMAA) 13th annual festival. Among those in attendance was Fred Dixon, president and CEO of New York's tourism-marketing agency, NYC & Company, who applauded the event's power to attract tourists.

Credit: Michael Palma Mir
"When you look at tourism there are some challenges. The strong American dollar is discouraging international dollars a little," he said. "But it is events like these that are unique and that showcase local neighborhoods in all their vibrancy which international and American travelers want as well. It is this that will continue to help us grow."
At this year's kickoff NoMAA honored visual artist, Wilhelmina Obatola Grant; award-winning cartoonist and educator, Felipe Galindo (aka Feggo); Broadway Housing Communities founder and executive director, Ellen Baxter; and director of the Morris-Jumel Mansion, Carol Ward. Russell Simmons' Def Poetry Jam Tony Award-winning poet, Lemon Andersen was also present. Andersen shared that after years of pursuing an acting career he has decided to focus on television writing.
"I am not acting anymore. I work in TV now and it is such a great opportunity and a bigger audience," he revealed. "I am working on a couple of projects with LeBron James. It's all in development. As a writer I like feeling like I've given an actor a voice. I want that to be my legacy of providing work for artists."
In between writing various scripts, the Brooklyn native shared that he hopes to bring more youth to The Museum to share in the creative and enriching atmosphere. "There is a connection uptown that remains so New York and authentic to the New York City personality. To come up here to The Museum is a reminder of that and I want to bring some kids from Brooklyn up here to share this space."
Fun and Health-oriented Programs Reach Beyond Museum Walls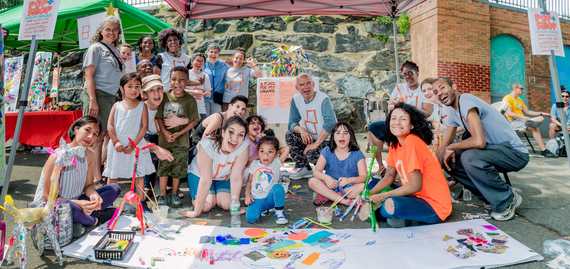 Credit: Michael Palma Mir
Plenty of youth were involved in special programs emphasizing public health at The Museum during June. The two health-focused events included Giraffe Path/Hike the Heights and Sweet Spot Festival. The former kicked off on June 4 in partnership with The Museum and CLIMB (City Life is Moving Bodies). Now in its 12th year the annual outdoor community festival began with a procession from The Museum's plaza that traveled throughout northern Manhattan to Sunken Playground. At the playground hikers reveled in a community party with music, food, art-making and entertainment. And of course, it wouldn't be a proper Giraffe Path without lots of giraffe inspired costumes and banners on display.
The Museum team member, Tony Gonzalez (school programs and special projects) hopes events like these will get more people into local parks when they're not in The Museum. "A lot of us don't take advantage of the beautiful parks because they don't seem beautiful or safe," he said. "So it is a good thing if we can promote having the public go into parks regularly."
From one health-conscious event to another, The Museum celebrated opening day of the 2016 Greenmarket season with a special pop-up edition of Harlem's Sweet Spot Festival on June 18. The partnership arrived as the Sweet Spot Festival celebrates its fifth year of family-friendly events that promote music, art, culture and commerce.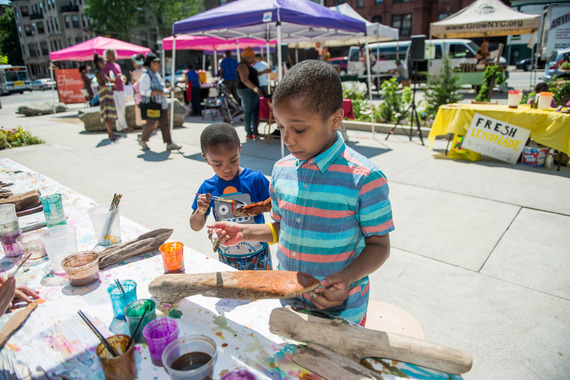 Credit: Michael Palma Mir
For Marsha Reid--executive director of the festival's parent company Kindred Arts--doing a greenmarket theme for the first time was a welcome new avenue to explore.
"We were excited with this opportunity because every community needs corners they can go to for fresh produce," she said. "The Museum's particular corner has potential to be a regular site for that and we want to raise awareness of The Museum as a venue."
--
Up on Sugar Hill is a monthly blog post developed by the Sugar Hill Children's Museum of Art & Storytelling and written by Souleo. Each month features highlights from the museum's exhibitions, public programs and/or blog.
Calling all HuffPost superfans!
Sign up for membership to become a founding member and help shape HuffPost's next chapter