The Sugar Hill neighborhood of Harlem has a much-lauded history, perhaps most notable for the central role it played during the Harlem Renaissance of the 1920s and 1930s. The area was once home to the likes of Duke Ellington, Zora Neale Hurston and Thurgood Marshall. Many gravitated to the community for its location offering sweeping views of upper Manhattan, revered architecture and socially conscious creative community.
This past October announced the arrival of a new neighbor in the area, the Sugar Hill Children's Museum of Art & Storytelling. The Museum is housed within Sugar Hill Project, a mixed-use site that also includes affordable housing units and a preschool. Developed by Broadway Housing Communities and designed by esteemed architect David Adjaye, the innovative building aims to make its mark within the historic neighborhood.
For Columbia University Community Scholar and historian, John Reddick, the Museum has a prime opportunity to reflect the significant role African-Americans played in establishing the neighborhood as a cultural force. Such a viewpoint is reflected in the Museum's current exhibition "People, Places, and Things: Selections from The Studio Museum" which includes depictions of everyday life in communities throughout the U.S., including Harlem.
"A lot of Sugar Hill has been landmarked and as architecture gets more expensive you realize black people did live there and what that must have meant in terms of the life that was part of that architecture," said Reddick, a Harlem resident. "We walk through a neighborhood and see white people there and think we could never afford it. But we lived there too, and those who lived there weren't all impoverished. As people fled cities, black people stayed in neighborhoods like Sugar Hill during the postwar era."
However, in recent times the neighborhood has faced high poverty rates and increasing housing costs as gentrification spreads throughout Harlem. It is a paradox familiar in many U.S. cities. For this reason, Naomi Fertitta, author of New York: The Big City and its Little Neighborhoods, believes the Museum can look to Sugar Hill political figures of the past to help advance the cause for housing and economic social justice.
"People like W.E.B. Du Bois and Roy Wilkins are part of African-American history and the beginning of a political movement that wasn't there before the beginning of the 20th century. They tried to break down Jim Crow laws, protested against lynching and discrimination," said Fertitta. "You cannot stop gentrification but can create an environment of mixed income housing. It's important because we shouldn't be this exclusive rich enclave that ignores its poorer neighborhoods. A cultural and educational institution like the Museum can participate in that politically to ensure people are protected and can live in this neighborhood in a comfortable fashion."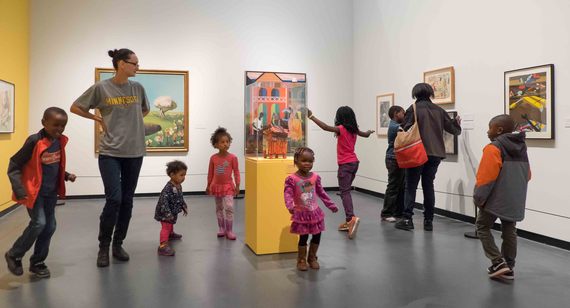 The Museum's
People, Places and Things: Selections From The Studio Museum exhibition/Credit: Michael J. Palma
As a fourth generation Harlemite, visual artist David Shrobe is aware of the challenges facing Sugar Hill. But as the Sugar Hill Children's Museum of Art & Storytelling's first artist-in-residence, he is committed to representing the beauty of Sugar Hill through his art. For Shrobe, the Museum represents the brightest of Sugar Hill's past, present and future.
"I have a special connection to Harlem, and its many neighborhoods such as Sugar Hill; for its rich history and culture, art, food, old bodegas and classy uptown style. The photography of Roy DeCarava and the poetry of Langston Hughes have been major inspirations to me," said Shrobe. "This is where I began to really create my art, documenting this architectural treasure, people, and the changes to the neighborhood. Having the Museum as part of a larger vision for community revitalization truly provides a sense of pride and value that good things are happening here in Sugar Hill."
Up on Sugar Hill is a monthly blog post developed by the Sugar Hill Children's Museum of Art & Storytelling and written by Souleo. Each month features highlights from the museum's exhibitions, public programs and/or blog.
REAL LIFE. REAL NEWS. REAL VOICES.
Help us tell more of the stories that matter from voices that too often remain unheard.