I already visited Bratislava at the start of this trip, when I arrived from Vienna airport by crowded bus.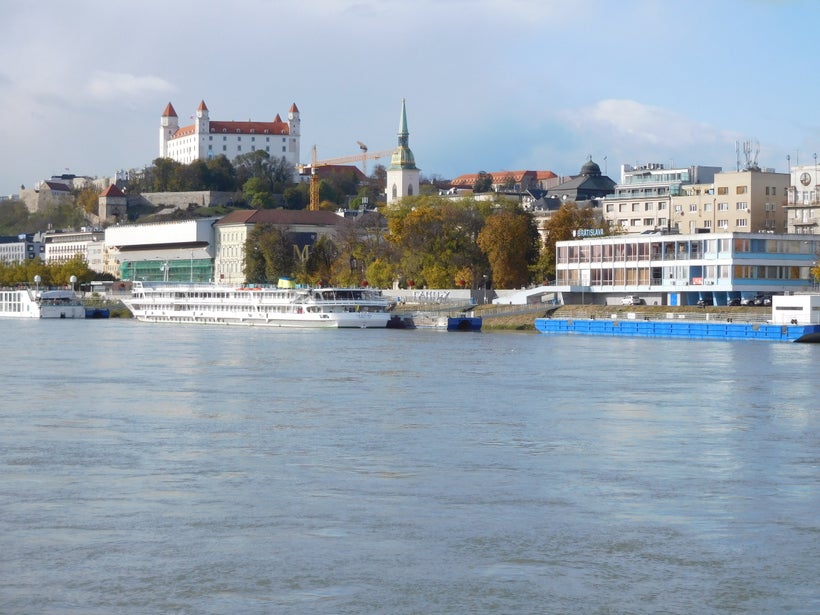 Just my luck, I found an ancient lady taking up two seats in the second row, with her jacket and other assets resting in royal majesty on the window seat. So, I asked her if she wouldn't effing mind moving over. Well, how was I to know she was crippled?
She virtually had to lift and carry her gammy leg over with her, amid much zifting, puffing and ouching. Was my face red! She just ignored me when I said I would willingly clamber over her gammy leg to the window.
It was here that I once more made the discovery that the Danube is not so blue, at least not on that day.
The Danube so blue, so blue, so blue;
I'm sorry, ole' bean, you ain't got a clue!
'Coz here it is green, grey-green, brown-green!
I'm sorry, ole' bean, ole' bean, ole' bean!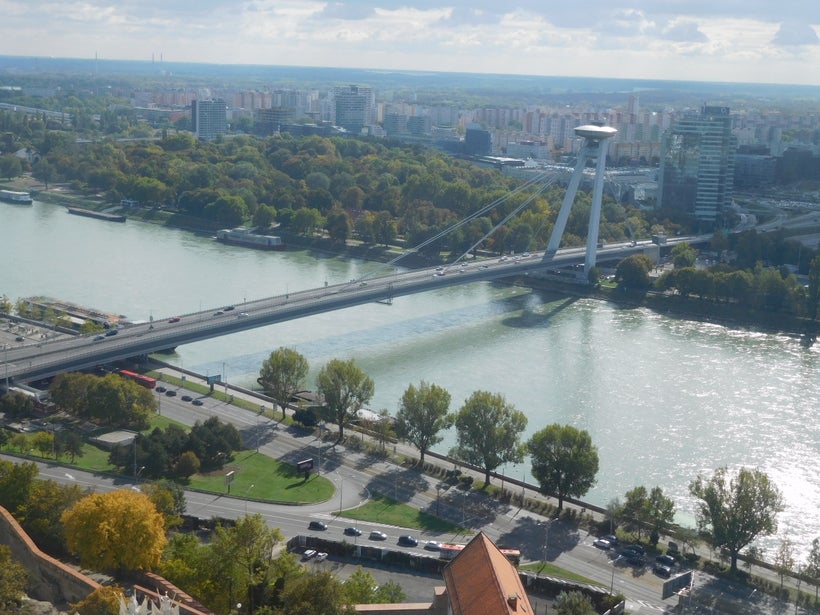 Apart from that, Bratislava's Old Town is delightful – lots of historic buildings, churches with green copper onion-domed steeples in the Austrian-Tyrolean tradition, a wonderful old town hall with a tower, the equally towered St. Michael's town gate, and narrow twisting pedestrian lanes, all in the shadow of a hilltop white castle with red roofs and turrets.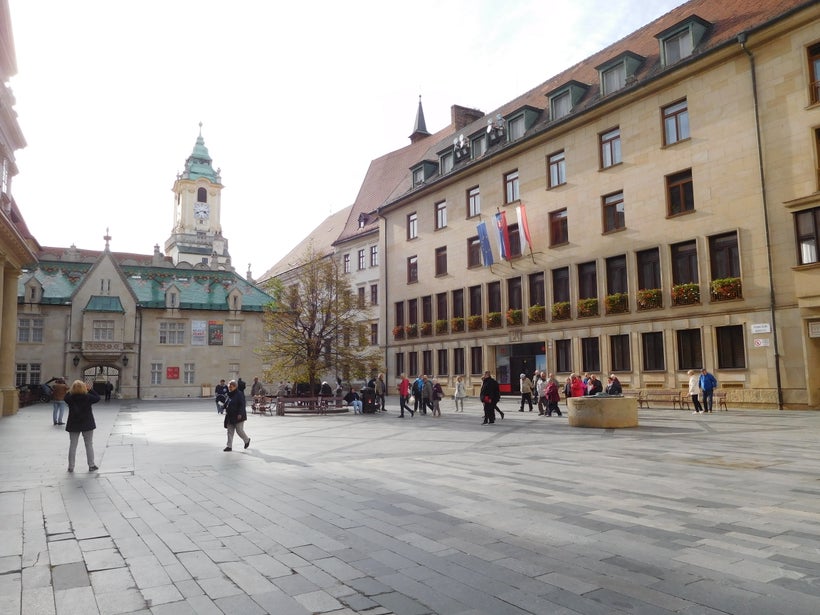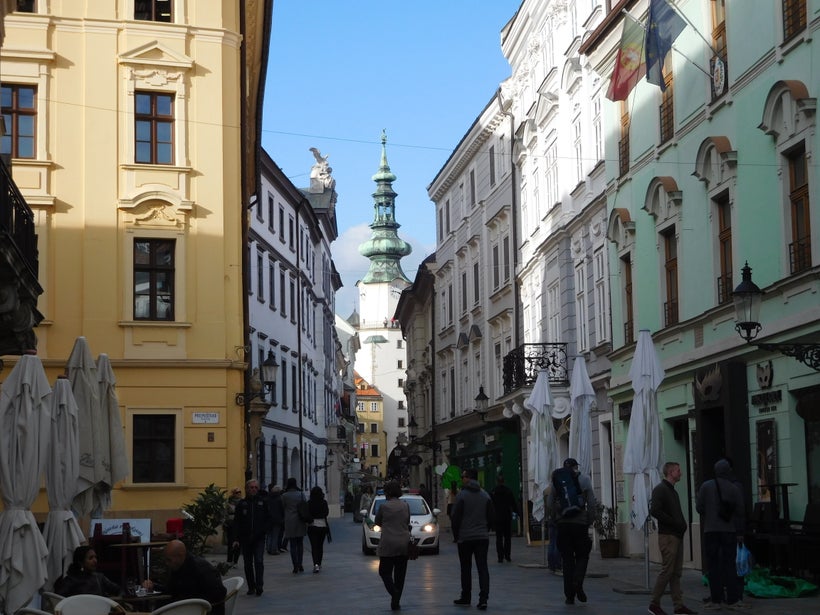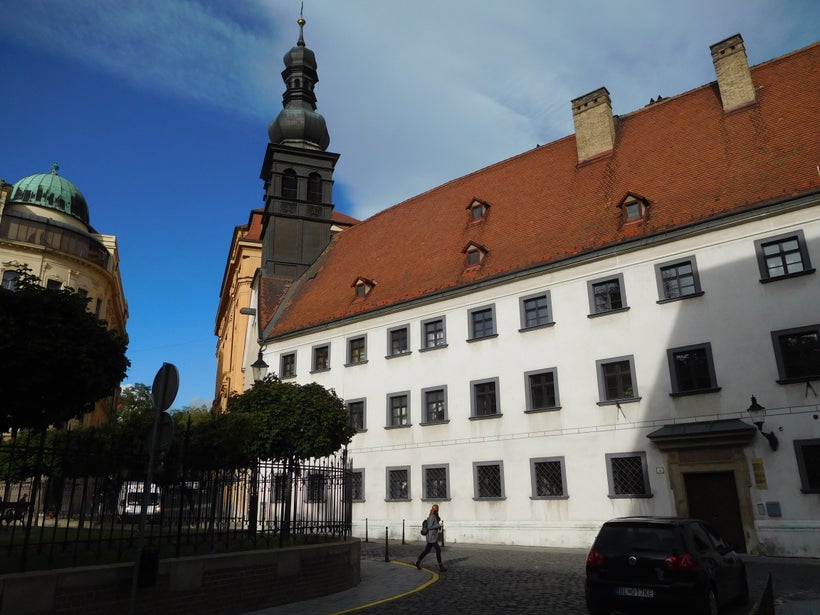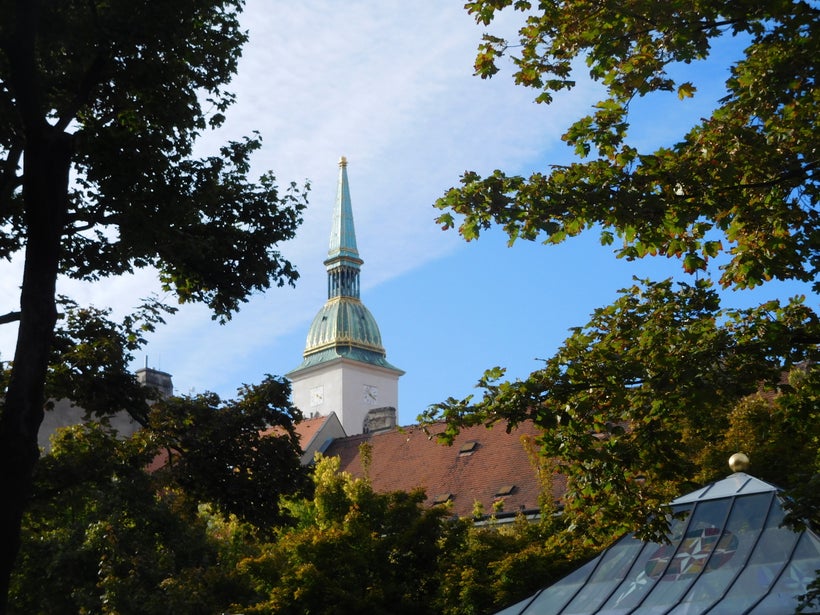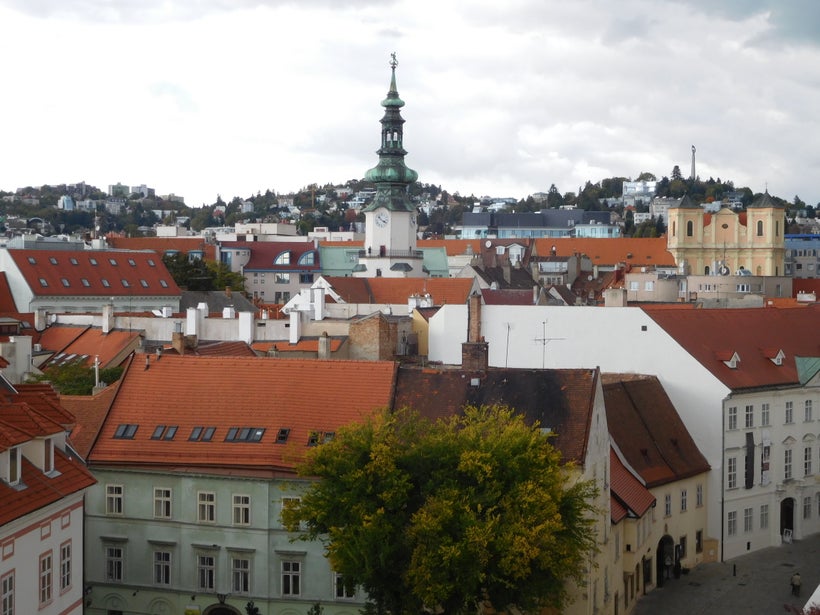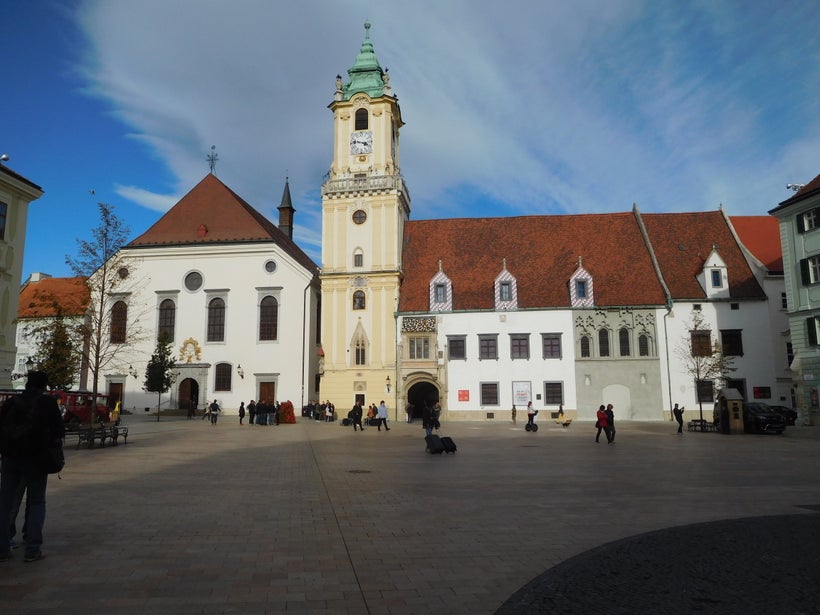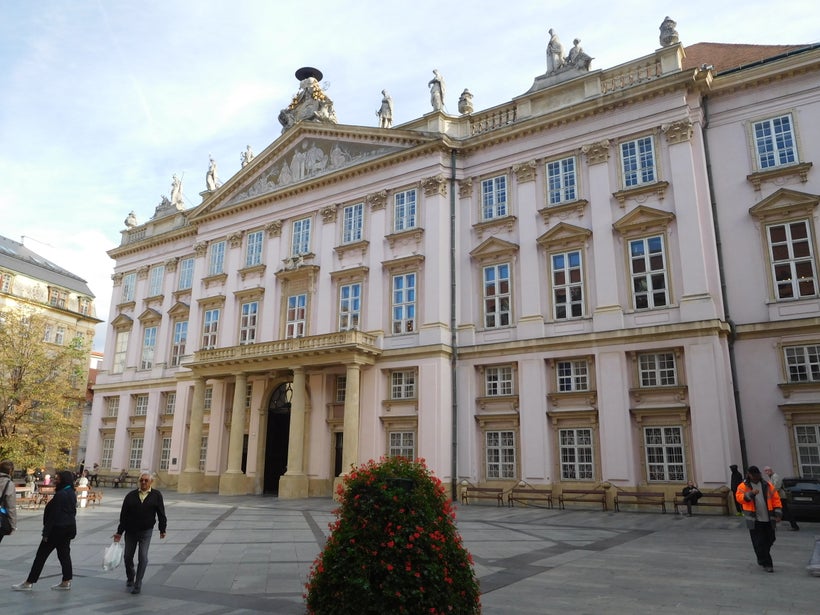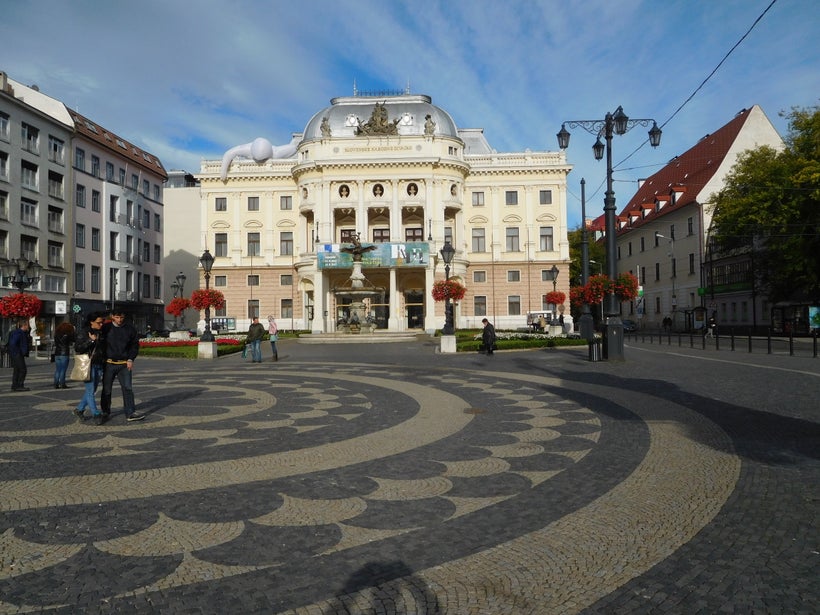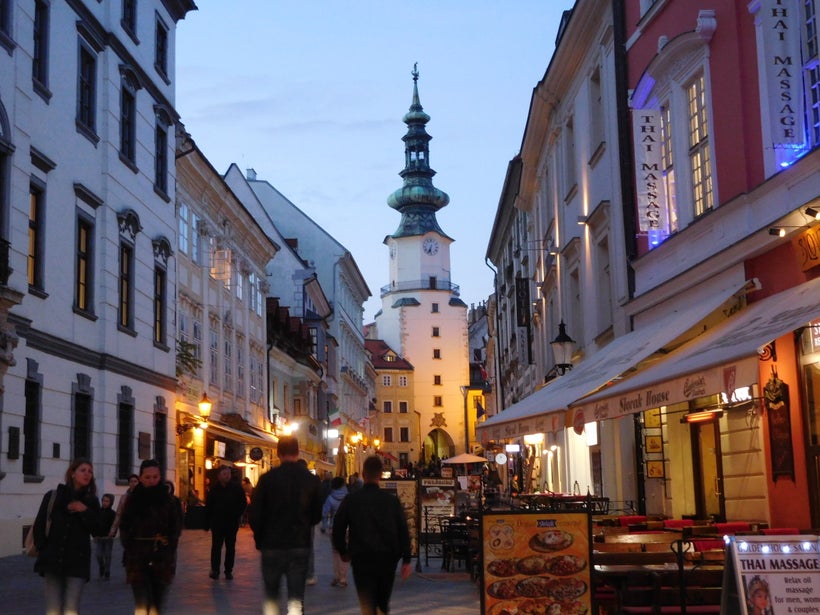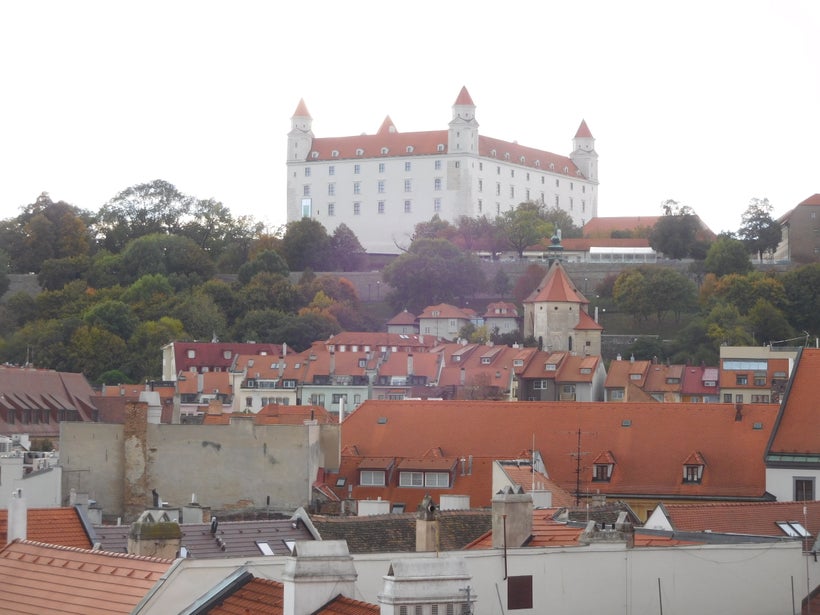 The original castle, first built in the 10th century and later expanded until it reached its baroque glory days in the 17th century, got the worst of a fire when some soldiers did a bit of careless smoking or whatever in 1811. It has since been restored.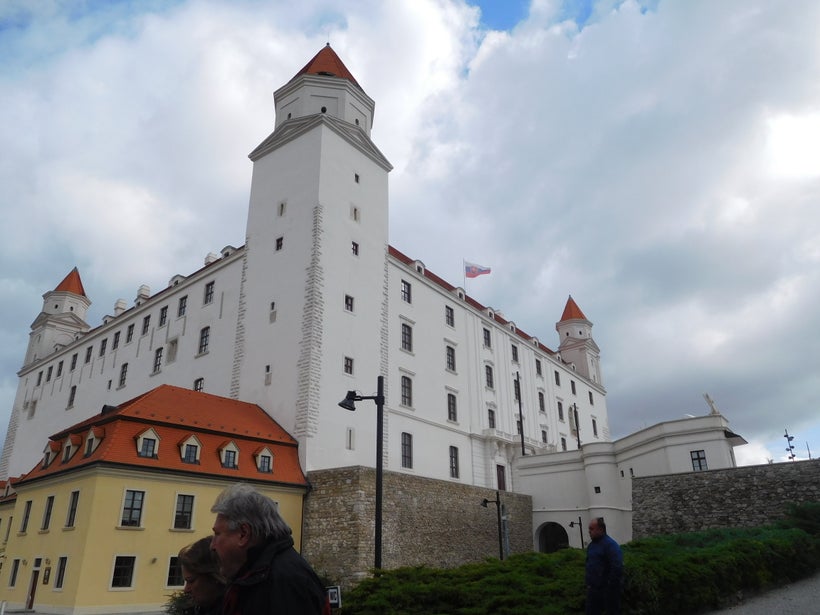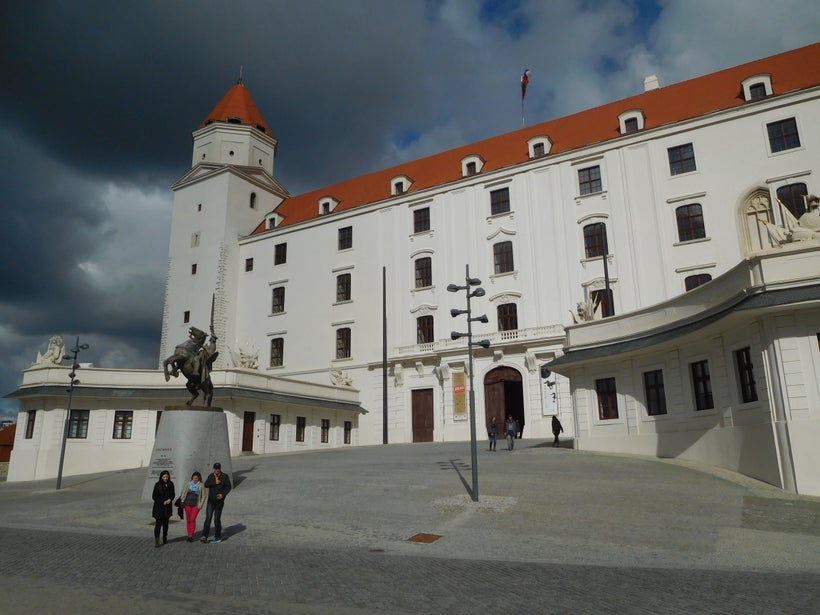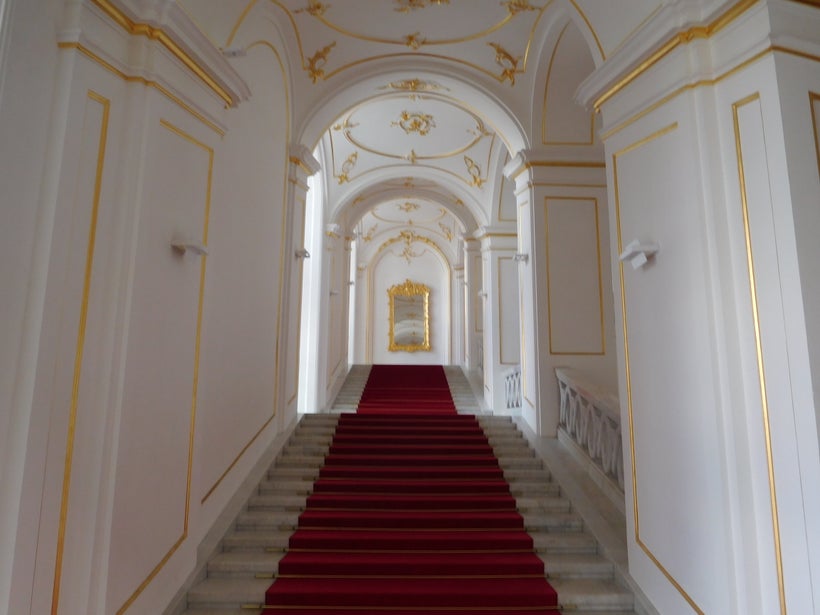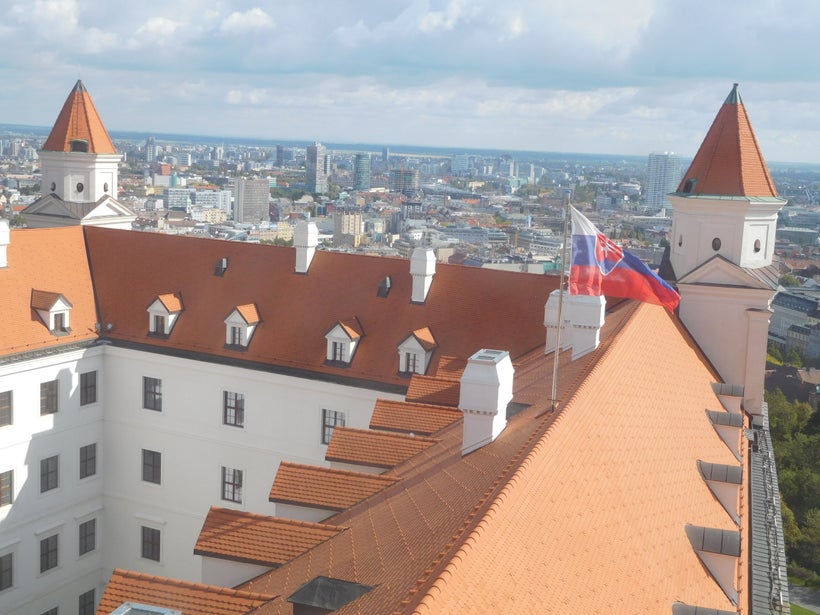 Known generally by its German name Pressburg, the city was for centuries capital of Hungary, under the name Pozsony, after the Turks kicked the Magyars out of Buda in the mid-15th century.
From 1536 to 1830 eleven Hungarian kings and queens were crowned in St. Martin's Cathedral, the later ones being the emperors and empresses of Austria, with the crown jewels kept in the castle's Coronation Tower.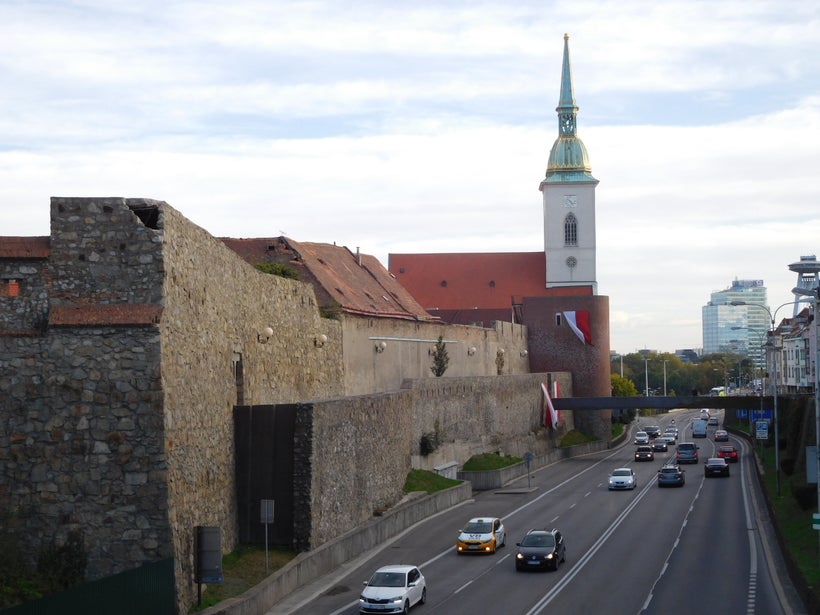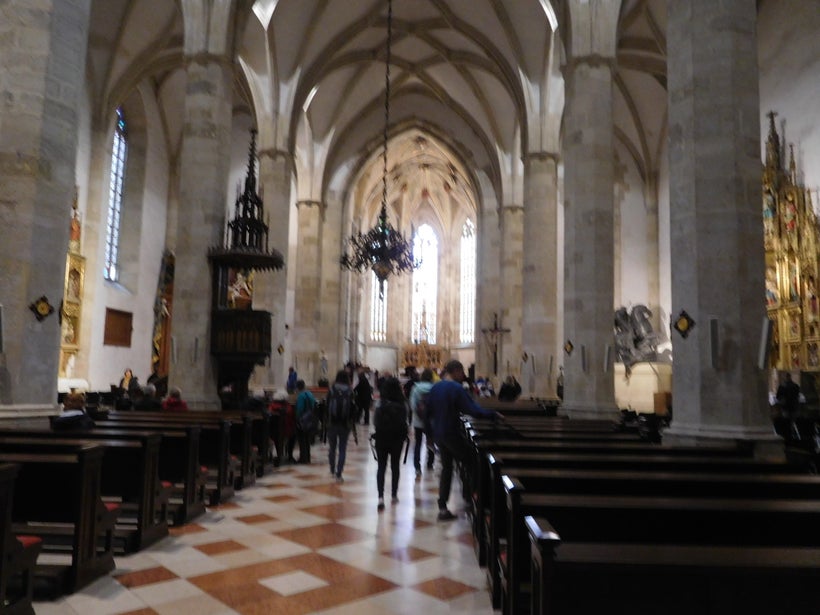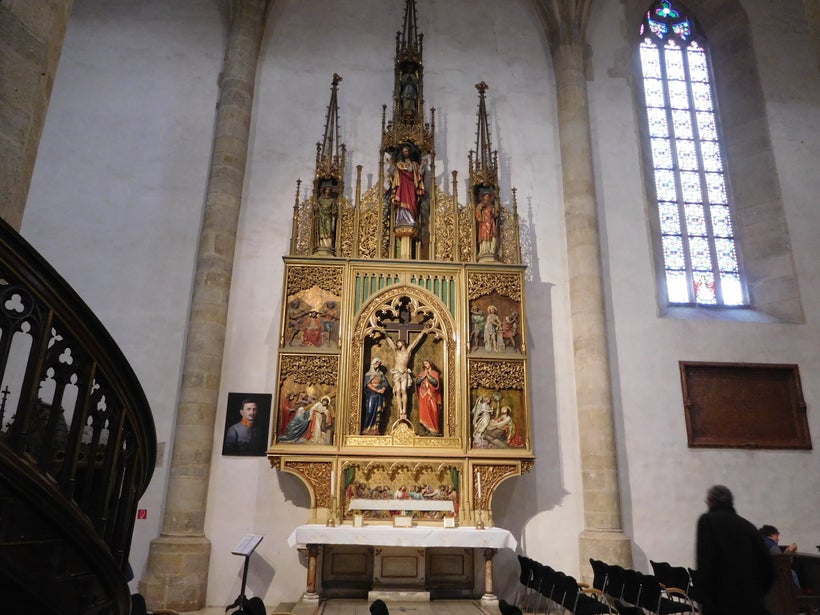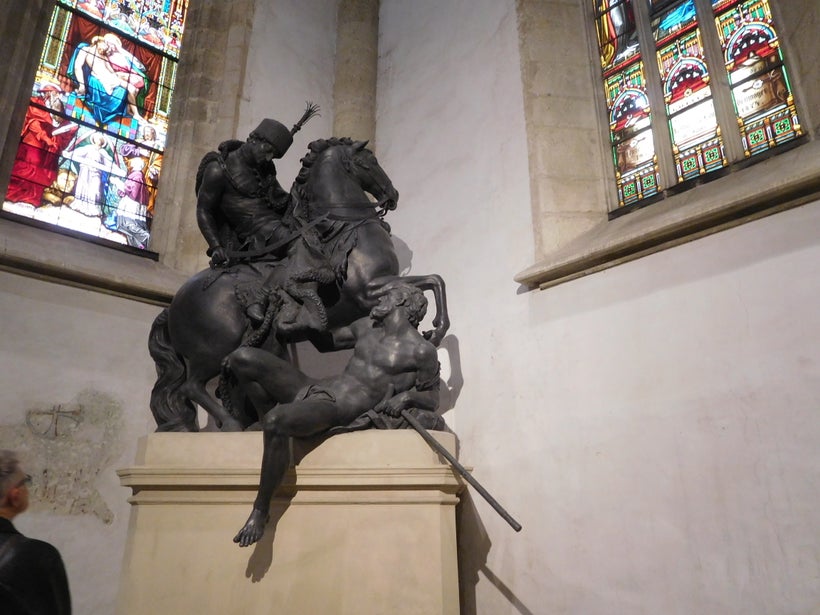 The Grassalkovich Palace, completed in 1760 and now the Presidential Palace, is held to be a fine example of late Baroque architecture, but it anachronistically recalls a late 19th century railway station built in Napoleon III style. Oh well, we can't agree on everything.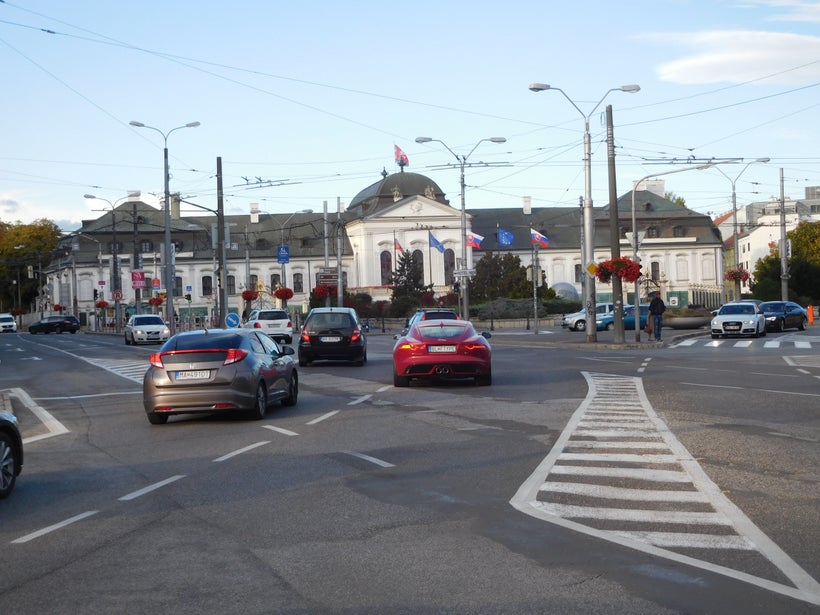 Bratislava has always been a pretty cosmopolitan city with a strong cultural and scientific tradition. It was already a Neolithic settlement in 5000 BCE. The Celtic Boii founded the first significant settlement here in the 2nd century BCE, followed some six or seven centuries later by the Slavs.
But nothing quite prepared me for the bit of retro at the Café Studio Disco (with live music!!!), and I mean really, really retro. It was just gone 8 p.m, and I needed a bite. Well it was not so much that the band was playing the House of the Rising Sun, the Beatles, and some prehistoric oldies from the 50s and 60s; it was the patrons from the Pleistocene age.
They were rocking up a storm on the little dance floor while others shoulder-heaved, seat-dancing in their chairs, followed by some fine twisting and boogie-woogie-ing. In a way it could seem depressing if you're a morose old bugger. On the other hand, they really were having fun and enjoying themselves.
Whatever, it was really sizzling. Needless to say, Yours Truly did not participate.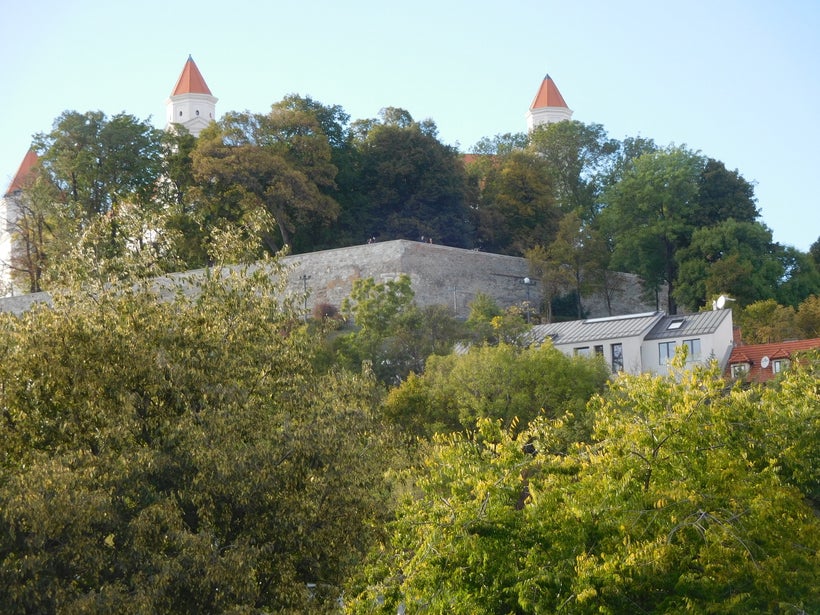 On the following night, Saturday, all 500,000 of Bratislava's citizens, and then some, must have been out and about, apparently with no particular goal in mind other than to wander around with their kids on their shoulders, enjoying the splendours of the Old Town and its floodlights. What a scrum!
In the main square the crowds milled round a white cartoon balloon figure (it may be Spiderman) from the 21st century flapping about inanely in front of the Town Hall tower from the 14th century.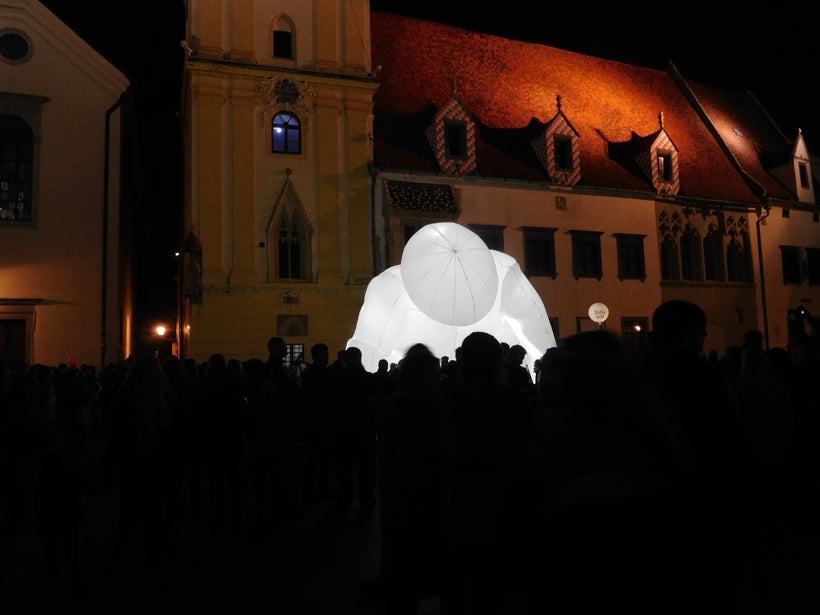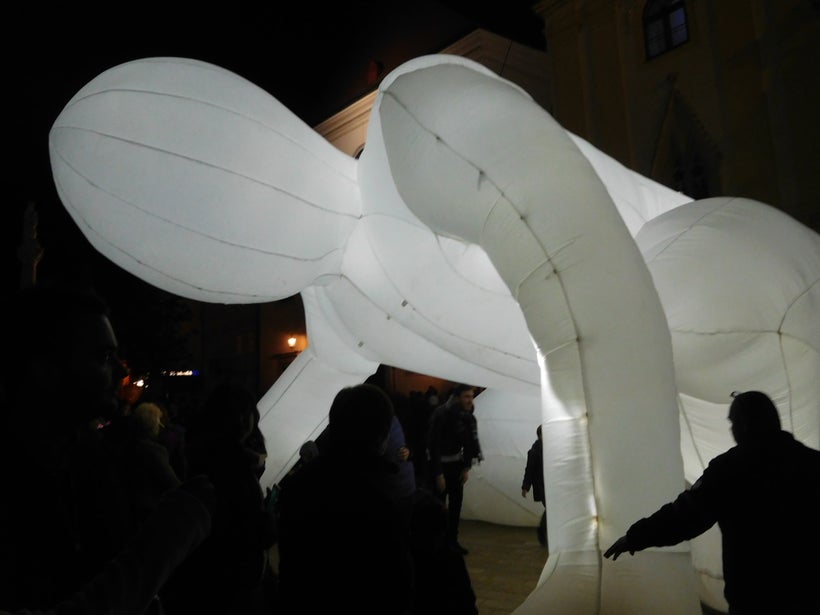 In another square huge throngs stood slack-jawed in front of a church façade on which a guy projected different shapes and forms cascading in waves and billowing out like clouds. A good time was had by one and all, including Yours Truly.
Now, on my second visit, Rivka's not particularly interested in wandering round the Old Town as she can see the castle from the boat. She wants to conserve her energy for Vienna. So, I get off to do what I didn't earlier - take the lift up to UFO, the restaurant atop the support pylon of the New Bridge, so called because it looks like a flying saucer.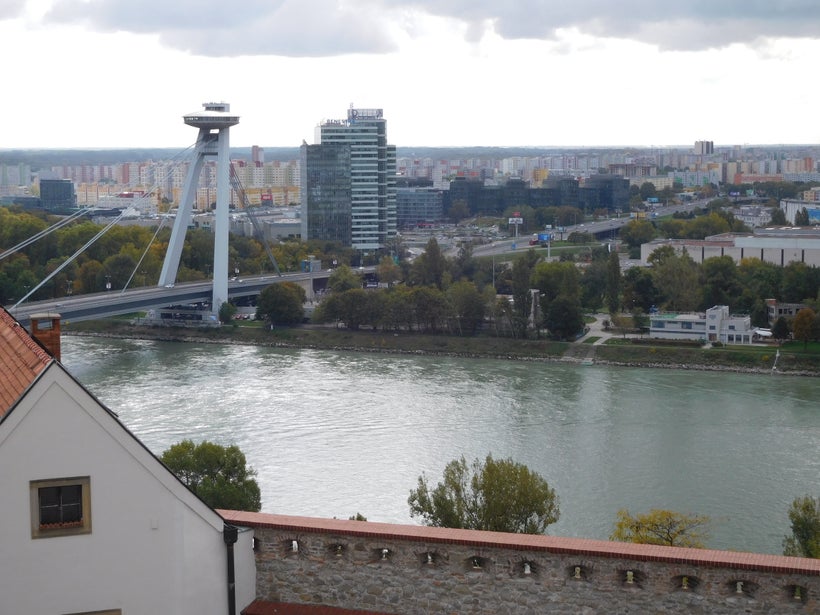 From here, 270 feet above the Danube, there are splendid panoramic views over the city and the junction of three countries – Slovakia, Austria and Hungary.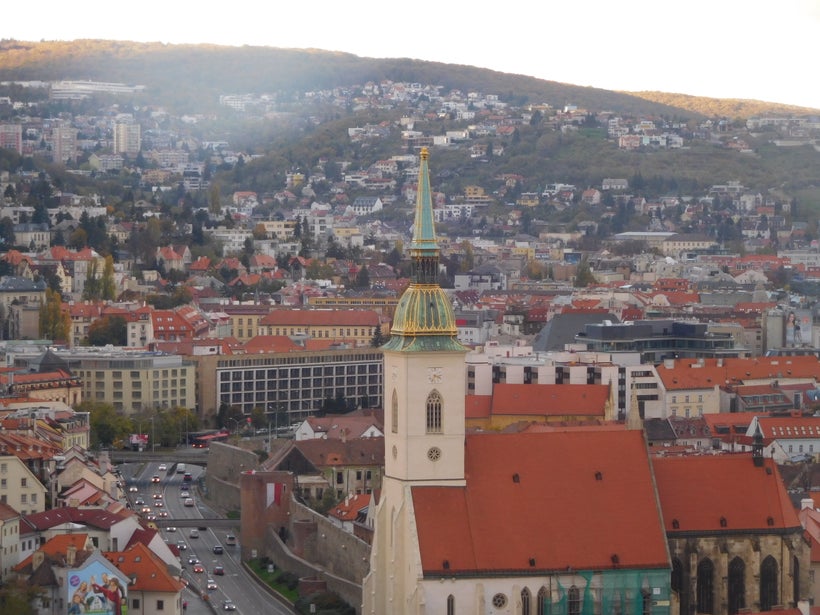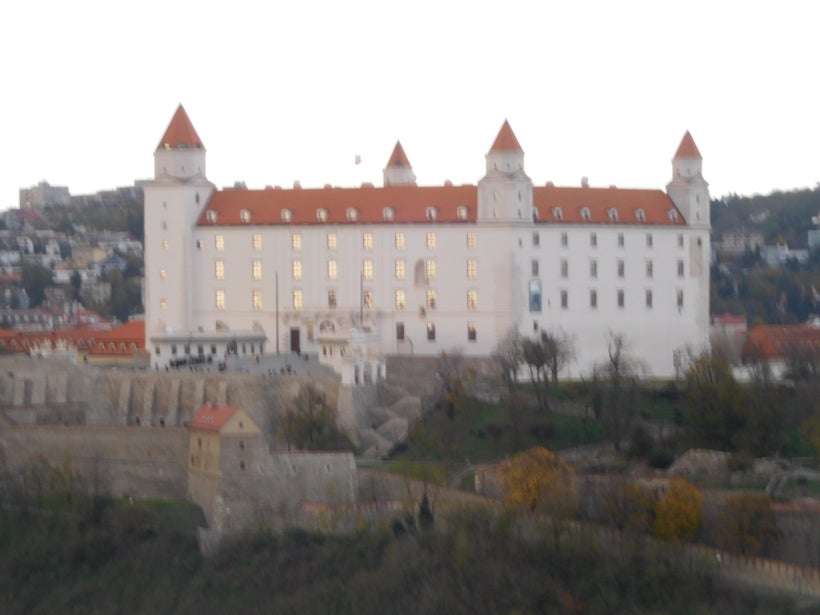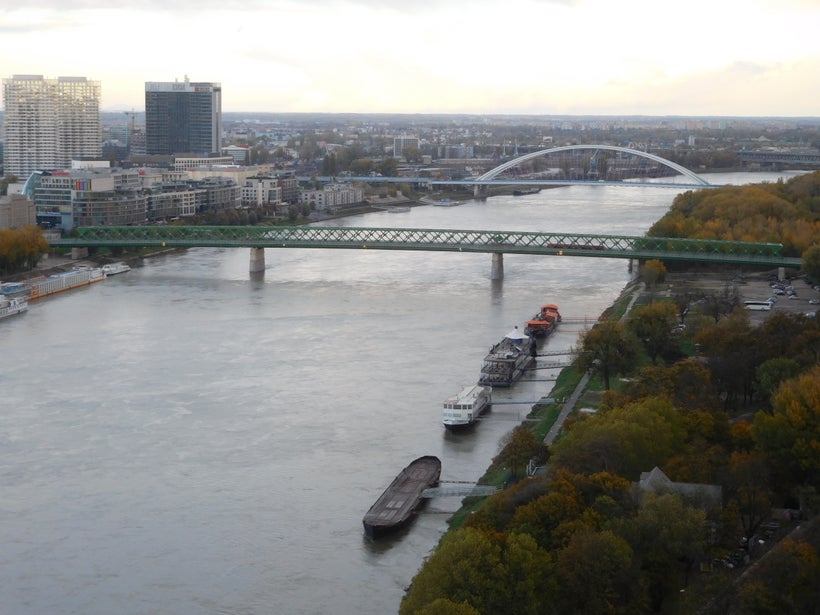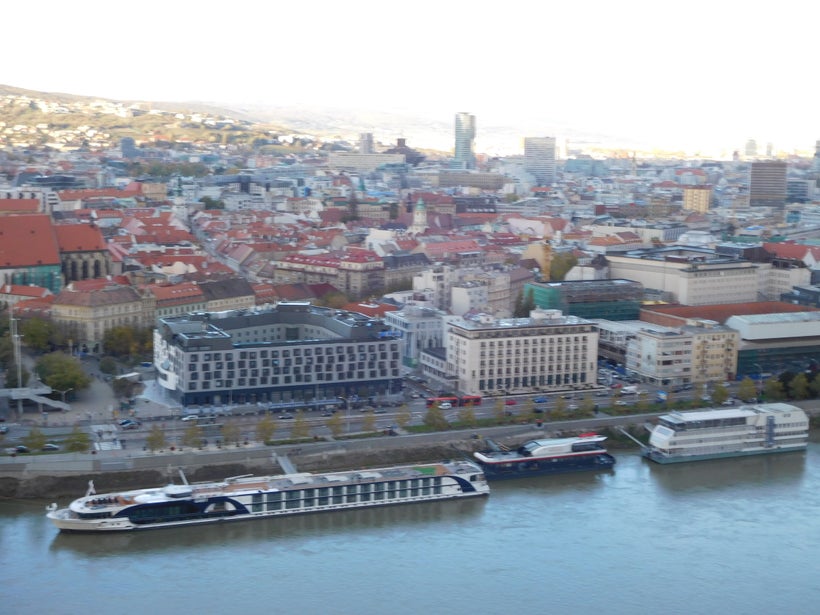 Back on board the entertainment tonight is 'Dancing Bingo.' There's a list of nine dances to be played, and teams put down which will be the first three based on the number people dancing to each one.
And the winner is YMCA with 22, followed by Let's Twist Again and the Chicken Dance. Actually it's all rather fun. Even Yours Truly, the grouchy grinch, manages to crack a smile or two, without participating of course.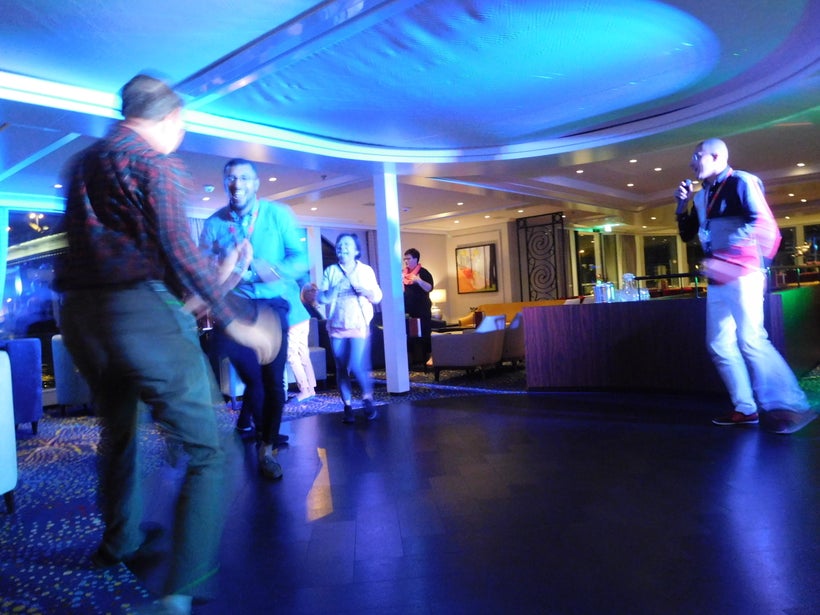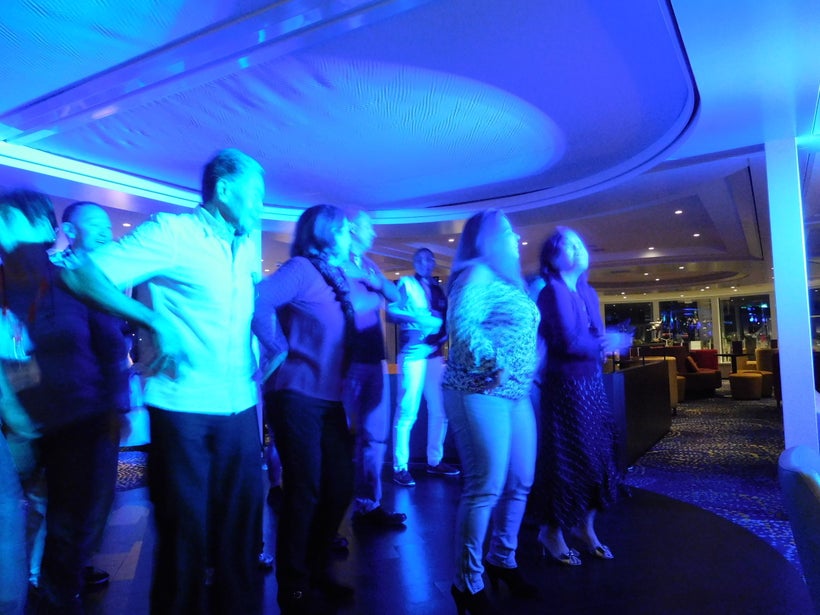 Early-ish next morning we reach Vienna. The Danube proper is several miles from the centre, which is reached by canals too narrow and shallow to take our boat, so we're bussed in.
Now why is it that tourist groups go into thigh-slapping cascades of laughter at the weakest jokes guides make? Ah, the mysteries of group travel.
We're guided round the magnificent buildings of this handsome monumental city, the huge Hoffburg Imperial Palace complex, Parliament, museums, universities, and St. Stephen's cathedral.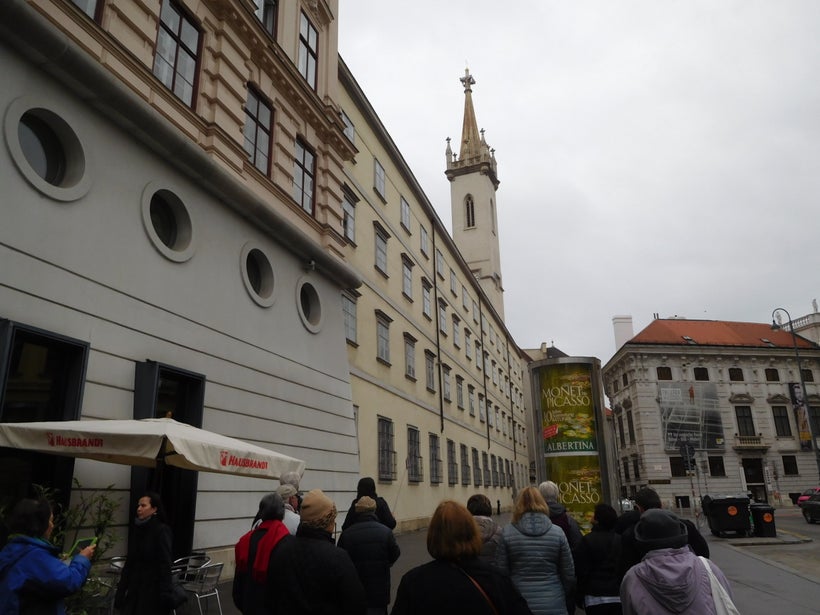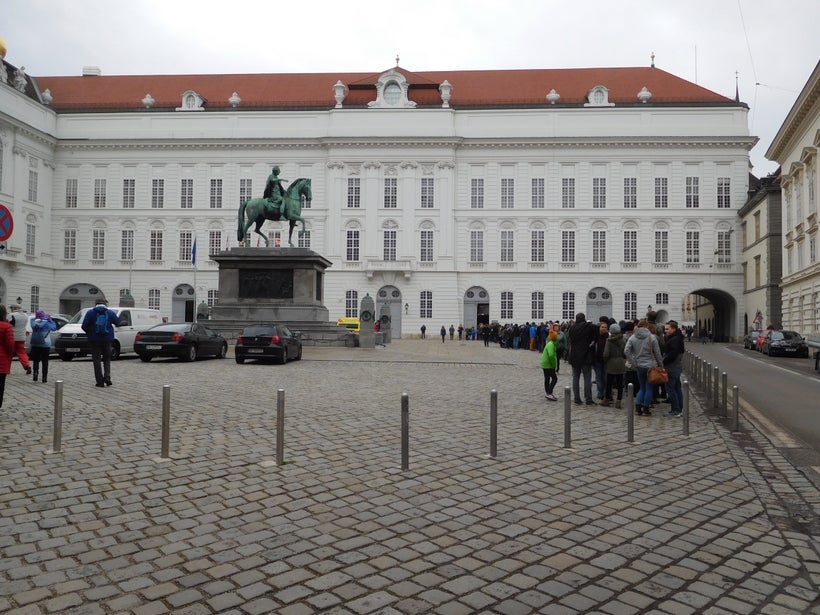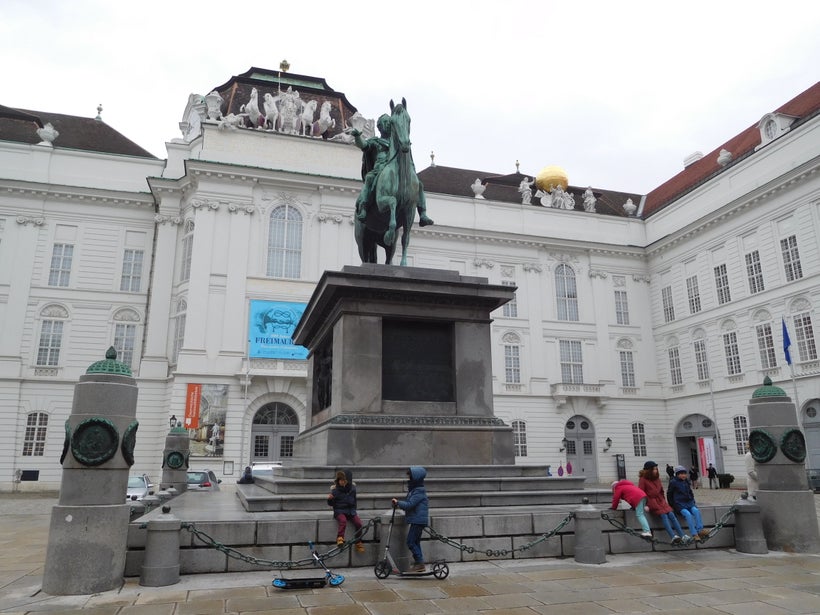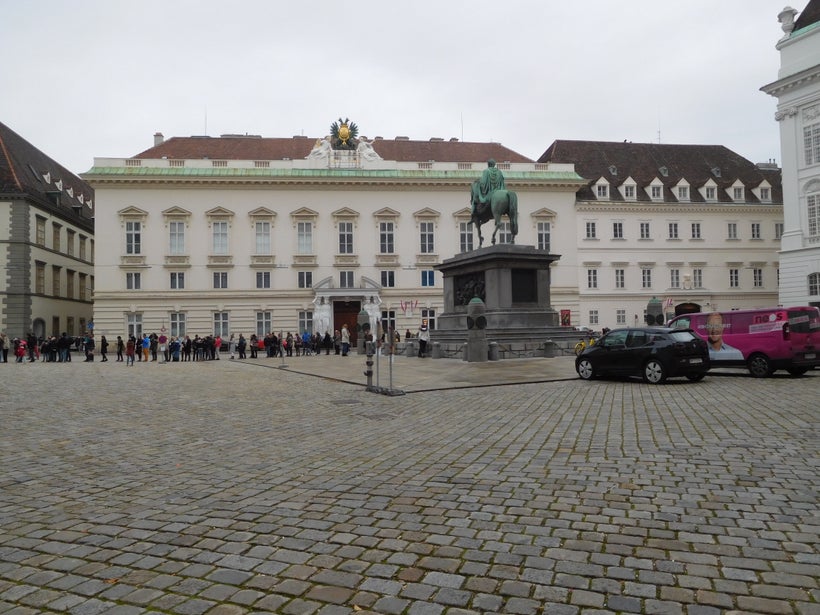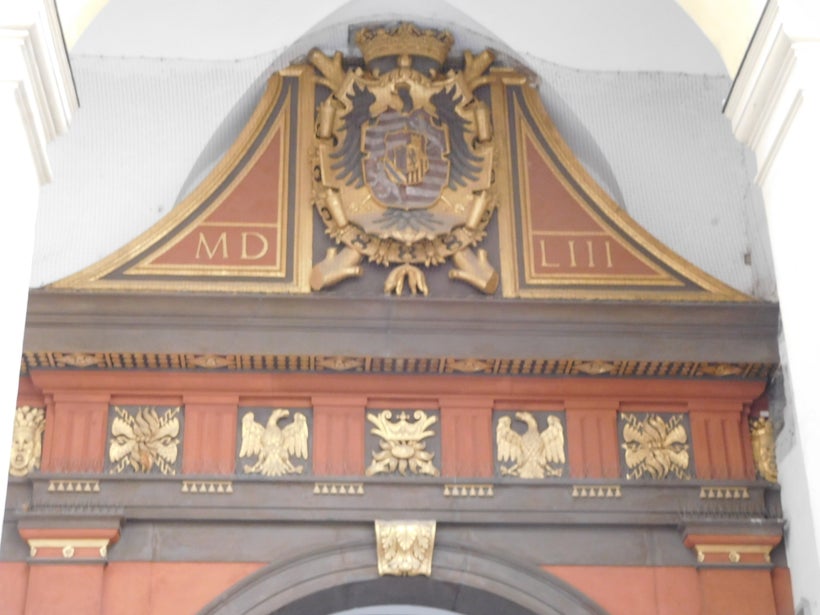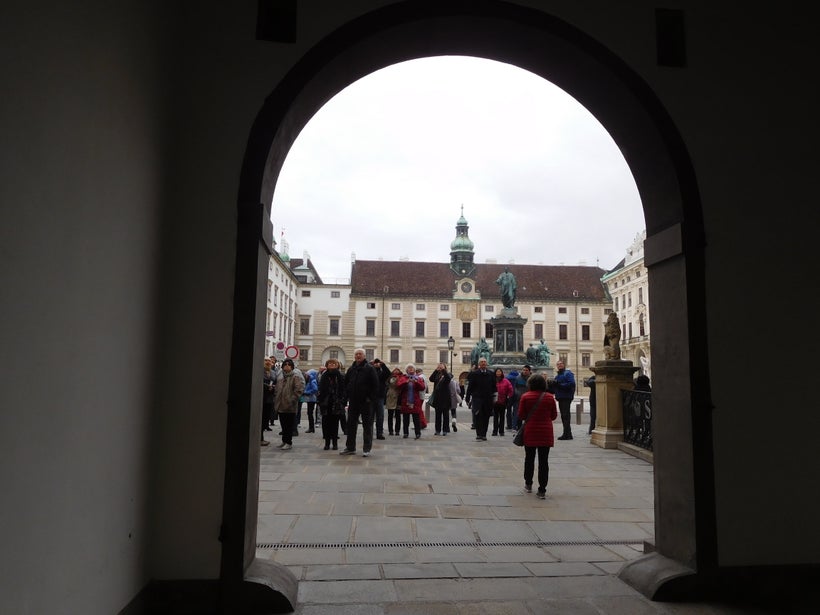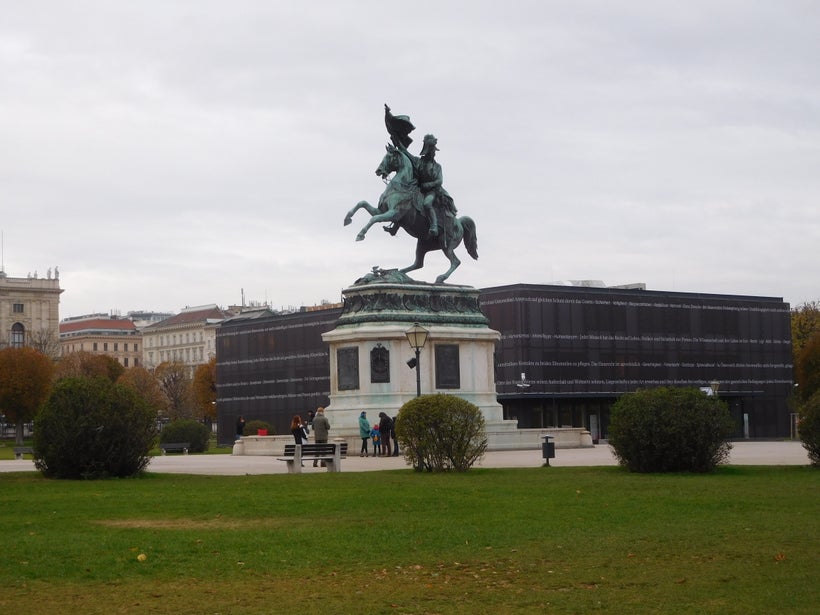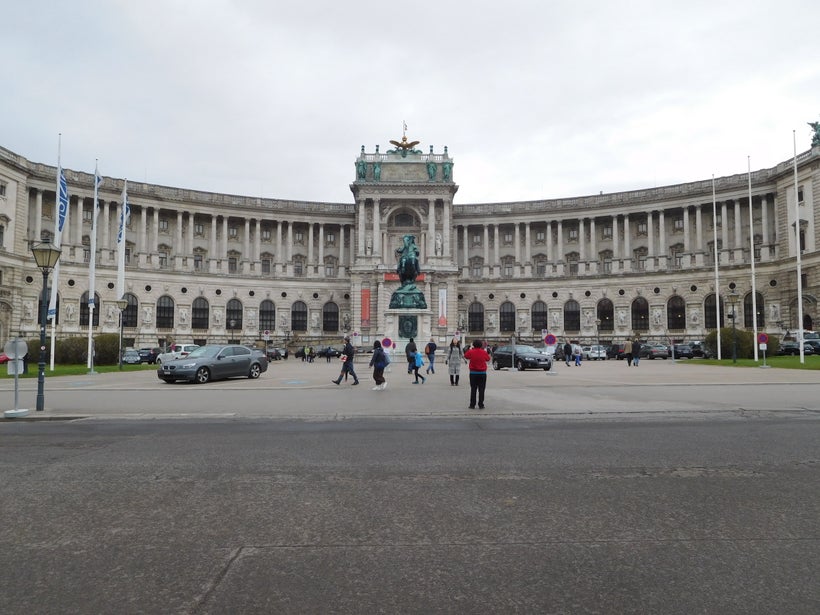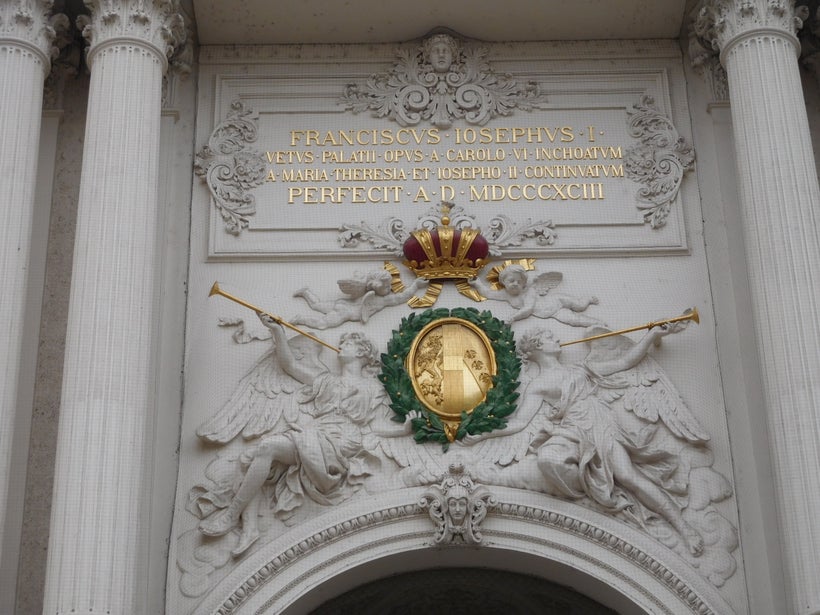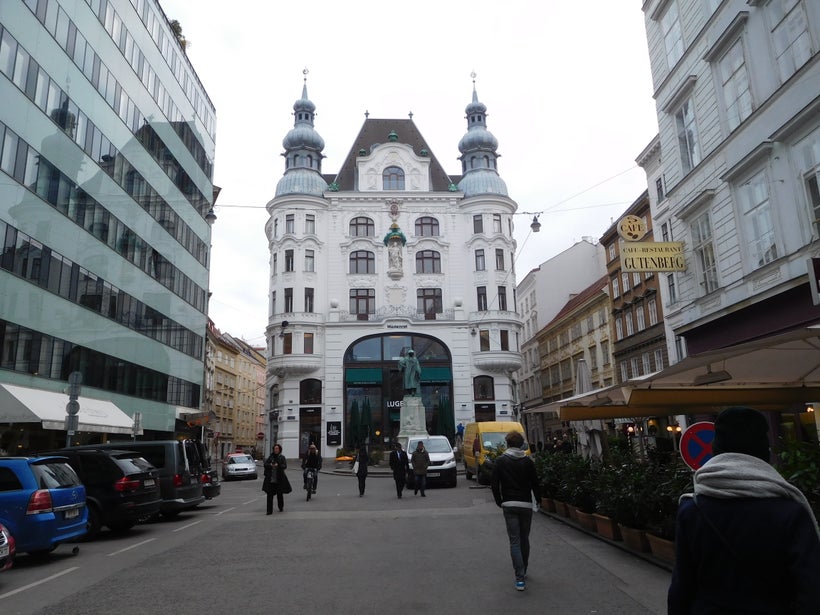 Ah, St. Stephen's – one of the many Waterloos of my life, with its 450-foot-high spire! It was here 56 years ago that I took the lift up the north tower, then got an attack of vertigo and spent an hour cringing round the central column like a demented crab without daring to tip-toe to look over from the edge, even though it was enclosed in glass.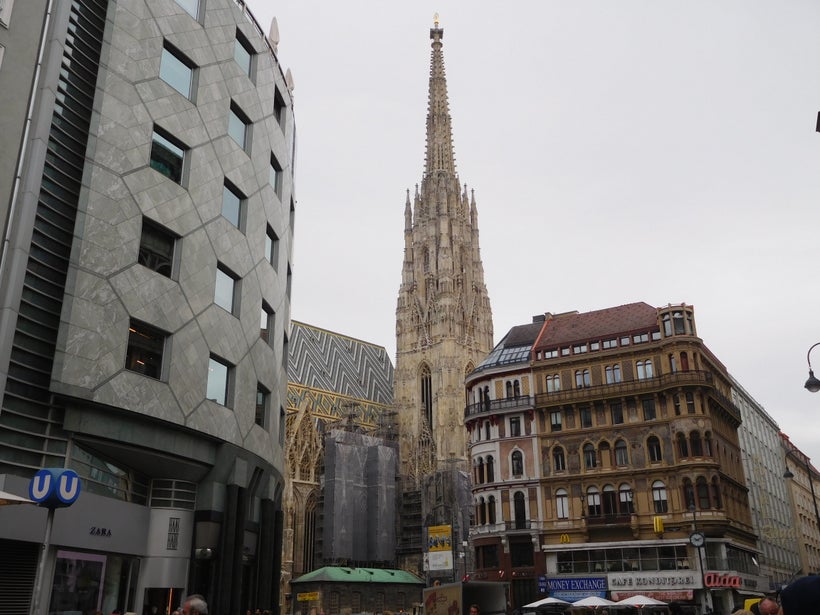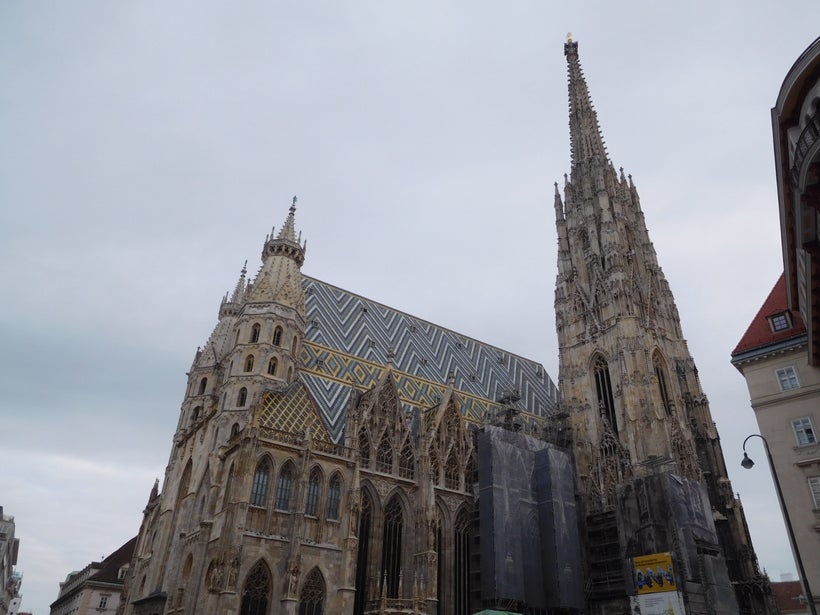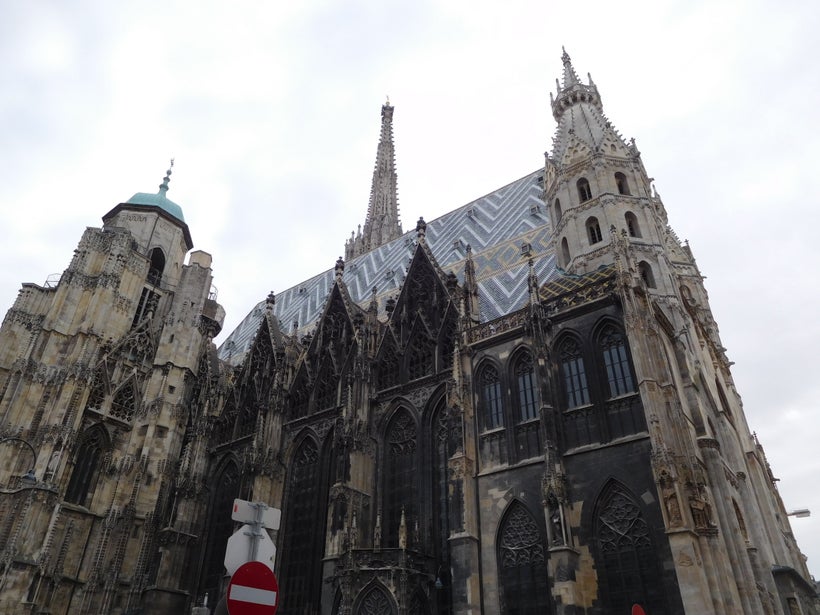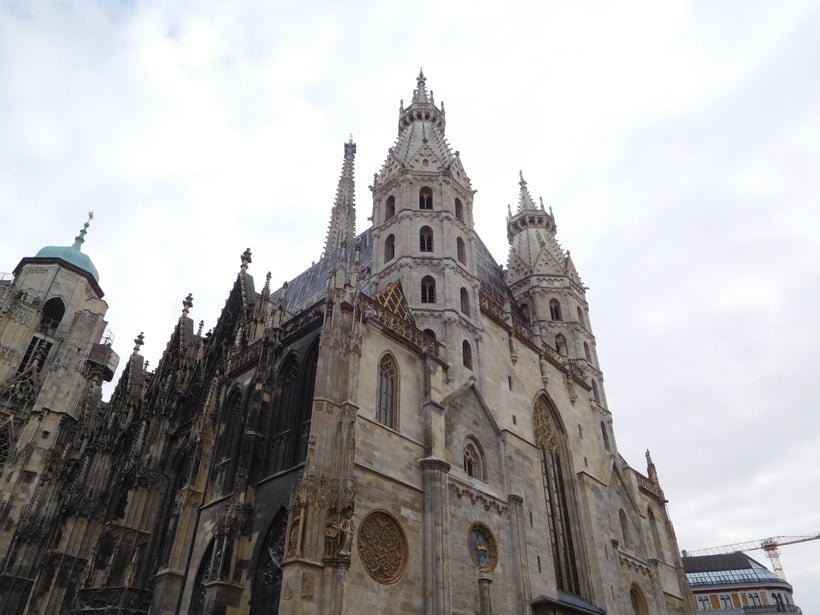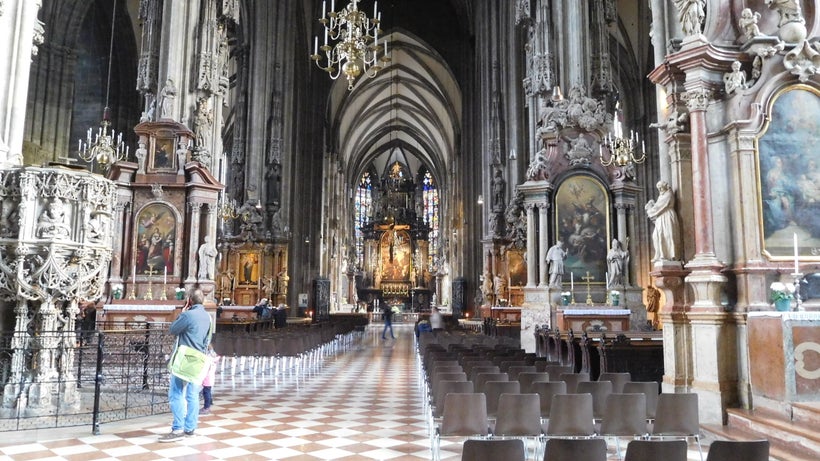 It's at a terrace café within the cathedral's shadow that Rivka now decides to go curve-ball and throw me totally out of kilter. We're not going on the optional expensive tour to the Schönbrunn Palace outside the city – I've already seen it and Rivka's a city gal. We're coming back to the centre after lunch on the boat.
Now, I've spent the last two days psyching myself up to be nice for a ghastly afternoon shopping rampage.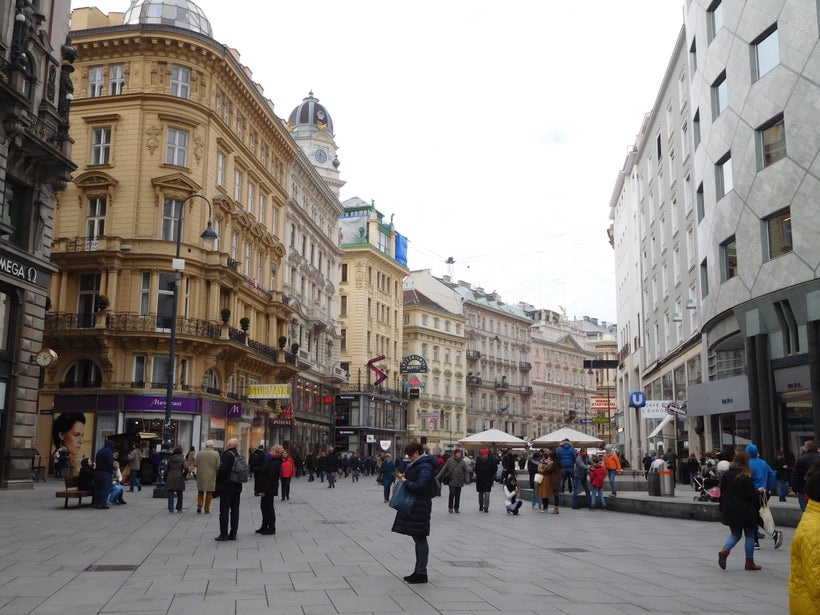 But when I say 'So, we can go shopping,' Madam replies: 'Are you crazy? Let's go to a museum.' Well, would you ever! There's a slight relapse when the afternoon comes with a little trip into a jewellery shop, but that won't involve having to buy a new case, and anyway she finds the amber earrings too expensive at $500.
And that's that, no running amok through the shopping emporia of imperial Vienna, no nothing. Rivka returns to the boat by the shuttle bus, and I do a round-about journey, trying out the metro's five lines – I'm a metro nut, see!
It's functional and seems fairly efficient rather than a work of art. I find a station near the boat harbour, take a tram even closer and re-board the boat.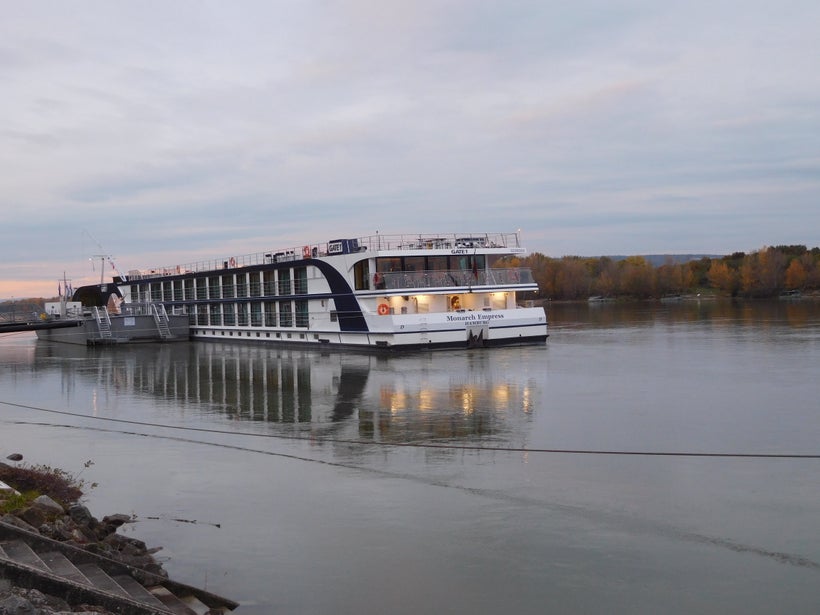 [Upcoming blog: Up the Danube without a paddle - Dürnstein Castle and Richard the Lionheart: River boating on the Looney Front]
By the same author: Swimming With Fidel: The Toils Of An Accidental Journalist. Available on Kindle, with free excerpts at https://www.amazon.com/Swimming-Fidel-Toils-Accidental-Journalist-ebook/dp/B00IMNWV2W and in print version on Amazon in the U.S at https://www.amazon.com/Swimming-Fidel-Toils-Accidental-Journalist/dp/1496080319/ref=tmm_pap_swatch_0?_encoding=UTF8&qid=&sr=
And: Bussing The Amazon: On The Road With The Accidental Journalist; available with free excerpts on Kindle and in print version at https://www.amazon.com/Bussing-Amazon-Road-Accidental-Journalist-ebook/dp/B00KNCGD9M
REAL LIFE. REAL NEWS. REAL VOICES.
Help us tell more of the stories that matter from voices that too often remain unheard.
This post was published on the now-closed HuffPost Contributor platform. Contributors control their own work and posted freely to our site. If you need to flag this entry as abusive,
send us an email
.