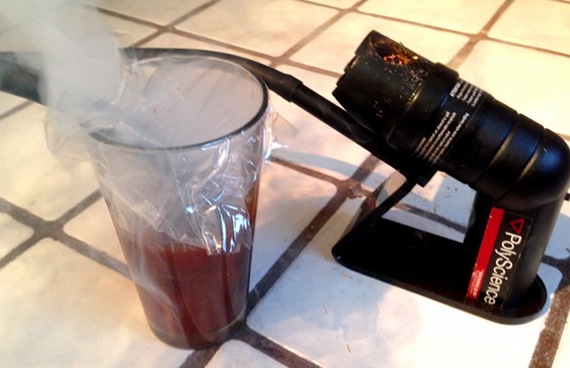 By now, you know Raichlen's rule: If a food tastes great baked, fried or sautéed, it tastes even better grilled. So, if a cocktail hits the spot shaken or stirred, it surely sips better smoked.
Which brings us to one of one of the hottest trends in American mixology these days: smoked cocktails. Smoke has been called the "umami of barbecue." According to master mixologist, Dale DeGroff (if you don't own his book The Essential Cocktail, run -- don't walk -- to your local bookstore), smoke adds character and complexity that can turn a cocktail you've drunk a thousand times into a drink of great depth and distinction.
There are two ways to add smoke to cocktails. The first is to use an intrinsically smoky ingredient, like single malt scotch or pimenton (Spanish smoked paprika). The second is to infuse the drink with actual wood smoke.
When choosing your ingredients, aim for smoky spirits. Scotch whisky -- the ultimate smoky spirit -- owes it distinctive iodine-smoke flavor to peat. Or try mescal, which is made in Mexico's Oaxaca region by smoking the hearts of agave and other cacti.
Other smoky cocktail flavorings include:
Chipotle chiles (smoked jalapenos). The perfect fuel for spicing up a margarita or bloody Mary.
Beef jerky or crisply fried bacon. Use a strip as a swizzle stick.
Liquid smoke. There's no substitute for real wood smoke from a smoker or smoke gun, of course, but liquid smoke -- a natural distilled product made from real wood -- comes in handy as a last resort. Use sparingly -- a drop or two goes a long way. Try it in a smoky martini.
If you want to add smoke directly into your cocktail, you'll need a smoke gun. Yes, a handheld smoker is the latest weapon in a barman's (not to mention barbecue fanatic's) arsenal. I recommend both The Smoking Gun by PolyScience and The Aladin Smoker.
So how do you actually smoke a cocktail with wood smoke?
Coat the inside of the glass with smoke flavor. Fill an inverted bar glass with smoke. Tightly cover the glass with a coaster and turn it back over. Let stand for one to two minutes. Add the cocktail and serve immediately, with the glass still smoking. Try the Dragon's Breath.
Infuse smoke directly into the cocktail. Mix your drink in a bar shaker or glass. Cover the top with plastic wrap, leaving one edge open for the rubber smoking tube. Insert the tube all the way to the bottom of the drink. Fire the smoking gun to fill the shaker with smoke. Quickly remove the hose and seal the top of the shaker with plastic. Let stand for three to four minutes, then uncover and stir in the smoke with a bar spoon. Repeated as needed to achieve the desired degree of smokiness. Try the Smoky Mary with this technique.
Smoke a large batch of cocktails at once. Place your ingredients in a large bowl and cover with plastic wrap. Insert the smoking hose and smoke and stir as described above.
Cold smoke your ice cubes. Place them in a smoker and smoke for 15 to 20 minutes (keep the temperature below 90 degrees). Yes, they'll melt. Refreeze the water in ice cube trays. Bingo—smoked ice cubes. (I learned this trick from the bartender at the Tavern at the Broadmoor resort where I run Barbecue University).
Find out more about smoky flavorings you can add to your cocktails to get that distinctive barbecue flavor.
Check out five more smoked cocktails to add to your repertoire. Think of them as barbecue you can drink:
Do you have a question about smoke guns, cool tools, or anything else barbecue-related? Ask me anything in my new Ask Steven forum. I'll fill you in on all the interesting tips I've picked up during my travels around Planet Barbecue.