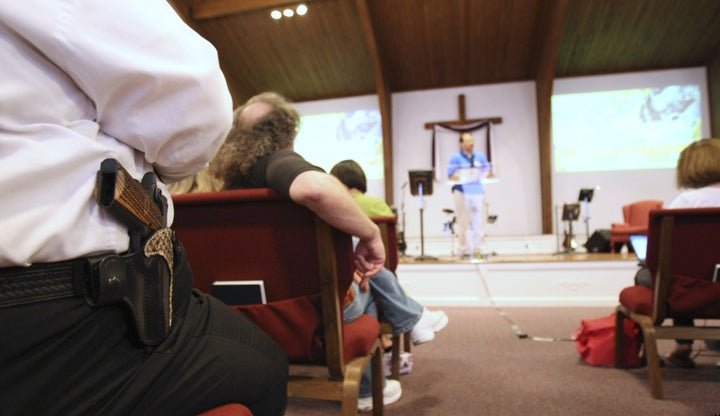 By Ed Anderson / The Times-Picayune
Religion News Service
BATON ROUGE, La. (RNS) Guns should be allowed in Louisiana houses of worship as a way to protect congregants from attacks, if the pastor or head of the religious body approves, state lawmakers said Wednesday.
The state House voted 74-18 for the bill on Wednesday (May 12), sending it to the Senate for debate. Last Thursday, the bill received a 45-39 vote in the House, eight votes short of the 53 needed to pass in the lower chamber.
State Rep. Henry Burns, a Republican, said the bill is "a matter of choice" and leaves it up to each synagogue, mosque or church to decide whether to implement it.
"Every church in Louisiana will (still) be gun-free" as state law now dictates, unless a house of worship decides to allow certain members qualified to carry concealed weapons to bring them to church as part of its security plan, Burns said.
"I want to see in the Bible where it says you can't bring a gun to church," added state Rep. Ernest Wooten, a Republican.
The bill was amended to mandate that members tapped for security duty have eight hours of tactical training. It also was amended to ban houses of worship on school campuses from allowing armed parishioners.
The bill would require church leaders to tell worshippers verbally or in bulletins or newsletters that it will have armed security in the congregation.
"If God is looking down on us today I don't think he is happy with us discussing how we can carry our guns to church," said state Rep. Barbara Norton, a leading Democratic opponent of the bill. "The church is a place of peace. I don't think God said it was OK to carry a gun in the house of the Lord.
Related
Popular in the Community