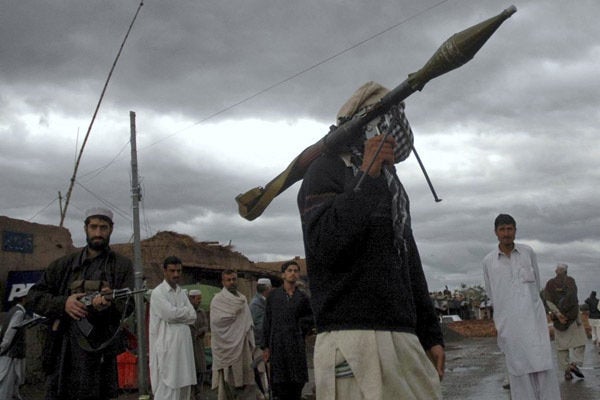 I first heard about this a few days ago via the Huffington Post, and now the DVD has been fully unleashed. The controversial DVD was home-delivered today with McClatchy papers in North Carolina, in Charlotte and Raleigh, and the Miami Herald, bringing the nationwide total to about 70 papers, with more coming tomorrow. An estimated 28 million copies have been sent out already, some by direct mail and in other periodicals.
It seems to be only distributed in "swing" election states, and was made in 2005 by the New York-based Clarion Fund.
The documentary, Obsession: Radical Islam's War Against the West, showcases scenes of Muslim children being encouraged to become suicide bombers, interspersed with shots of Nazi rallies. 'The threat of Radical Islam is the most important issue facing us today,'' reads the sleeve of the DVD. ''But it's a topic that neither the presidential candidates nor the media are discussing openly. It's our responsibility to ensure we can all make an informed vote in November.''
It was shown on Fox News just before the 2006 mid-term elections, and conservative activist David Horowitz screened the film on campuses last year. An article at the group's site, www.radicalislam.org, all but endorsed McCain as the preferred candidate this past week, then was pulled down.
The New York Times tells my Editor & Publisher colleague Joe Strupp that it distributed 145,000 copies last Sunday with papers in several leading markets -- all in swing states. This included Denver, Philadelphia, and several areas in Florida, Ohio and elsewhere. A spokeswoman said it did not violate its advertising/delivery standards.
An article at the site of the Morning-Call in Allentown, Pa. today reveals that it will be inserted in the Sunday paper there tomorrow. It continues: "A call to Clarion wasn't returned, but the nonprofit's spokesman, Gregory Ross, told the Harrisburg Patriot-News this week that 28 million copies of the DVD are being distributed nationwide throughout September. He said the intent is not to sway voters' opinions about the presidential candidates."
Th New York Times spokeswoman told us: "We believe the broad principles of freedom of the press confer on us an obligation to keep our advertising columns as open as possible. Therefore our acceptance or rejection of an advertisement does not depend on whether it coincides with our editorial positions. In fact, there are many instances when we have published opinion advertisements that run counter to the stance we take on our own editorial pages."
The publisher of the News & Observer in Raleigh, NC, like the Times, defended distributing the DVD on free speech grounds.
Popular in the Community