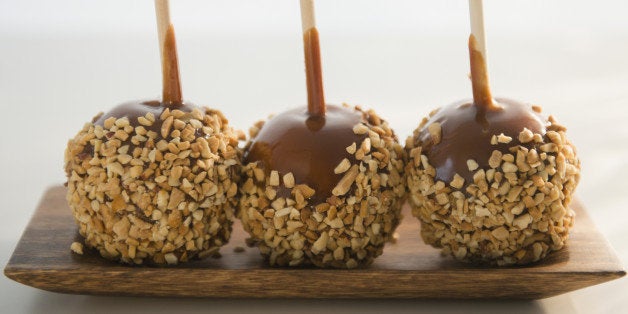 Sex and the City put the cupcake on the trendy map and like the iconic television show and movie, its popularity hasn't waned since. More recently the macron (or 'macaroon' depending on where you live), has come into style. With its light texture and pretty colors, it's a good alternative.
But with the uptick of niche bakeries and sweet shops, startup confectionary companies and of course, candy, there are more ways than ever to get creative with dessert items. It includes new spins on old classics, and even a few things you can make at home too. What's great is that with most you can order online -- that means getting unique and creative is easier than ever, too.
Candy comeback: Candy's never gone out of style in this house but it's on trend with everything from candy buffets to candy dishes for parties, events or just having around the house for dessert. Sugarfina is quickly becoming a cult favorite for its chic twists on things like gummy bears, malt balls and other cool confections. The presentation and packaging is adorable. You can order online via its website, too. Lollipops are also becoming popular, as new startup companies are offering handmade, unique flavors. Quin Candy from Oregon is a favorite. The company also offers licorice and other candies too.
Luxe Marshmallows: The classic marshmallow might not have been all that eventful on its own but the new breed of companies making this classic sweet have taken it to a whole new level. Handmade and handcut in flavors like peppermint, pumpkin pie, and coconut make them so good for after dinner, either standalone or as a topping on other goodies. Check out Plush Puffs for this.
Custom Chocolate: Chocolate has become so fun and imaginative when it comes with flavors mixed in. Caramel and sea salt are common but you can also find all kinds of other choices today. It can make for a fun and unexpected dessert tray or treat. Mix a few different types together along with some fresh fruit or caramels, etc. Chocomize enables you to custom make to order your own bars -- super cute idea to put a personal touch to your treat.
Caramel Apples: It's easy to forget the caramel apple, particularly as it can be hard to find options that have good, crispy apples. A lot of store bought or pre-made brands miss the boat on this and the apple gets a little soft. But Mrs. Prindables gourmet caramel apples are just insanely good. Not only are they so unique in their flavors and choices, but the apples are incredible too. The key here is to either cut them into slices or provide guests the proper tools to do so.
DIY: There's nothing like a good home-baked treat! But brownies and cookies and what not are not exactly something that haven't been seen or used. While a good, warm baked good never fails, there's no reason you can't get a little creative here too. Try unexpected ingredients and flavorings in items, such as lavender or chamomile. Play around with toppings or mixing items. Cakes Under The Influence has a collection of cocktail cake kits with favorite cocktail flavorings -- all you do is order online, and bake it from there.
Pop Ice Cream: Ice cream is so great after dinner, or as a treat during parties, etc. Swap out the classic flavorings with something unique and unexpected. Salt and Straw is genius for this. For example, the summer collection has goat cheese marionberry ice cream, strawberry cilantro cheesecake and all kinds of other blends. The company is constantly offering something new, and because it's handmade, organic and farm-to-table, the quality of the ice cream is amazing, too. You can order online but distribution for the brand is growing -- give them an email or call for where to buy near you.