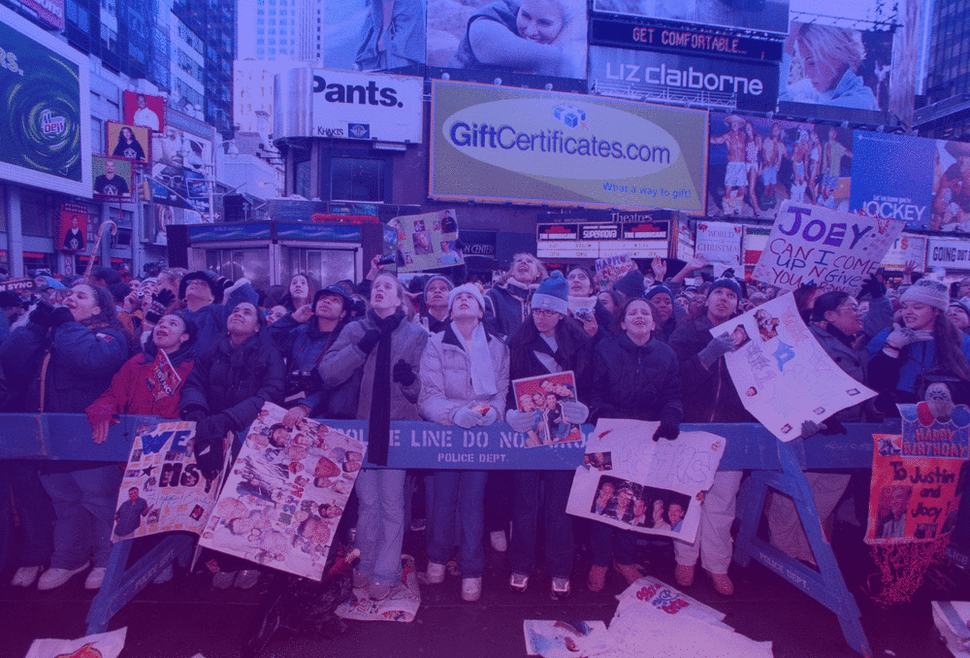 Standing across from MTV's famed Times Square studios, seeing the floor-to-ceiling windows covered in ads announcing the return of "Total Request Live," it's hard not to feel a little spark of nostalgia.
The windows, behind which stars like Mariah Carey and *NSYNC and Destiny's Child would look out upon screaming fans below, have since served various purposes since "TRL" went off the air in 2008: the cruelly short-lived "Nikki & Sara Live," a few MTV specials. Part of the space even briefly became part of an Aeropostale.
On Wednesday, days before "TRL" would raise its curtain once again, hoping to capture a new celebrity-obsessed generation, the space had been reclaimed wholly by MTV, with the newly constructed studio space stretching uninterrupted from one end of the building to another, 8,700 square feet in total. (The original "TRL" was filmed in just one corner, about a third of the size of the new space.)
The question asked by many since MTV announced the return of the tentpole music video countdown series is simple: How will "TRL," which captured its first fan base in a pre-smartphone, pre-social media era, appeal to today's young superfans? If nothing else, the studio at least seems primed for selfies. One enters the space through a light-up tunnel, coming out to face a huge video screen that, during the tour, was set to a retro-cool palette of television test pattern bars. Giant red leather couches spelling out — what else? — "TRL" sit in the center, not far from a DJ booth shaped to look like a pair of headphones. A stage backed by another massive screen isn't far off. There are plans, we are told, for a video screen on the floor.
An important aspect of the staging — particularly for young fans who've already grown up with the ability to access their favorite stars on Twitter, YouTube, Instagram and the like — is that there's no clear barrier between where fans sit and where talent is interviewed. There's no separation, no permanent seating to distance audience members from the day's guests, as in a traditional late-night show stage. From the moment you walk through that lit-up tunnel, you feel like a part of the action.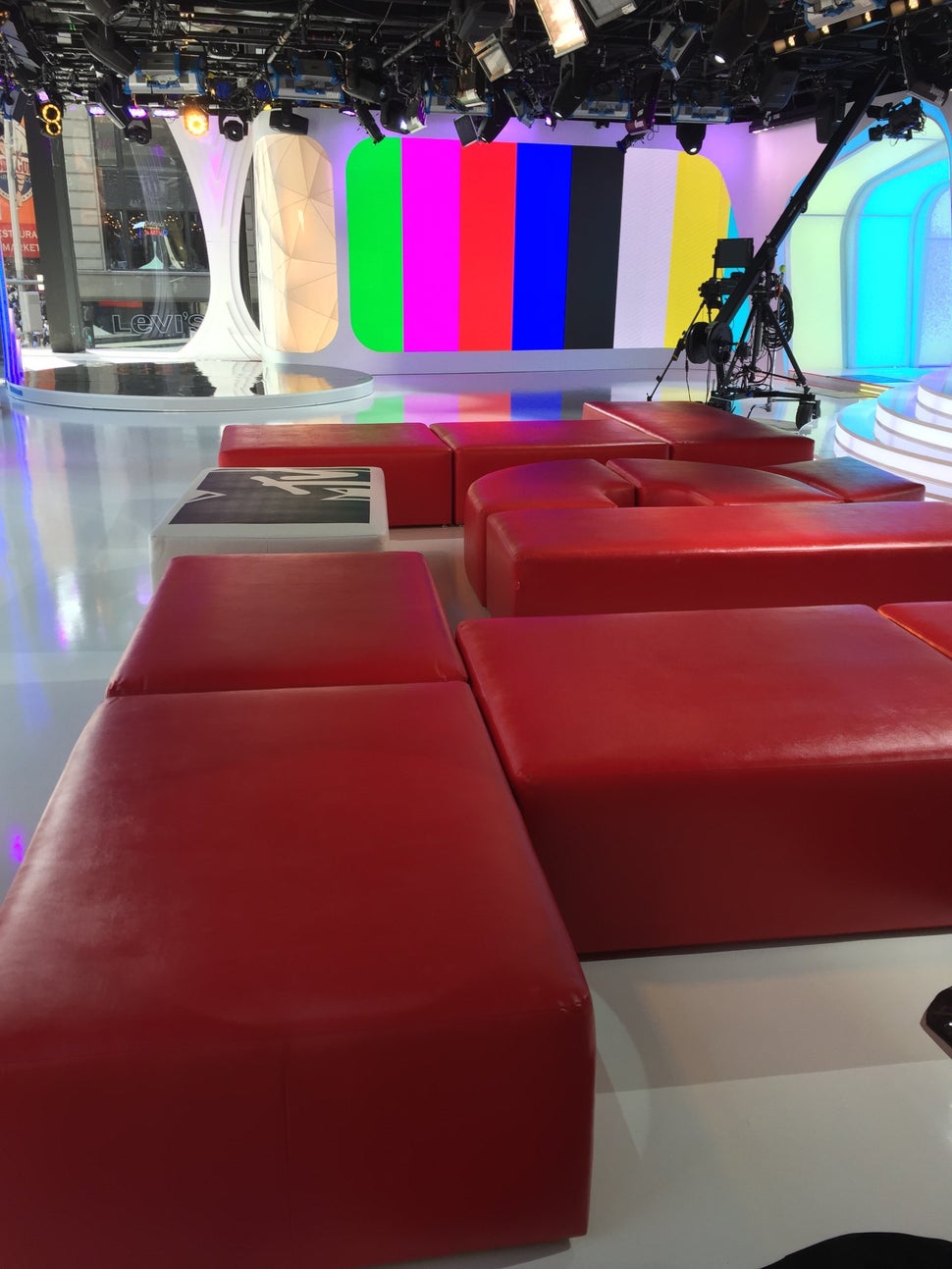 The return of "TRL" feels monumental to a generation that's aged well past MTV's main demographic.
"For Americans who happened to be tween to college age between 1998 and 2008," Rebecca Kinskey writes in We Used to Wait: Music Videos and Creative Literacy, "'TRL' was inescapable. It aired from 3 to 6 p.m., those crucial after-school hours when the extracurricular energies of middle schoolers and high school students were most likely to be both unsupervised and unstructured."
The original show began in Times Square with a then-unknown Carson Daly as host, urging viewers to call in or vote online with their music video requests. At first, there was no studio audience, no horde of fans waiting on the street. The format was strictly a countdown; Daly would introduce each video in ascending order of popularity. And as the show's popularity grew, celebrities began to stop by. Former VJ Damien Fahey tells Billboard in the outlet's extensive oral history of the show that when Eminem showed up to promote "8 Mile" in 2002, 10,000 fans showed up to see him.
"Times Square had to be shut down," he said.
Daly left "TRL" in 2003, replaced by a rotating cast of names including LaLa Anthony and Quddus. Viewership eventually declined from a daily average of 853,000 in 1999 to 373,000 in 2007. By then, the show played only excerpts of fans' favorite videos, and competed against a variety of other music-on-demand platforms — YouTube, Myspace, illegal downloaders. "TRL" was no longer the sole arbiter of taste.
"The program's relevance began to slip among teens and young adults who were taking it upon themselves to decide what was popular to them, and knew exactly how to get that music into their hands and onto their hard drives," Kinskey writes in her book.
The team behind the new "TRL" promises "surprises," though the exact format of the show remains unclear. Showrunner Albert Lewitinn says the plan to attract a generation of digital natives involves embracing social media. Twitter and Facebook feeds for the show are already active, sharing a mix of announcements about who's performing during premiere week and first-person thoughts in the casual style of a brand operating in 2017.
″'TRL' was social media before there was social media," Lewitinn told HuffPost. "You came home from school and you turned on the TV and said, 'Oh my god, oh my god, I just saw Britney Spears do that! Oh my god, Justin Timberlake just did that!' and you'd talk to people — 'Did you just see that?'"
His aim is that fans tune in to the live program to avoid "that FOMO moment." There are plans for Facebook Live pre- and post-shows, a daily livestream on Live.ly and a twice-a-week pop quiz on Musical.ly. (Clearly, they didn't listen to former DJ Dave Holmes, who, in an Esquire article, advised MTV keep things simple and not to "attempt to be the internet.")
How exactly the show will take requests into account remains a bit of a mystery, though Lewitinn had this to say: "I can tell you that the show is 'Total Request Live.' We live in a request society as it is now. You request your Uber, you request your Seamless — what else can you request? Almost everything in the world now. Here's you requesting your pop culture." A press release Friday reiterated, albeit vaguely, that the show will "incorporate audience requests."
How about music videos? Will the new "TRL" incorporate those? "What can I tell you ..." Lewitinn paused. "There will be opportunities to do so. How we do it depends on the artist, depends on the time, it depends on the day."
For its new iteration, MTV has tapped musician and comedian DC Young Fly to host, leading a "squad" of influencers like Complex alum Tamara Dhia, social media star Amy Pham, and Vine breakouts The Dolan Twins, among others. The guest list for the first week is stacked: The network first announced Ed Sheeran and Migos as premiere day performers, adding on names including Noah Cyrus, Travis Scott, Demi Lovato and Lil Uzi Vert for later in the week. It was announced Friday that DJ Khaled will attend Monday's showing as "The Godfather" of the program. 
While the VJs on the first "TRL" gained a following thanks to their hosting gigs, the hosts of today are coming into "TRL" with their own massive fanbases — who, MTV must hope, will follow them to their new gig. Plus, the new show has the distinction of bringing big names in the music business to kickstart its first week, while the opposite was true for the first "TRL": Sure, *NSYNC, The Backstreet Boys, Britney Spears et al. would've been successful without the music-request show, but their presence on "TRL" allowed their careers to reach new heights. 
One hurdle for the new "TRL" is that the nostalgic pull of its name doesn't register with the younger viewers it now seeks, who were likely infants when the original went off the air. Still, the team is optimistic. The premise, Lewitinn and company expect, will attract a following the same way the initial one did: by capitalizing on young fans flipping through channels (if their parents aren't cord-cutters, at least) who want to feel older and cooler by tracking every step of the celebrities du jour.
In Lewitinn's words, "TRL" is a "cultural shortcut."
"I know exactly what it stands for: Total Request Live," he said. "It's powered by me, powered by the requests."
Being powered by fans in 2017 also means being susceptible to criticism — ahead of the show's premiere, outlets are discussing how "TRL" might handle promoting musicians who are accused of abusing women. (It appears the show, via Lewitinn, hasn't taken a hard stance on the issue.) It's a discussion that might've been brushed aside in a pre-social media era, but consumers of pop culture raised on the internet are decidedly more "woke," with the vocabulary to call out injustices.
MTV has been embracing hot-button issues, recently inviting trans members of the armed services and Heather Heyer's mother to speak at the VMAs. When asked whether "TRL" would pay attention to social issues that matter to its audience, Dhia, a member of the hosting "squad," replied with an emphatic yes.
"The cool thing about this 'TRL' is it's not just going to be about music, though it will be a big part of it," Dhia told HuffPost. "It's about pop culture, and to me, pop culture encapsulates what's also going on in the world. We would be remiss not to be bringing that up, 'cause kids are smart, and they are way more vocal and they understand what's happening very quickly now because of the internet and because of social media. I think it's important for us and it's our duty to be honest, to talk to them and vocalize where we stand and to just see where they stand as well."
What do we know about the new "TRL," really? Not a ton, except that there will be big stars, there will be fans, there will be requests of some form — but most importantly, there will be those iconic windows overlooking Times Square, the sight of which is enough to send any former teenager's heart aflutter. Whether the curtains will stay up is anyone's guess.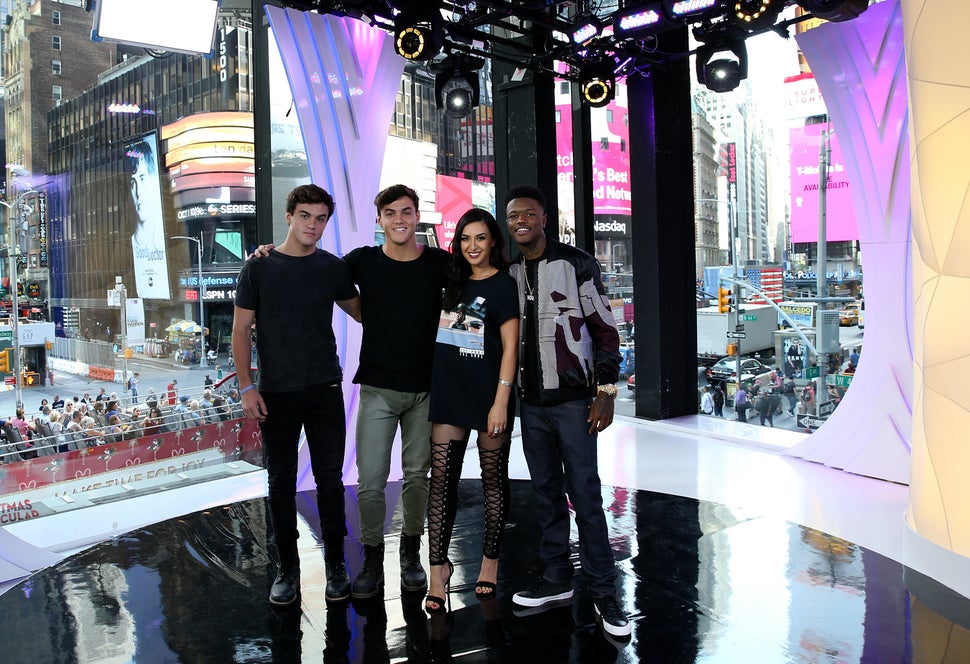 "TRL" premieres on MTV Monday, Oct. 2, at 3:30 p.m.
Calling all HuffPost superfans!
Sign up for membership to become a founding member and help shape HuffPost's next chapter
BEFORE YOU GO
PHOTO GALLERY
MTV Spring Break Through The Years