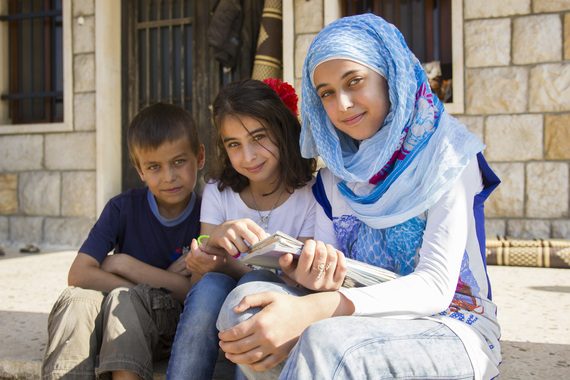 Photo: Tabitha Ross/A World at School
On the surface Beirut is a modern, vibrant city. On a Saturday night it would be easy to imagine yourself in Paris or Barcelona as you wander the dusty streets. Travelling here for the first time it was hard to prepare. I managed to find a guidebook for Syria and Lebanon from 2008, but a lot has changed. Ancient monuments have been destroyed by decades of conflict that are the all too repetitive beat of the region and the landscape is punctuated by halted construction often indistinguishable from the scars of conflict.
But little could have prepared me for the refugee camps. Less than an hour from Beirut nestled in the Bekka Valley lie dozens of makeshift settlements. Smaller than I had expected, they are groupings of around 50 tents, each housing 10-15 people.
Camps like these have become such familiar wallpaper to the sporadic news cycles highlighting the plight of refugees, that at first it felt a little like walking around a Hollywood film set. Only instead of an empty film lot, the rocky paths that intersperse the tents were filled with children, running around and playing in the dirt and the filthy streams that run through the camp.
Lebanon, with a population of 4.4 million people has become home to an extraordinary 1.3 million Syrian refugees, displaced by the four-year conflict in their neighbouring homeland just a mile or two away from Bekka.
The boredom these people must feel is almost overwhelming. Occasionally a tent has a TV but there are no books, few if any toys, no playgrounds or places for the refugees to visit to. All there is are the four walls of the tent, the dusty plastic chairs, the sun beating relentlessly down and the waiting.
And yet there is hope for some of the children of these camps. In 2013 A World at School published a report looking at options for how the Lebanese Government might cope with hundreds of thousands of refugee children in need of education. The report proposed a double shift system, which lengthens the school day and allows a double intake of children.
There are nearly 500,000 children displaced by the Syrian conflict in Lebanon. The Government in Lebanon has committed to providing 200,000 places in formal education through double-shifts if the donor community supports their ambitions. And donors are stepping up.
Not all the places have been funded yet, but countries and organisations such as USAID, Germany, Norway, the EU, the United Kingdom, the USA, World Bank Multi Donor Trust Fund and some UNICEF central funds are all contributing to helping these children get back into school.
They are not alone. The #Upforschool petition started a year ago by A World at School has over 9 million signatures, people around the world calling on world leaders to take action so that children are given the chance to go to school.
In Lebanon this pressure is working and progress is being made. On September 28, 200,000 Syrian refugee children will be going back to school. Progress but not nearly enough, places for another 300,000 children need to be found to ensure all 500,000 children have the opportunity of an education.
Meeting children and their families in the camps I was struck by the urgency there is to intervene. I thought it would be the smallest children who tugged the hardest on my heart and while their innocence is endearing it's the faces of their older siblings which will stay with me.
Many of them are already four or five years behind with their education. The wizened sadness in there eyes tells you so much. Not only that they remember the horrors of war and that they miss the friend, cousin, brother, sister that fell victim to the violence, but that they understand too that for some of them they will never have the chance to go back to school, they will never learn to become the doctors, engineers and teachers of their dreams.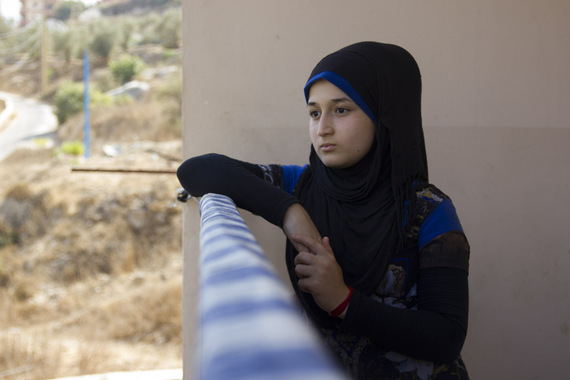 Photo:Tabitha Ross/A World at School
It is children like 15 year old Nour from Al-Joubar, near Damascus who need our help. Nour says with pride that she was a smart and focused student, every teacher's favourite. Her keenest wish is to go back to school so that she has a chance for the future.
"I came to Lebanon because the Syrian regime was bombing my area with chemical weapons, and with barrel bombs, and because there was so much violence. My sister was injured, and then a year later my brother was killed. We had to leave.
"I stopped going to school in the middle of 5th grade when I was 12 years old, when we came to Lebanon. The UN put on a programme for Syrian students and I enrolled, but I was surprised because it was just games and music and entertainment. So I left. I want to study properly. I was very smart at school and a good student, but because I haven't been for such a long time I'm forgetting even what I used to know.
"I miss my teachers and my friends. I have several ambitions, but most of all I want to be a doctor, because of the war and everything that has happened. If I knew how to help and cure others I could help. I could have helped my sister when she got injured.
"Going to school is important because if we don't go we won't learn reading and writing. The little ones just play in the street all day. If they could go to school they'd learn to be focused and quiet but now they're naughty because they have nothing in their lives. I want to go back to school. I'd be so thankful if I could go back."
Join us in putting pressure on the world's leaders to send children like Nour back to school.
Sign the petition at here.
"We, the world's youth, teachers, parents and global citizens appeal to our governments to keep their promise, made at the United Nations in 2000, to ensure all out-of-school children gain their right to education before the end of 2015.
We are standing up to bring an end to the barriers preventing girls and boys from going to school, including forced work and early marriage, conflict and attacks on schools, exploitation and discrimination. All children deserve the opportunity to learn and achieve their potential. We are #UpForSchool."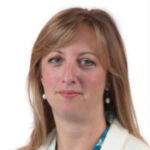 Alice Hunt is a consultant for A World at School. She was previously Communications Director for Pearson's International Education business across 74 countries around the world. She was also Communications Director for GlaxoSmithKline and the Co-operative Bank and CEO of the Volunteering Charity Join In.
Calling all HuffPost superfans!
Sign up for membership to become a founding member and help shape HuffPost's next chapter