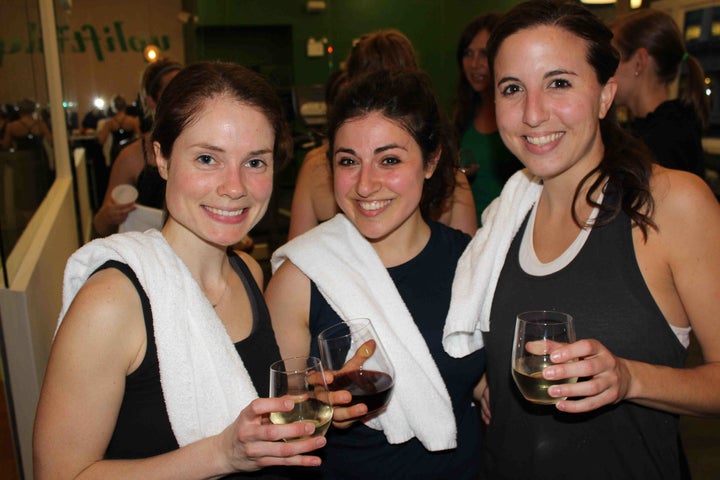 It's the Friday night dilemma -- should you hit the gym or go out with your friends and get tipsaaaay?
Hang with Leanne Shear and you don't have to pick. At her new gym Uplift Studios, located in Manhattan's Flatiron district, women who make it through 45 minutes of "intense cardio strength training" get to sip on unlimited wine and cocktails, relaxing and chatting around the studio's communal table.
"It's a social club and a fitness studio," said Shear, a writer and certified personal trainer. The $40 class, called "Raise the Bar," comes in various flavors: "Workout and Wine," "Cardio and Cocktails," "Tighten and Tequila" and "Bootcamp, Bloodies and Brunch." Uplift also offered more standard yoga, Pilates and Zumba classes without alcohol.
Uplift is not the first gym to mix exercise with alcohol. In the summer of 2010, David Barton Gym teamed up with Svedka in New York, Miami and Chicago to offer cocktail hours following classes. Still, Uplift is the first gym to incorporate drinking into its overall workout philosophy.
"A lot of fitness is very preachy in a sense [that] it has to be all or nothing ... to never have a glass of wine or a slice of pizza," Shear said. "Having wine with a girlfriend is very much a part of a healthy, balanced life."
But as anyone who has ever been hungover knows, too much alcohol isn't exactly good for the body. Heavy drinking can slow down the body's recovery after a strenuous workout, research has shown.
Still, in moderation, alcohol isn't always bad, health researchers say. Some studies have proved that small amounts of red wine can be beneficial to cardiovascular health. Moreover, people who do drink tend to exercise more than those who don't -- women drinkers on average work out 7.2 more minutes a week.
Uplift, whose permanent studio opened on Sunday, is primed to score some of these work-hard, play-hard types. Since May of last year, Shear and Uplift's other co-founders, Helena Wolin and Katie Currie, a lawyer and a former corporate event planner, have been organizing workout classes in New York City parks. All three now work full-time teaching classes and running the business.
The idea of spiking Uplift's workout regimen with alcohol came to the team one day last summer, when a downpour interrupted a yoga class in Central Park.
"Instead of canceling the class, we ran all the participants to a local bar," Shear said. "All these random strangers that came to the yoga class stayed for hours and ended up becoming workout buddies and friends. We knew there had to be something here besides fitness."
Over the next few months, the team began organizing events in collaboration with bars and restaurants. "Everyone ends up lingering," Shear said. "People get a kick out of checking out new places."
Now that Uplift has a space of its own, people can linger even longer. In addition to a bar, the studio has snacks, ice tea, Wi-Fi service, phone chargers and a bathroom with every girlie amenity one could want. Soon, Uplift will start pairing workout classes with events like jewelry trunk shows, book readings and talks by financial advisers -- all, of course, over wine.
But might tipsy pupils linger too long? What's to stop the classes from leading to the same unhealthy feeding frenzy that ensues from every other open-bar event in New York City?
The laid-back vibe at Uplift will keep health at the forefront of people's minds, Shear said. "It's not about the drinking per se," she added. "Being in shape and having a robust social life are both harbingers of happy, well-adjusted women. We want to strike a balance."
Check out more pictures of Uplift.

Popular in the Community