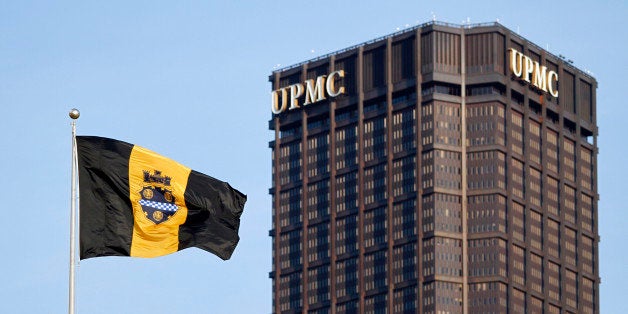 Hundreds of demonstrators poured into downtown Pittsburgh Monday to protest low wages at the University of Pittsburgh Medical Center, escalating a two-year showdown between labor groups and the area's largest employer.
The Service Employees International Union has been trying to organize service workers at the hospital for at least two years. Joined by steel and mine workers on Monday, pro-union employees of UPMC marched to the hospital's headquarters at the U.S. Steel Tower with some specific demands: a hospital minimum wage of $15, the elimination of employees' health care debts to the hospital and recognition of a union.
"UPMC paints a picture of workers making $21 an hour, or $30 an hour," Chaney Lewis, a 31-year-old patient monitor technician and nine-year veteran of the hospital, told The Huffington Post. "I make $11.97 ... A lot of long-term employees with 10 or 15 years are not even making 15 bucks an hour. We get pennies for raises and our health care [cost] goes up on top of it."
Police shut down several downtown streets and granted the protesters a demonstration permit until noon, but hundreds were still gathered outside the hospital's offices as of Monday afternoon, according to the Pittsburgh Post-Gazette. Last week, nine clergy members were arrested and cited for trespassing at a similar demonstration at the U.S. Steel Tower.
SEIU and its allies have cast the UPMC campaign as an effort to improve pay and standards on the bottom rungs of Pittsburgh's booming health care industry. In recent years, health care jobs have largely replaced manufacturing jobs as the core of the region's economy, with one in five private-sector workers now employed in an area hospital, according to the Los Angeles Times. Despite the many good-paying jobs at UPMC facilities, a number of the service workers -- cafeteria employees, for instance -- are earning wages that put them near or below the poverty line, according to SEIU.
UPMC hasn't exactly welcomed the union's organizing efforts, according to charges brought by the National Labor Relations Board, the federal agency that enforces labor law on unions and employers.
In a complaint filed last fall, the agency's counsel said it found merit in claims that the hospital had engaged in numerous counts of union-busting, including illegally threatening and intimidating pro-union workers. The labor board opened a hearing on the charges earlier this month but hasn't yet released a decision.
The hospital settled a similar, earlier case in part by agreeing to rehire two workers it had fired. Part of the protesters' demands on Monday were that the hospital allow workers to unionize "without interference." The hospital dismissed the charges that SEIU brought to the labor board as an "overstated and disruptive collection of allegations" from a union "attempting to draw attention to itself."
Rev. John Welch, who was among those cited for trespassing last week, told HuffPost that he felt collective bargaining through a union was the best way for workers to see higher wages. Welch said several of his congregants are service workers at UPMC who rely on second jobs and public assistance to make ends meet.
"They're the largest employer with a good number of people who are working at poverty wages and can't get out of that situation," Welch said. "They believe they don't have the margins in order to improve the wages. They say the effective salaries are substantial. That might bode well for a nurse or a doctor or someone else of that echelon, but for a service worker, we see the wages they make."
Like other non-profit hospitals throughout the country, UPMC enjoys significant state and federal tax breaks stemming from its "charity care and community benefit." In a move that could have national implications, the city of Pittsburgh filed a lawsuit last year in hopes of forcing the hospital network to pay about $20 million annually in payroll and real estate taxes.
The city lawyer leading the case told The New York Times in December that UPMC's "commitment to charity is dwarfed by its preoccupation with profits." The lawyer claimed that the hospital paid 20 executives salaries of at least $1 million while spending a mere 2 percent of its revenues on charity care. UPMC told the Times that it essentially gives another $150 million to charity through Medicaid shortfalls and unpaid patient bills. The hospital countersued the city over its lawsuit.
UPMC did not respond to a request for comment on Monday's protests.
Christoria Hughes, a cafeteria worker who backs the union, joined the clergy members who were cited for trespassing last week. Hughes, 57, told HuffPost that she's been working at UPMC for six years and earns $12.75 per hour. She said she and many of her co-workers are "overworked and underpaid," which is why she decided to join the protests.
"I know I'm not going to make millions of dollars at what I do, but as the years go by I should be making enough to retire on. At less than $13 an hour, you can't afford to retire; you have to get another job," Hughes said. "I don't understand how you can care about the people, the patients who come through, but not the employees."

Popular in the Community