The UpNorth Festival, an unconventional public art event in northern Norway that invites artists eager to do site-specific and environmental works, is celebrating its third year with a show on Røst.
"This year we tried to focus more on installations/sculptures than earlier years," says Gøran Moya, who organizes UpNorth (UPN) with a handful of others, highlighting art practices within the organic Street Art milieu that are sometimes overlooked but elemental to the spirit of free expression that one often discovers on the street.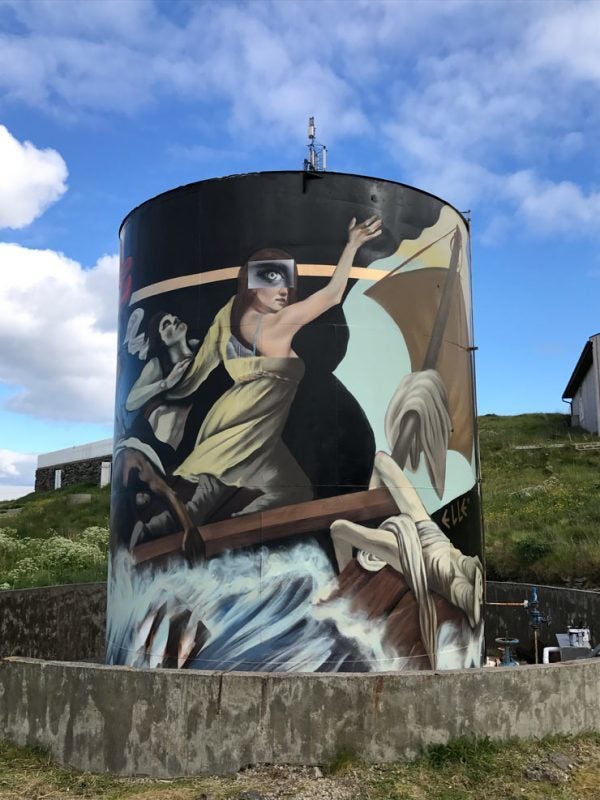 Street Artists are set free to create on Røst, an island of just more than 600 reachable only by boat or plane, where the economy is dependent on fishing and every June there is a popular festival in honor of the puffin bird.
All week the artists commented on the somewhat mystical sense they had creating new works here, and there are a number of inspirational sentiments expressed in their statements about their projects. Perhaps it is because of the history here on the island, or the seagulls that never stop calling, or the sun that never sets here during this time of year.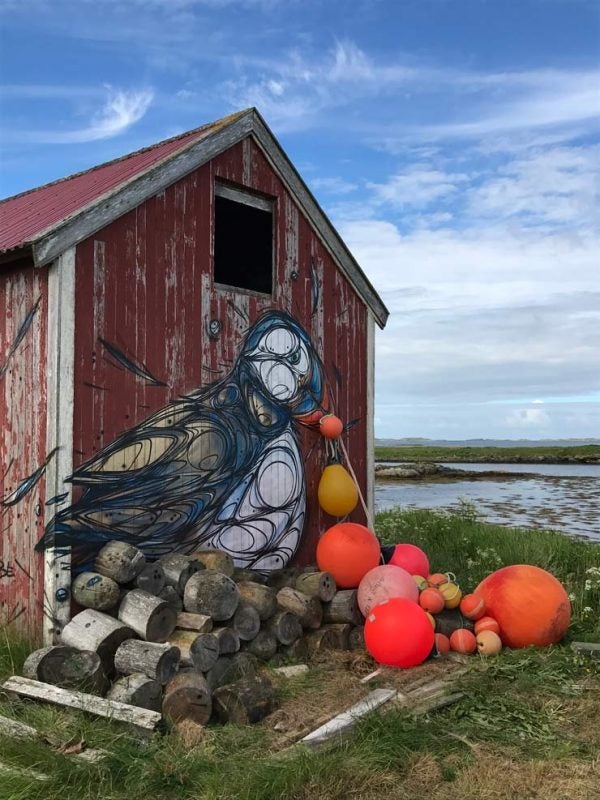 "We try to show a big spectrum of styles and have as much variation as possible," says Gøran Moya, who makes sure to share credit with the five friends who helped him to accommodate the needs of the visiting artists. "Without these people this would not be possible." Additionally UpNorth had a co-curatorial team from Urban Nation from Berlin, including director Yasha Young.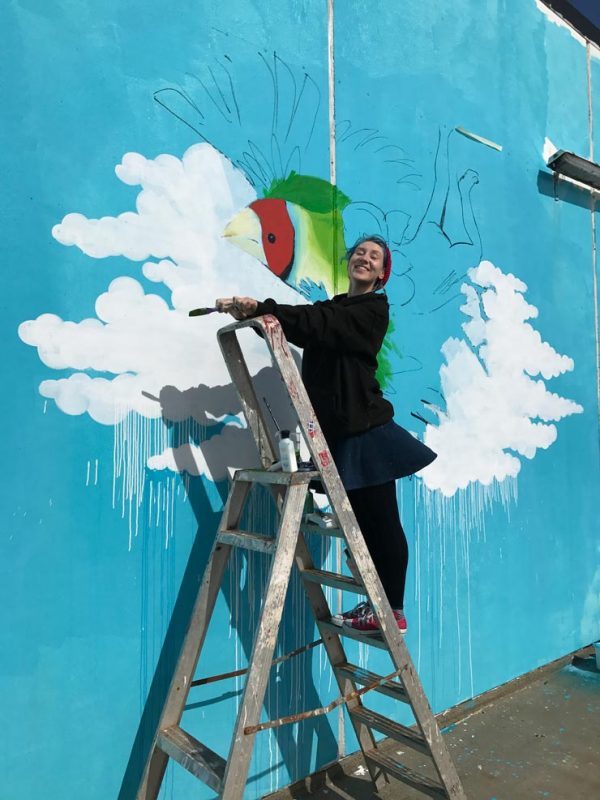 "If you do this in London this would just be one wall out of many," says UpNorth festival founder Gøran Moya,
"But on this island the artists can really make an impact. They can be part of changing history for this community. The festival is also all about doing this together. Because it's such a small place the artists, crew and locals have a special opportunity to interact with each other. This makes the whole project more personal I think."
We asked him to contrast the nature of what we call "Street Art" in its original urban environment versus the experience of creating and seeing it here at UPN.
"I think this will have a greater impact. For the artists coming to such a remote place where there is no history of urban art, but also for the community of the island. Most people don't know anything of this artistic expression and can be very skeptical in the beginning. But they have always ended up loving it. They also take a pride in this."
Special thanks to UN and to photographer Tor Ståle Moen for sharing his images here for Huffpost and BSA readers.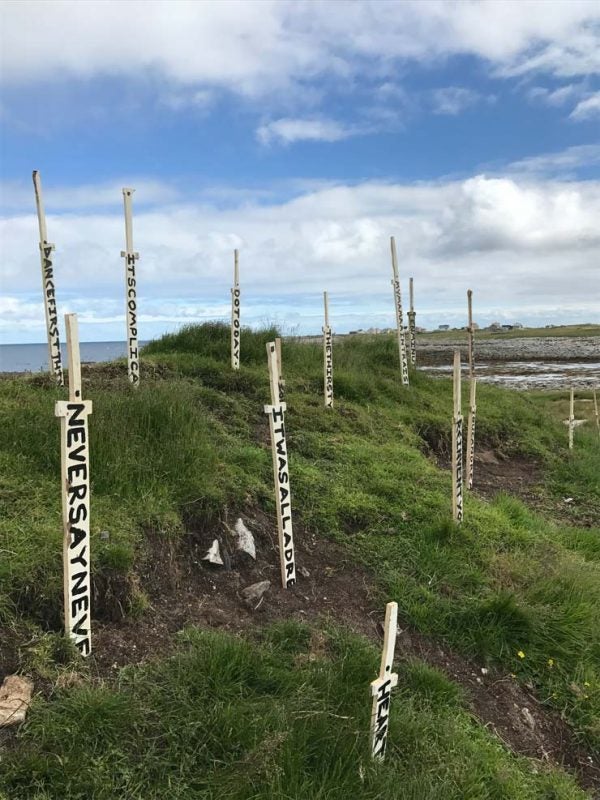 A surrealist illustrator experimenting with different styles and mediums on Street Art pieces and murals in cities, Klone's works on walls often feature simplified and distorted forms, figures, and creatures occupying a space that is seemingly suspended in air. An uprooted Ukrainian immigrant now from Tel Aviv, the mid-30s artist is looking at existential matters today in the way you do when you have had to adjust to a radically new environment. Sometimes called "Klone Yourself" the artist explains his metaphorical storytelling installation called "The Songs of the Vikings".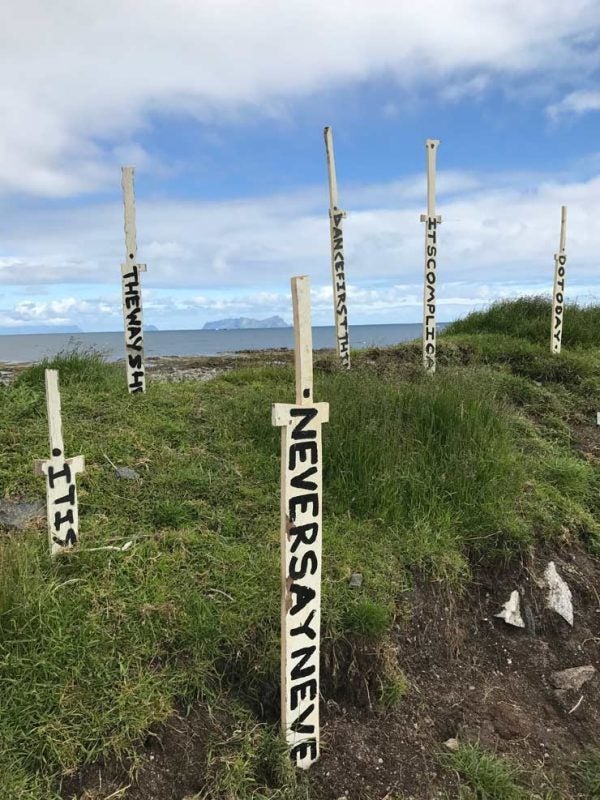 "My main goal for the UpNorth festival was to complete my installation that was planned specifically for it," he says. "The installation consists of wooden swords, cut out by me from found wood (mostly wood that was used for building houses on the island), with text written on the swords.
Later those swords got stuck into a hill structure on the island. This installation has and can have so many meanings, to both me and the random viewer, so I'll explain some of my intention – and anyone else can take it somewhere else, as people already did while I was installing my piece and directly after it was completed.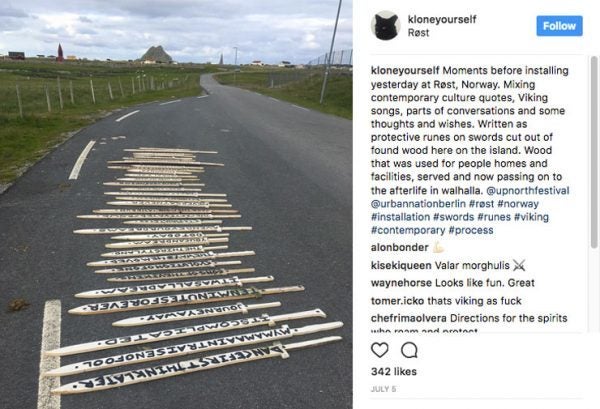 "The sword is a symbol of power through thousands of years. A wooden sword is a toy, meant to play with. In a way it is to prepare us for one day holding a real sword, real power, or at least real representation of it, no matter how prepared or not we are."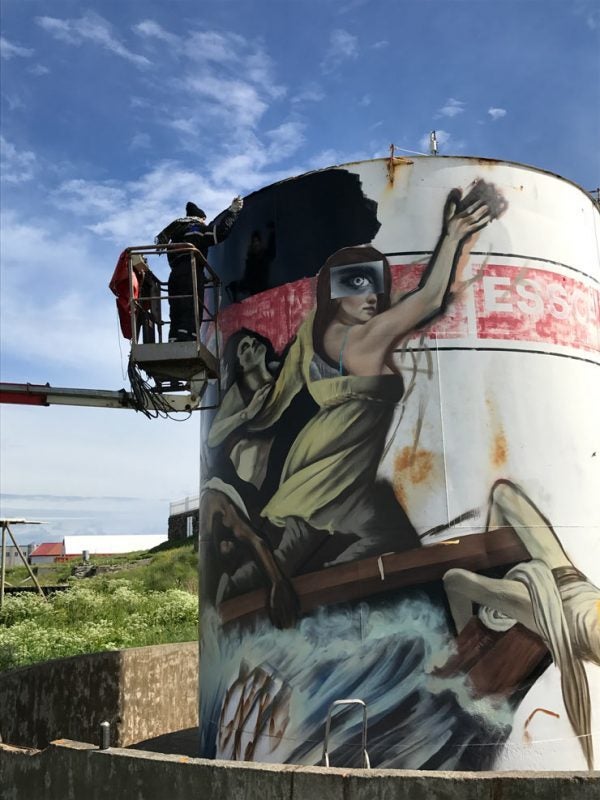 The American experimentalist Elle tries anything once – including fire extinguishers, rollers, aerosol, wheat-pastes, silkscreens and bus stop takeovers – legal and illegal. Her illustrative style often centers around a fantastical avatar, a heroic and sensual woman who is exploring new psychological landscapes.
Here in Røst the heroine of a shipwreck casts a wide eye at you as she climbs through a tumultuous and harrowing sea storm. The metaphors are many and so is the range of Elles ever-increasing skills.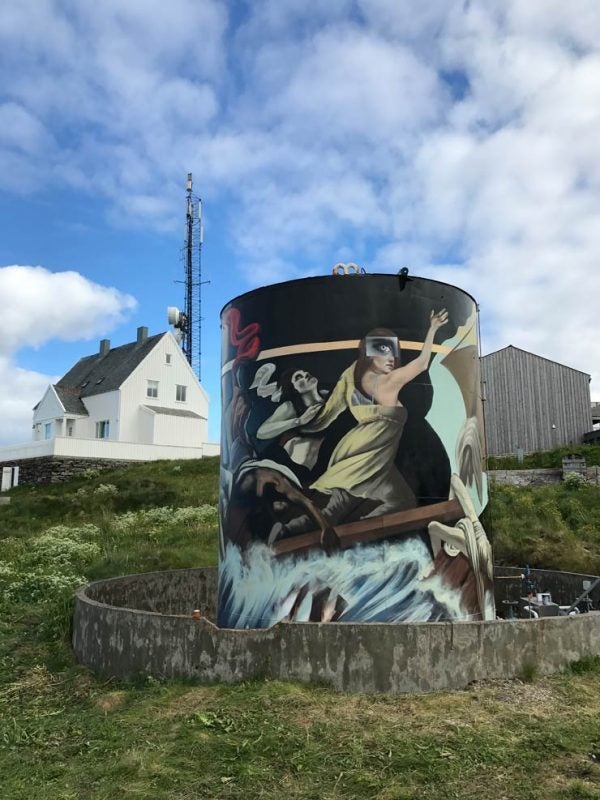 "Spidertag did his light installations in a time where there is 24 hours of daylight, but everything turned out amazing!" says Gøran Moya.
He's speaking of the glowing geometric shapes inside of an old barn structure by the sea which Spanish Street Artist Spidertag has focused on as an enclosed dilapidated stage for this installation.
The artist began his string art about a decade ago and BSA may have been one of the first to publish it actually, transforming and framing spaces in abandoned or neglected venues, bringing a workman's toolbox and an alchemists zeal for new astral formations in places where most had given up.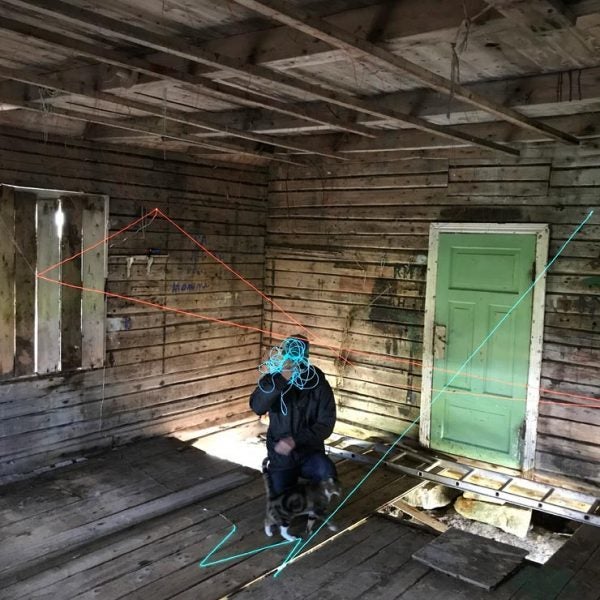 Now he has been toying with this glowing string perhaps in the hopes that in six months when this place is purely nocturnal there will be a radiant reminder of the summer in Røst.
BSA: Can you tell us about the piece that you did for UpNorth?
Spidertag: I did 5 pieces in total; 4 interior and 1 outdoor. The challenge for me is that in summer in the north of Norway, there is no darkness, no night time. So, for my light installations it was a difficult…but I made it! And the wall will be turning on in a few months…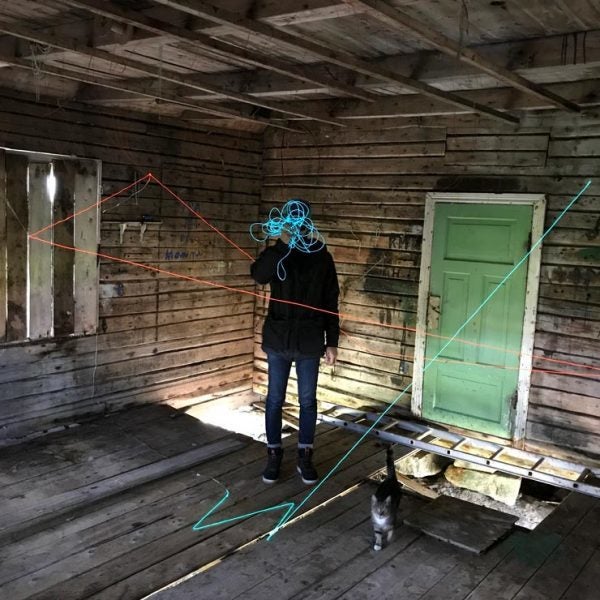 BSA: How would you describe the environment working in Røst?
Spidertag: Amazing location. The old and abandoned houses made of wood were perfect for my nails and also to contrast styles. Was a nice experience!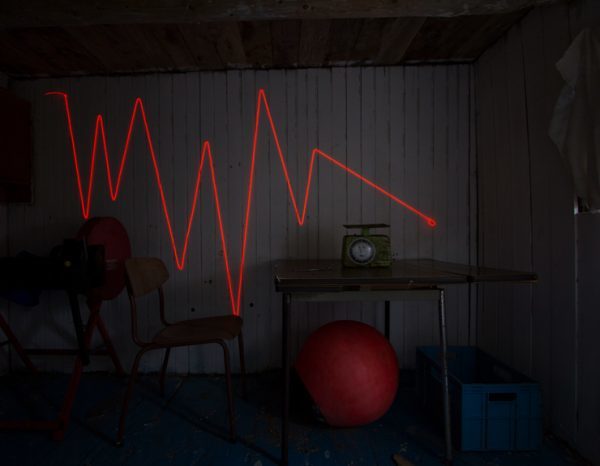 Poland's NesPoon is bringing the decorative element of lace to this Norwegian island, an historical patterning that one may associate with hearth, home, and the finer practices of handicraft.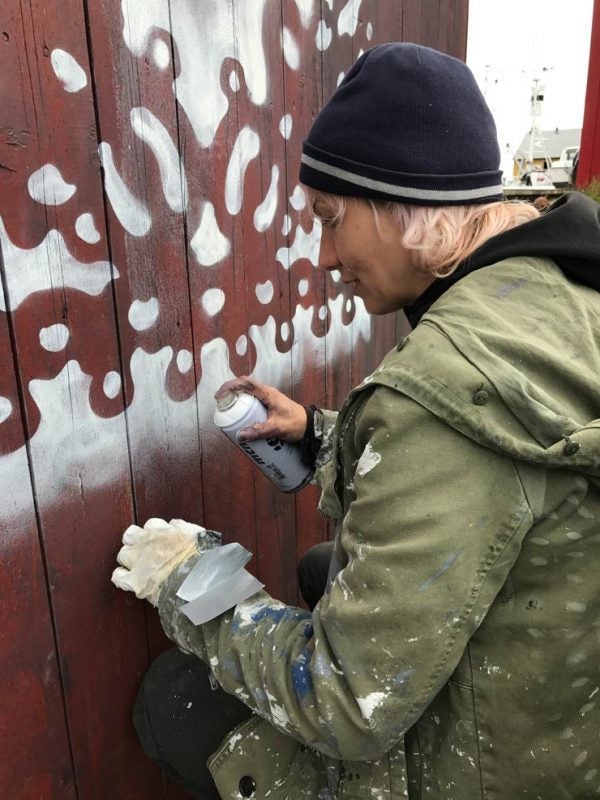 We met NesPoon in Moscow at the Artmossphere Biennale last year when she was doing an installation focusing on the so-called "Precariot", the current worldwide worker class that is made to be insecure about their jobs, healthcare, shelter, food, future.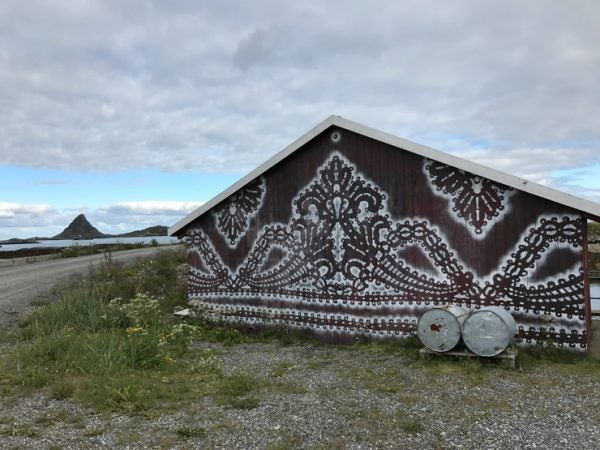 So don't think this stencil work is purely about decoration – more likely it is about asserting the feminine into public space and claiming the right to steer the dialogue and set the agenda.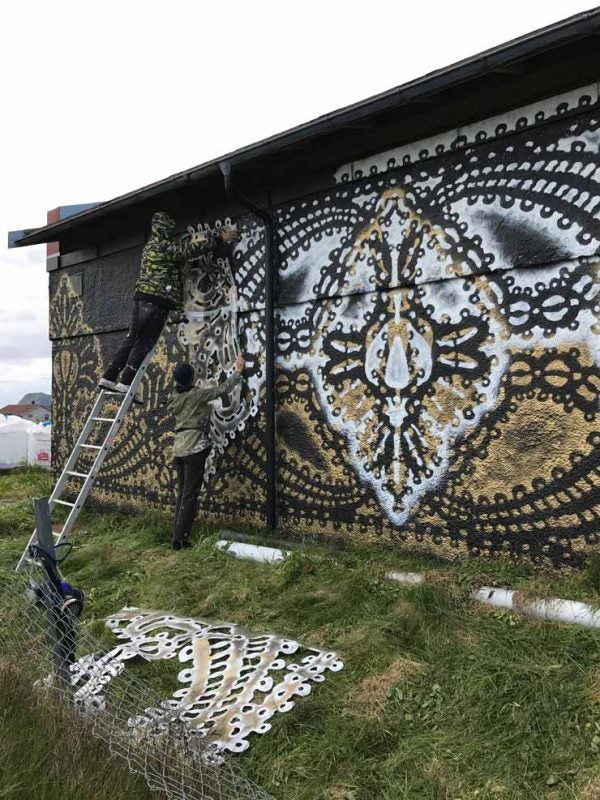 Franco Fasoli, or JAZ, has travelled to many cities over the last decade painting murals that often involve historical archtypes at war or readying for battle. Born in Buenos Aires, Argentina in the early 1980s, he says his studies in ceramic art have also been taking form in his mind and he will be doing more sculpture.
We have actually seen two of his sculptures in person over the last year: the emerging lower half of a military horse coming up through the floor at the Artmossphere Biennale in Moscow last September and again earlier in Berlin for his anamorphic multi-limbed wresters in the PM/10 show at Urban Nation with Instagrafite last June.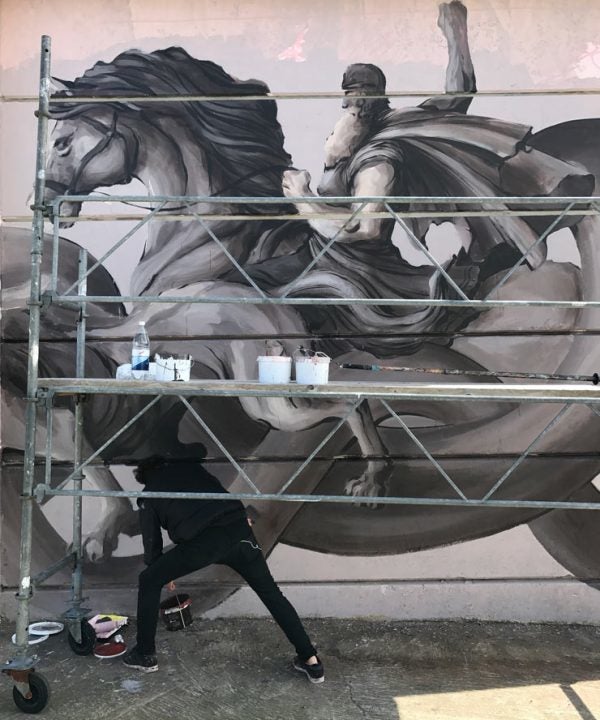 For UPN here in Røst we find JAZ painting a new stately equine image as well, and you can see his affinity for the depth and volume of form even in his wall murals.
BSA: This is an unique place for a mural festival – both because it is away from a major urban center and because the days are 24 hours long this time of year. How would you describe painting on this island this time of year?
JAZ: The environment in Røst is great and it is like a surreal dream to paint there- such an amazing place to paint. The contact with the locals is kind of limited, but there was a lot of super good energy .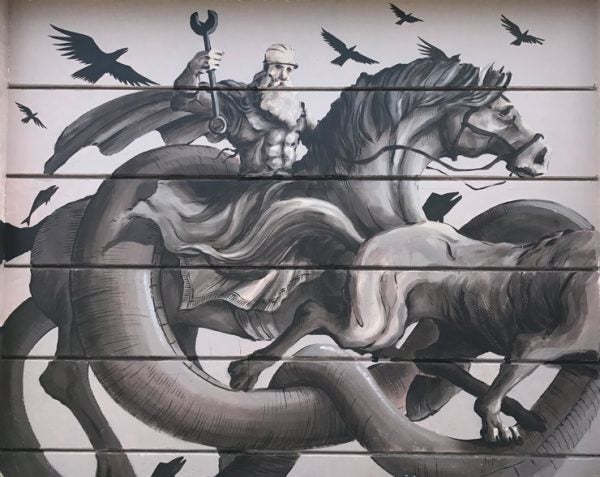 BSA: You have been doing murals for many festivals and towns for a while. How is your practice evolving today? JAZ: Right now I'm concentrating more on sculpture than before and I am working with new kinds of materials, new languages, pushing me away from the profile of only a muralist.
I am interested in new views of my work, getting involved with institutions and using my background as a public artist to generate bridges between different art perspectives. The role of the "street artist" or "contemporary artist" is something that I don't want to be too concerned with – I'm trying to not get fixed in either of them .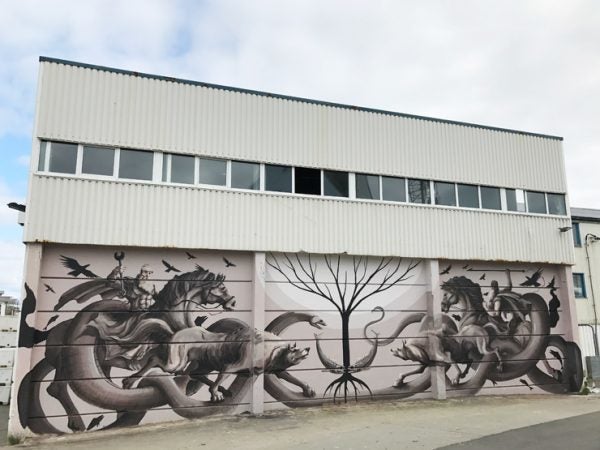 Another world traveller, artist Dzia didn't have to fly too far from his native Antwerp to bring his geometrically influenced feathered friends to this Norwegian wall. With a masters in fine art from the Royal Academy, Dzia only joined the mural game half a decade ago and his active animal kingdom has brought him opportunities to work with big brands thanks to a commercially appealing technique.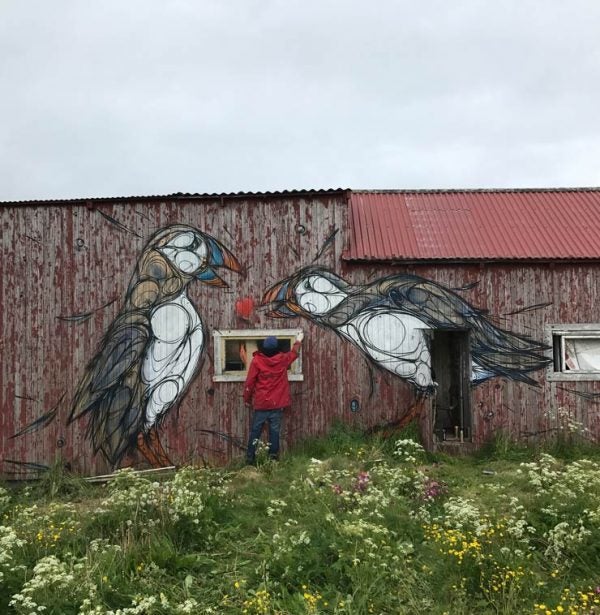 Here in Røst the wood façade of this one-story barn building is a natural analogue to the aviary scene he adds, even with such porous material soaking up the pigments of his paint. Nearer the chopping waves of the sea, his illustrative COD fish forms adds color to a plainly white waterfront building.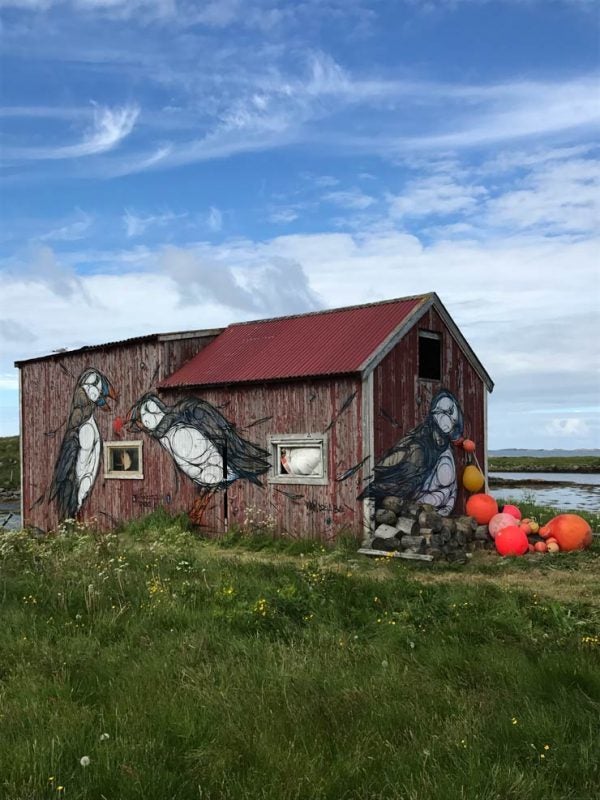 He says on his Facebook page that he loved all the time spent here and the other artists and his hosts. "6 nights on the amazing island Røst, 115km above the pole circle and 100km from the city Bodø, Norway, all 24h daylight and a magic midnight sun!"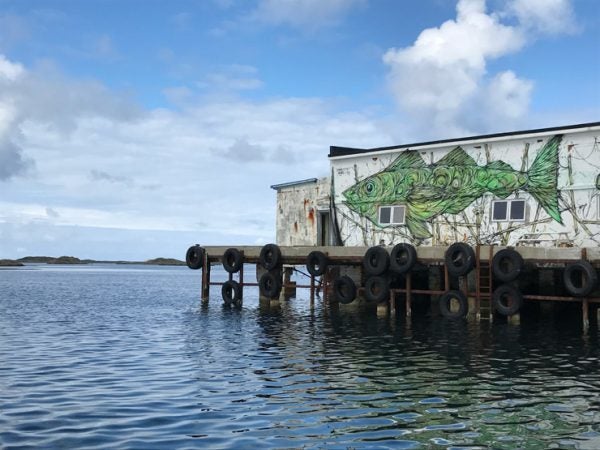 "I think it was very interesting as Upnorth subtly left its footprint without overturning the aesthetics of the Island," says Spain's Isaac Cordal about his experience at the UPN festival. You may be familiar with the miniature sculptural interventions by Cordal, whose corporate businessmen have sold their souls and are looking down at the traffic of the city from a ledge, contemplating their existence, with dread, and guilt. Partly social critique, partly comedic play, partly redefining public space and scale, Cordal's figures are reliably surprising. You can see that at UpNorth this year some of them are evolving as well.
Brooklyn Street Art: Can you tell us about the new figures that you did for UpNorth?
Isaac Cordal: In a way they are part of the same series called "Isolated in the modern outdoors". They are covered by a blanket with the colors of the houses of Røst. They are isolated in the middle of the sea with no possibilities of returning, without a house, like a kind of shipwreck. Unfortunately blankets have become the street fashion for many homeless people. Blankets remind us of other times, of the devastation, of the migratory crises and of the human being succumbing to the hostilities of the outside.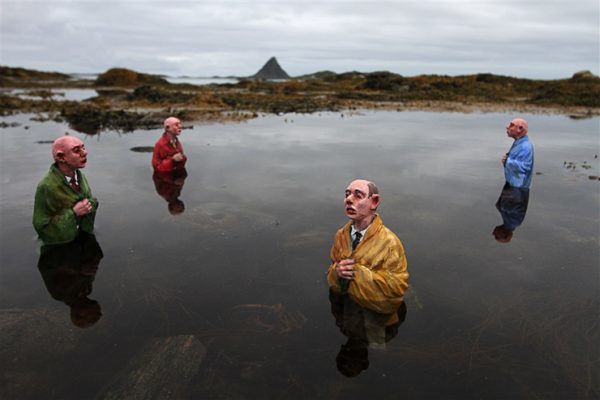 Brooklyn Street Art: How would you describe the environment working in Røst?
Isaac Cordal: Working in Røst was an interesting experience since you had to adapt to the peculiar nature of it; there were not many buildings to intervene so that gave me the opportunity to experiment with its geography. With its 24 hours of light its landscape became something completely hypnotic at certain times. The hours of sleep are altered and the perception of time changes in a certain way.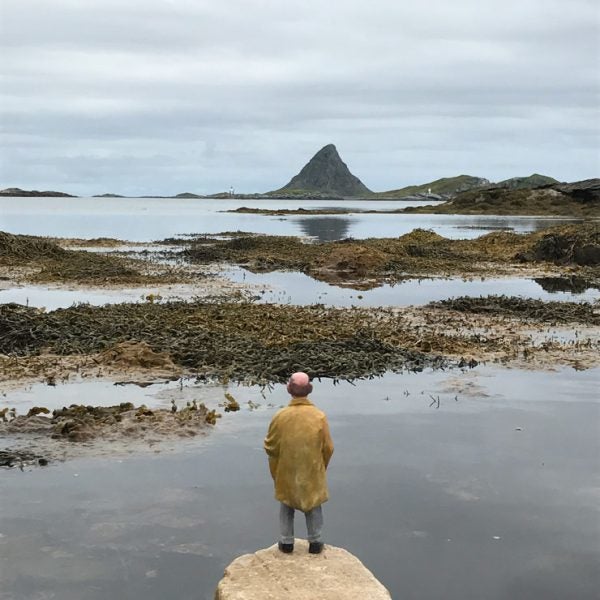 Muralist INO uses a monochrome palette and a splash of color with most of his photorealist/surrealist figurative metaphors to talk about society. Not exactly critique, often the commentary comes across as straightforward observation, openly stated.
An aerosol bomber in his teens in Athens, his hard work in his early thirties has brought his murals to many international cities and he says UPN was a great opportunity to address a favorite issue of late, our lack of privacy. The new piece is called "Photobombing".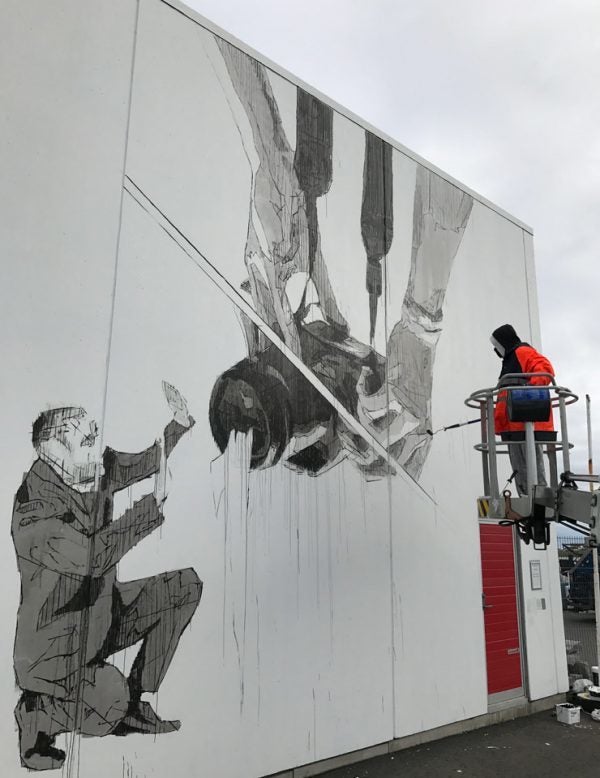 Brooklyn Street Art: Can you tell us about the piece that you did for UpNorth?
INO: The invasion of privacy in our societies is constantly increasing with the pretext that our lives are improving. This exposure may not concern some, but maybe they should think again about it.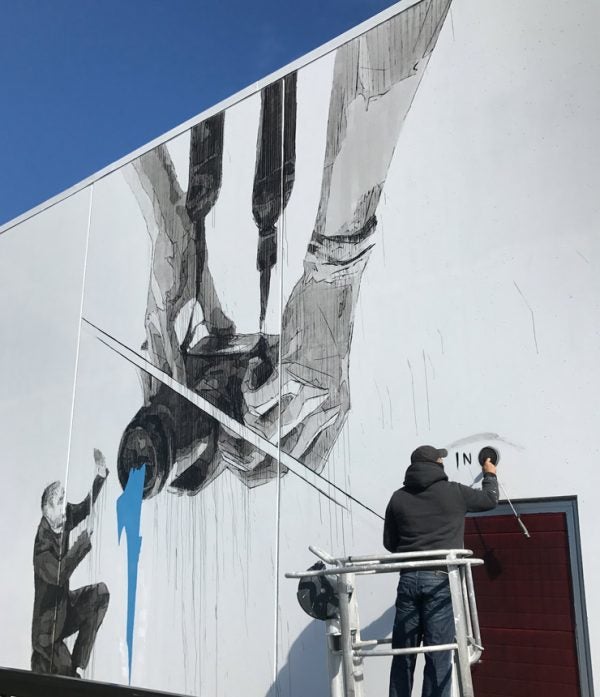 Brooklyn Street Art: How would you describe the environment working in Røst?
INO: It was interesting working on an island that has only one policeman and 24 hours daylight.
An Argentinian architect and painter, Pastel routinely brings the natural world to the manmade irregular spaces in the built environments of modern cities. Not a stranger to the city, he's equally engaged in the country – taking particular care to educate himself about the sliding matrix of environments that one walks through when visiting a place – social, historical, geological…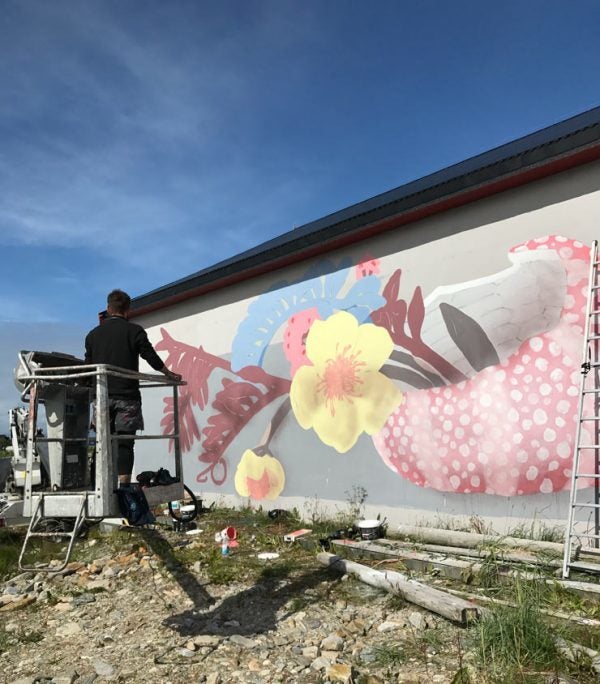 So it makes sense that his work here draws directly from the eating habits of sea and air in this land where both are the principal actors. His interesting twist is how flora becomes symbolic for social issues in Pastels projects – a catalyst for dialogue about the nature of nature and the nature of us.
BSA: Can you describe that shell/flower arrangement, how it is related to the local vegetation, what you learned about the geography/agriculture/topography on Røst?
Pastel: The painting is based on the local flora that grow during the artic summer (24hs sunny) and the marine imagery. The seagulls jump into the water and catch sea urchin, then they drop them in the ground to crack the shell and eat it.
You can find all over the island these empty shells covering the ground. Because of changing climate conditions and the noticeable jump from to a subpolar oceanic climate to a cold-summer Mediterranean climate, the flora has become endemic and unique to the region itself.
BSA: Can you talk about the greater significance of the work as it relates to environmental or social issues?
Pastel: In my painting I'm focusing on the flora as a way to talk about the local issues of each place I'm going to paint in. The issues may reference architecture and urban mistakes, socio-economical and historical problems. I think of my painting as a dynamic way to make architecture in public spaces (a kind of "urban acupuncture"), as a performance, hopefully improving the local identity of each place.
When I work on studio paintings I translate those meanings using poisonous plants instead of the local flora.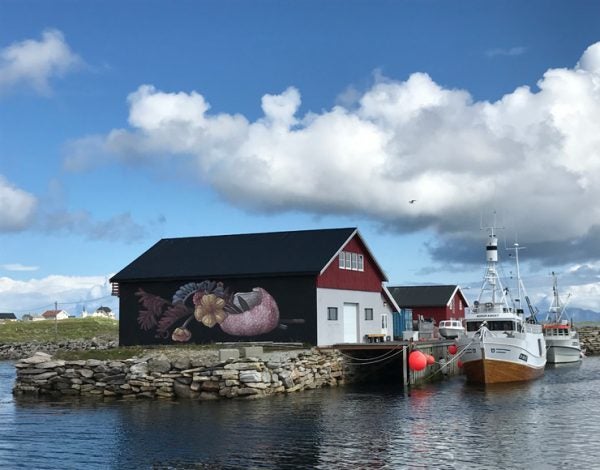 Known more as a fine art illustrator than urban artist, Russian born Lora Zombie brought her fantastical sensibility to this very grey area, injecting her self-taught style of art-making into the familiar environment.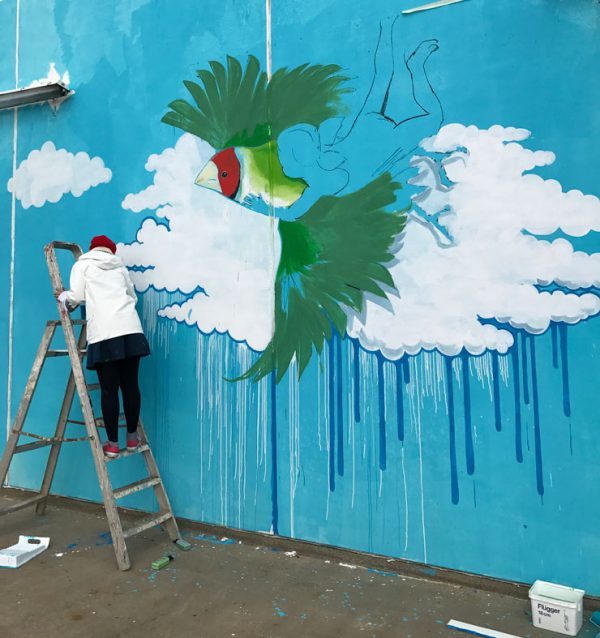 Her world-wide collectors will probably not make it up here, but then again much of her success as an artist can be directly traced to her presence on the Internet – and of course bouyant personality and the ubiquitous shocking blue hair.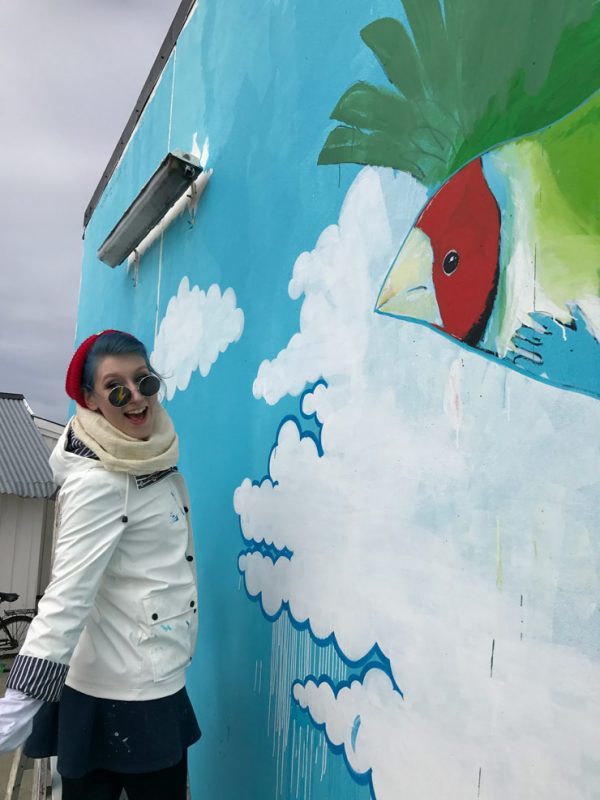 Our thanks to our partner Urban Nation (UN) and to photographer Tor Ståle Moen for his talents.
Please note: All content including images and text are © BrooklynStreetArt.com, unless otherwise noted. We like sharing BSA content for non-commercial purposes as long as you credit the photographer(s) and BSA, include a link to the original article URL and do not remove the photographer's name from the .jpg file. Otherwise, please refrain from re-posting. Thanks!
This article is composite of our full coverage on Brooklyn Street Art :
Read all posts by Steven P. Harrington and Jaime Rojo on The Huffington Post HERE.
Follow us on Instagram @bkstreetart
Related
Popular in the Community