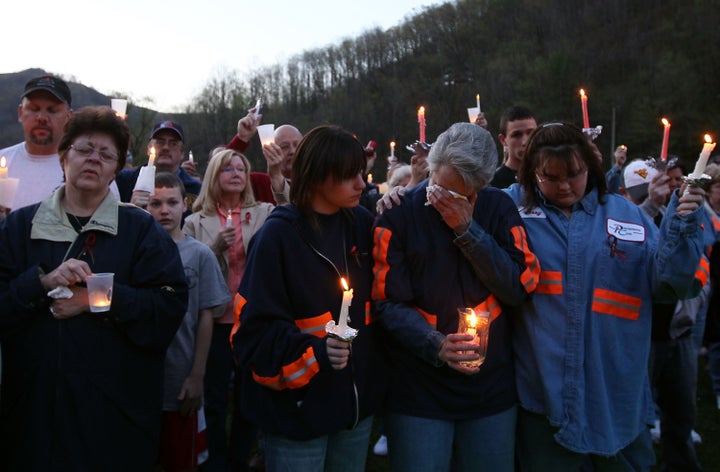 Alarmed by reports that Massey Energy officials are intimidating miners and their families, the Department of Labor announced today that it is launching a "supplemental" investigation into last month's Upper Big Branch mine disaster -- in which witnesses can remain anonymous.
The department's Mine Safety and Health Administration said in a statement that "Secretary of Labor Hilda L. Solis called for this additional investigation group to provide a safe, confidential venue for the general public, family members of the victims and miners to speak freely to MSHA investigators about the mine explosion without fear of retaliation or the need to reveal their identity."
"We are clearly concerned about fear and intimidation by the company," an administration official told HuffPost.
Chuck Nelson, a former Massey underground coal miner, told West Virginia Public Broadcasting last week that Massey intimidates its workers. "They can't go to the authorities or anything like that and I know there is a whistleblower law and all that but they have ways of getting back and people are so scared of losing their jobs that they're not going to speak out," Nelson said.
"We need to use every available tool to establish the cause of this tragedy that took 29 coal miners' lives," Joseph A. Main, assistant secretary of labor for mine safety said in the statement. "The work of this special team will be part of MSHA's investigative process, and it will give family members and others the opportunity to share information they might otherwise not feel comfortable passing along."
The new group will run an anonymous tip line that victims' relatives and members of the general public can use to convey relevant information. The phone number is 877-827-3966.
MSHA also announced it is creating an internal review team "to evaluate the actions of the agency prior to the explosion at the Upper Big Branch Mine and to make recommendations for improvements where appropriate."
Calling all HuffPost superfans!
Sign up for membership to become a founding member and help shape HuffPost's next chapter