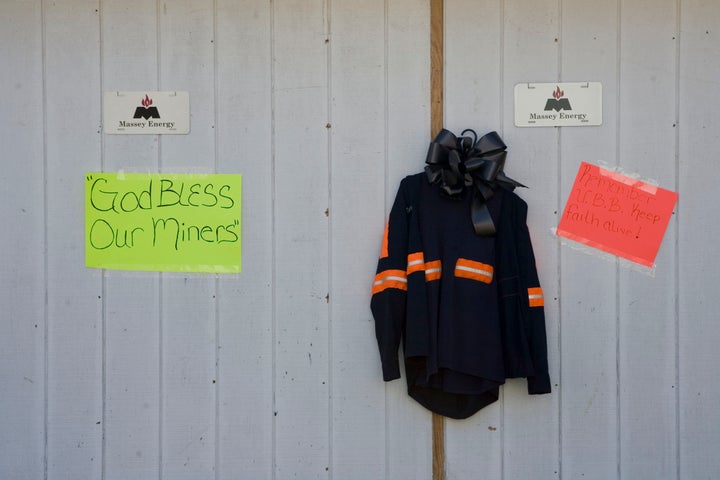 WASHINGTON -- The federal agency tasked with overseeing mine safety released on Wednesday its preliminary findings on the Upper Big Branch Mine disaster that claimed 29 miners in West Virginia last April, painting a damning picture of the mine operator and its parent company, Massey Energy.
Although the Mine Safety & Health Administration has not finalized its report, officials said in a public presentation that the initial blast appears to have started because of a modest amount of methane gas in the mine, but it quickly turned into a massive explosion due to the preventable buildup of coal dust. The mine operator ignored chronic safety hazards such as poor ventilation and equipment malfunctions, and management failed to officially record known problems and properly train miners taking on new jobs, according to officials.
Officials said that the company ultimately put production before its miners' well-being, going so far as to threaten workers who held up coal production because of safety concerns.
In a videotaped statement aired at the public hearing in West Virginia, Department of Labor Secretary Hilda Solis said plainly, "The tragedy at Upper Big Branch was preventable."
Massey officials have said in the past that the explosion was the result of a natural disaster -- a position the company has maintained in recent months even as it's been undermined by official probes. Investigators carrying out an independent examination on behalf of the West Virginia governor's office last month shared findings similar to MSHA's, ultimately saying Massey ignored chronic safety hazards leading up to the deadly blast.
As he walked the public through the agency's investigation Wednesday, Kevin Stricklin, MSHA's administrator of coal mine safety and health, said that the explosion "could and should have been prevented by the mine operator." Stricklin said that the investigation so far has been extensive, leading to interviews with 266 people, some 84,000 pages of documents, and more than 1,000 pieces of physical evidence.
Among Stricklin's more inflammatory disclosures was the fact that Upper Big Branch managers kept two sets of records -- one book that included the mention of known safety hazards, and a more official book that did not.
"If a coal mine wants to keep two sets of books, that's their own business," Stricklin said. "They can keep five books if they want. But they're required to list all the hazards in the official book."
Upper Big Branch had been cited for 17 rock dust violations in the year leading up to the explosion, and the mine had an inadequate water supply to minimize the dangers of coal dust, according to investigators. MSHA also discovered more than 200 "deficiencies in training" of Massey workers.
And despite the mine's many safety violations, guards regularly tipped off mine management when MSHA investigators showed up to do safety inspections leading up to the tragedy.
According to Stricklin, safety hazards such as insufficient air ventilation were not "acceptable excuses" for not running coal at Upper Big Branch. One foreman, he said, was fired for holding up production for an hour to improve ventilation. And when Dean Jones, one of the victims, drew attention at one point to safety hazards at the mine, management told him, "If you can't go up there to run coal, just bring your bucket outside and go home."
"No one should have been inured and definitely no one should have died in this explosion," Stricklin said.
The investigation continues but will soon be completed, Stricklin said, noting that officials had given the families of victims an advance briefing on Tuesday night.
In addition to the MSHA investigation, the Department of Justice is carrying out its own probe to see what laws may have been broken in the disaster.

Popular in the Community