Lazy, Entitled and Delusional. Several assumptions associated with (L.E.D.) millennials.
Whether it's an industry threatened by leaner competition with human values, or a broader inability to distinguish between the message and the messenger, millennials are unabashedly opinionated but poorly understood today in age. While advertisers flock to capture this segment of consumers, few pay attention to those within their ranks, for product and business development.
The fact is that the right-mix of inter-generational/disciplinary mentorship and collaboration can ignite a future filled with possibilities. However, while I live in the mecca of entrepreneurship and "innovation", I had to travel to Zurich, Switzerland to test my thesis.
For the fourth year in a row, hundreds of limitlessly talented students, academics, creatives, venture capitalists, and boundary-pushing groups and organizations gathered for the Thought For Food Challenge at the TFF Summit. Gone was the continental breakfast, @TFFChallenge attendees jump-started their day sipping espresso while house music pulsed through the Giardino Verde (Green Garden). Laser lights transformed the main stage into a mushroom field reminiscent of Amsterdam and worthy of Alice in Wonderland.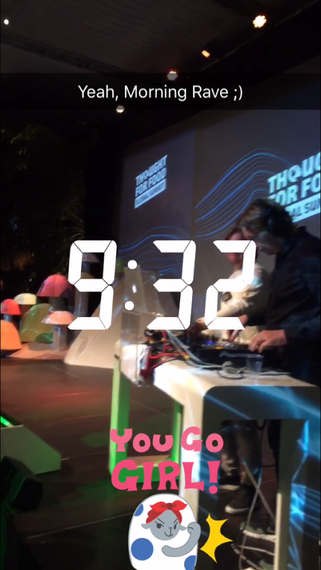 Throughout the two-day event, Khaki-clad investors and unshaved, denim-proud misfits were treated to illuminating talks including GMOs and vertical farming, with speakers ranging from Julie Borlaug from the Norman Borlaug Institute to Sara Farley from the Global Knowledge Initiative. Conversations ranged from how to develop protein rich tomatoes to help offset our dependence on meat, to mobile refrigeration units that can curtail food waste due to inefficient transport methods before they ever reach consumers. Curiosity was infectious and open dialogue over-rided conventional understanding in order to enable growth and deepen understanding.
The event culminated in pitches from 10 international teams seeking grants to further their business ideas, which uniquely address how to feed 9 billion people by 2050. From the app-driven AgForHire (connecting farmers with laborers) and FarmAField (bridging farmers with investors) to Shehed (technology to help farmers increase pollination rates), students showcased their passion with Shark Tank finesse and (American) Idol enthusiasm. The winning team, Kulisha, shined with their qualitative-rich presentation on how to mass-produce larvae to feed fish in order to satisfy growing demand in Kenya. The sportsmanship on display should be required viewing for U.S. 2016 Presidential candidates.
I had the opportunity to conduct a social media marketing workshop for attendees, and spent much of my time engaged in discussions about agriculture, food scarcity and much more. I was energized, inspired and truly Thankful for the experience. As I step into my new role at Horizon Media as Director, Social Media Influencer Marketing and Social Strategy, I am stoked to carry-on the enthusiasm and (my) expertise to my new team, as we collectively continue to work harder, showcase our capabilities, and demonstrate our commitment in order to ensure we slay it in the face of adversity.
#UprootingAssumptions,
pedro
Support HuffPost
The Stakes Have Never Been Higher
Related
Popular in the Community