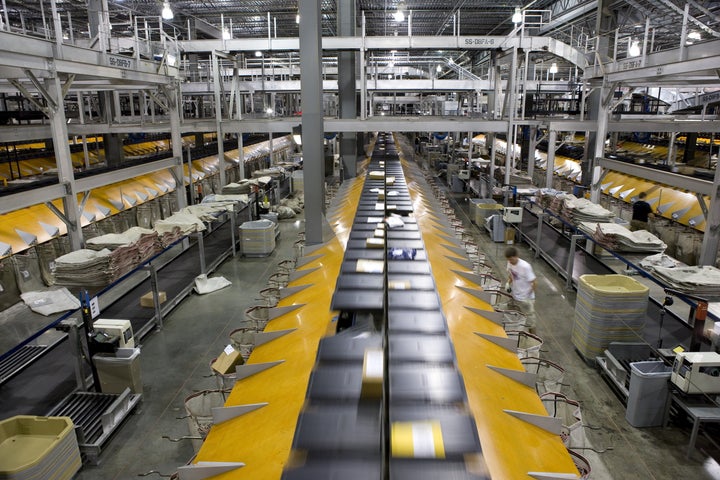 LOUISVILLE, Ky. -- Every night, hundreds of workers get on buses and are dropped off here at the UPS Worldport. They spend a few hours putting packages into a giant system that will then sort and organize the parcels, helping to connect -- literally -- the world.
The Worldport is an almost frighteningly large place, the size of 90 football fields but tall enough to have four layers of conveyor belts that in total run 155 miles. All those workers and the actual package-sorting business are just one piece of what UPS does here, though. The company, with more than 8.5 million square feet of space in Louisville, is now also in the business of repairing laptops and distributing vaccines.
"In a way, the Worldport is the physical manifestation of the globalization process," said John Kasarda, a professor at the University of North Carolina's Kenan-Flagler Business School who studies global infrastructure. "Everyone talks about the world being flat and the 'information Internet,' but the web won't move a box. Somebody has to pick it up and ship it."
Kasarda added that UPS's bid to handle more of the supply-chain work for companies is as much about gaining market share over FedEx and other global competitors as it is about making money on operating warehouses. The margins on storing products for companies aren't terribly high, but adding more shipments to its global network is crucial if the company is going to make its brown trucks as recognizable as the FedEx logo.
In that pursuit, the Worldport is deeply important. From here, packages can reach 80 percent of the world's population within 48 hours. This is a boon to companies like Zappos.com, the online shoe retailer, which now has more than 1 million square feet of warehouse space in nearby Shepherdsville. Zappos and other companies want to store their products close to the Worldport, where UPS operates 130 planes a day and processes 1.5 million packages on an average day, and 2.9 million packages on its record day in 2010.
Other companies are choosing to have UPS itself handle this kind of distribution for them. There's the airplane-part manufacturer who has UPS dispatch required equipment straight from the Worldport, to save the time of a part traveling from the company's warehouse to the package shipper's hub and then to the airport where it's needed. And the medicine makers who have UPS keep their wares in secure, refrigerated spaces so they can be quickly delivered to areas where flu shots or other important pharmaceuticals are in demand.
Then there's Toshiba, which has actually contracted UPS to repair its laptops. Customers might not know this -- when they send their laptop off to be repaired, the cryptic destination address is tough to understand. But it's in Louisville, and the laptop never leaves there. UPS has a 10,000-square-foot area where technicians dressed in blue lab coats swap out keyboards or hard drives or fix whatever else is wrong with hundreds of laptops per day. It's helped Toshiba cut the turnaround time to three or four days from when the customer sent a laptop to when he got it back -- a period that previously spanned 20 days. The package, after all, never has to leave Louisville.
This is a big change for UPS, a company that started as a messenger service in Seattle in 1907. When you understand all that UPS now does, the slogan it paints on its trucks, "Synchronizing the world of commerce," starts to make sense, even if its old tagline, "What can brown do for you?" is still somewhat baffling. (It was replaced with "We <3 Logistics" last year.)
But the entire presence of UPS in Louisville also helps prove Kasarda's point, made repeatedly in his book Aerotropolis, that globalization is about the connectivity of both people and products.
People can be connected all over the world by the Internet of email and Facebook and Skype that we know well. Products require an entirely different internet, a physical internet, that can connect continents but only because of places like the Worldport.
REAL LIFE. REAL NEWS. REAL VOICES.
Help us tell more of the stories that matter from voices that too often remain unheard.