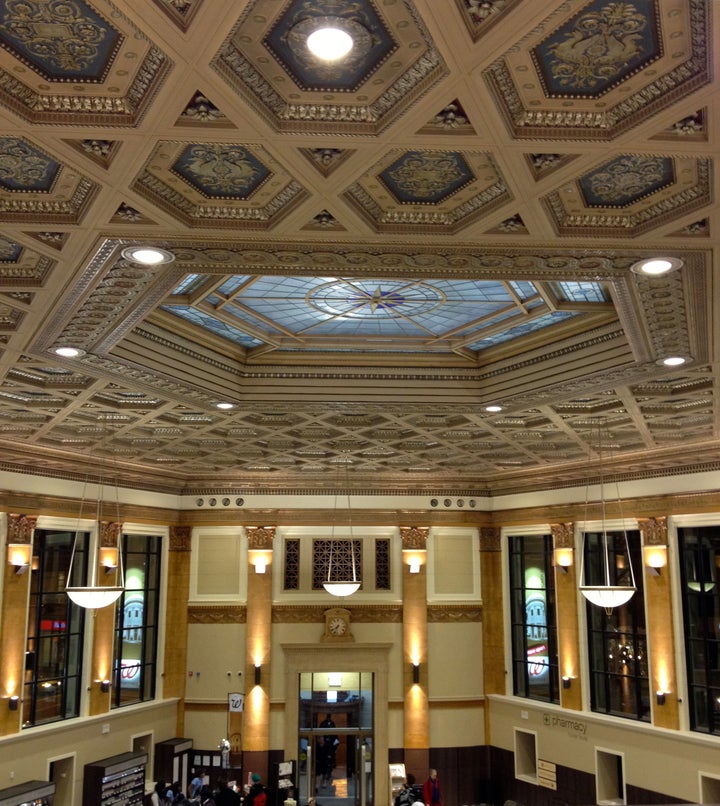 Gawking, staring and lots of "wows:" those were among the reactions from shoppers as they scoped out the stunning new flagship Walgreens which opened in Chicago on Tuesday.
During the opening ceremony, Mayor Rahm Emanuel told the crowd, "this is not your grandmother's Walgreens." With flashy features that include an in-house eyebrow beautician, a 24-hour drinks cafe and a sushi bar, Emanuel's observation was an understatement, to say the least.
(Scroll down for photos of the new upscale Walgreen's flagship in Chicago.)
The uber-fancy flagship is part of a plan by Walgreens--now the nation's largest drugstore--to cater to a higher tax bracket while giving its more than 100-year-old brand a dose of modern edge.
The Wicker Park/Bucktown Walgreens can't claim to be the first drugstore with a self-serve frozen yogurt bar or specially-staffed makeup boutique, but it may be able to make an even bigger claim: Fanciest Walgreens.
Walgreen's in-house architect, Dan Garneau told Crain's the basement was in "terrible shape" after years of vacancy and required 18 months of work to get it up to snuff. Now, the basement is home to what store associates say is their--and tourists'--favorite feature: a vitamin display built into the original bank vault.
The store's creative re-use of original features from the historic building has earned plenty of praise.
Along with the store came 80 new jobs. An associate told Huffington Post some workers in nearby Walgreens requested a transfer to the new flagship, but the company opted to staff the location with all new hires.
The Wicker Park/Bucktown Flagship Walgreens is located at 1601 N Milwaukee
PHOTO GALLERY
The Fanciest Walgreens Ever?
Calling all HuffPost superfans!
Sign up for membership to become a founding member and help shape HuffPost's next chapter
BEFORE YOU GO