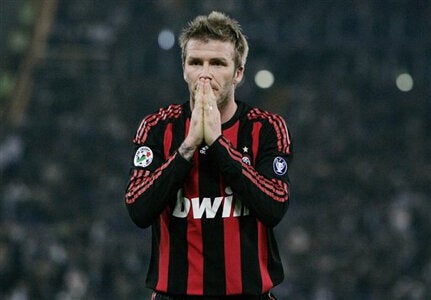 When Manchester United, the world's best and most famous soccer team, was creamed at home by arch-rival Liverpool the other day, neither diehards nor drunks packing my favorite Chicago sports tavern at 7:30 a.m. seemed to discern one reason "Man U" was an embarrassing sight.
Emblazoned across its red home jerseys, in letters fit for a NASCAR driver's fire-retardant suit, is "AIG." Yes, that's American International Group, the source of both $170 billion in U.S. government funds and Obama administration dismay, given belated public disclosure of hefty bonuses paid executives.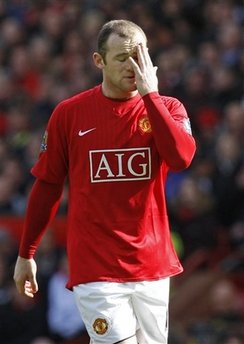 Of course, President Obama, Treasury Secretary Tim Geithner, acerbic Rep. Barney Frank and others could vent over Man U multi-millionaires Cristiano Ronaldo, Wayne Rooney and Rio Ferdinand being assisted by our taxpayer dollars. But I suspect the elected officials may not even know their names, nor those of equally famous European athletes benefiting from a spanking new deal with Bank of America, another embattled bailout recipient.
So, as politicians strain to outpace their own constituents with born-again AIG outrage, let's at least remind them that TARP funds, bailout money and bridge loans may be winding up in the bank account of Tiger Woods. Huh? The iconic Tiger?!
Well, the sponsors of individual PGA tournaments, and thus the source of about half a tournament's prize winnings, do include Wachovia (now part of Wells Fargo), Morgan Stanley, U.S. Bancorp and Buick. Each firm is adroit at plying clients and others with ample supplies of freebie food, booze and other entertainment as they bask in the reflected glory of Tiger and confreres. And, as many recall, each firm received our money to revive their fortunes (just under half the prime sponsors are financial services or auto firms).
Should there be similar anger?
There are few topics, besides executive compensation and bonuses, more fit for bailout-inspired vitriol and demagoguery than the sports marketing and sponsorship deals bargained by financial services firms and automakers surviving due to historic taxpayer largess.
Typical was Rep. Frank's letter to Chicago's Northern Trust, insisting that the bank return money spent on a PGA golf tournament in Los Angeles, which also included a private concert by Sheryl Crow. "At a time when millions of homeowners are facing foreclosure, business and consumer are in dire need of credit, and the government is trying to keep financial institutions -- including yours -- alive with billions in taxpayer funds, this behavior demonstrates extraordinary levels of irresponsibility and arrogance."
Admittedly, Frank later recalibrated his outrage in an interview with Golf Digest, a monthly not always associated with relevant explorations of public policy:
"No one is saying they shouldn't sponsor golf tournaments and honor existing contracts,' Frank, the chairman of the House Financial Services Committee, said in a telephone interview. 'It's the spending on luxury hotels and limousines they should not be doing. Now, if they weren't getting federal money it would be up to them to decide if that's how they want to spend their money."
Hmmmm. But what about beleaguered Citigroup, also propped up by Treasury intravenous, proceeding apace with a $400 million, 20-year deal to have its name plastered on the new New York Mets Stadium (Citi Field)? While you and I are now significant stakeholders in Citigroup, its officials swear on their holy derivatives that no TARP funds are part of that deal. That might be a financial distinction without a difference since, wherever their sponsorship dollars come from, bank money is helping to pay the likes of $23-million-a-year Mets pitcher Johan Santana.
Congressman Frank, whose district includes Boston's tonier burbs, would express similar chagrin if TD Banknorth, the bank who owns the rights to the arena where his constituents' maniacally beloved Bruins and Celtics play, had been a TARP recipient. In the typical naming-rights deal, a company gets luxury suites, premium tickets and marketing rights. And, just like the sun rises in the east, public officials can occasionally be spotted as guests.
Nell Minow, one of my favorite slayers of corporate governance hypocrisy, argues. "The naming rights thing is a scam. Just think about all the failed companies that were buying stadium names instead of working on their operations," alluding to the likes of Enron (remember Enron?).
"And I'm not convinced that this kind of schmoozing is the only way to do business," says Minow, a founder of The Corporate Library, a corporate governance watchdog (and, in her other life, author of a can't-missed website for parents wondering what flicks are appropriate for their kids, Moviemom.com.
As for the business of sports sponsorships not being funded by government bailout funds, she says, "No such thing as different pockets. Once they accept bailout money, a fraction of every penny belongs to us. Any bailout funds, public or private, have to be treated that way to prevent moral hazard. Any conceivable branding benefit from a stadium or tournament is fatally undermined by the reputational hit created by the apparent cognitive dissonance mingled with arrogant cluelessness."
A distinctly different view comes from David Israel who, like Minow, is a liberal Democrat. He's a former star sports columnist for the Chicago Tribune who headed west to become a Hollywood writer-producer and knows the business of sports cold; all the more so as vice chairman of the California Horse Racing Board and a former president of the Los Angeles Memorial Coliseum Commission.
The sports business is inextricably tied to three major industries: financial services, cars and beer. "And if the government intrudes and refuses to allow companies that took government loans or bailouts to continue marketing affiliations, the business of sports will completely crater," Israel says.
"This isn't about anything like the AIG bonuses," says Israel. "This isn't throwing bonuses at boneheads who insist on being paid extra millions for blowing untold billions. This is about legitimate marketing, promotion and advertising, the fuel that creates jobs and helps restart and keep running the economic engine."
Indeed, one controversial gambit, namely paying big bucks for stadium and arena naming rights, strikes him as a smart way to market. Would there be similar doubts if the same amount of money was spent by a bank on newspaper advertising over the course of the same period? (If a bank had saved Denver's Rocky Mountain News from folding recently, or offered to keep the print edition of the dying Seattle Post-Intelligencer going, it might have been lauded as a hero on the nation's editorial pages).
He may generally agree with the politics of Frank and U.S. Senator John Kerry (D-Mass.). But he rolled his eyes when Kerry, too, got distinctly righteous over the Northern Trust golf deal.
"I'm sick and tired of picking up the newspaper and reading about another idiotic abuse of taxpayer money, while our country is on the brink," Kerry said.
Israel points out how the Pittsburgh Steelers and University of Pittsburgh football team play in Heinz Field, named after the family of Kerry's wife. H.J. Heinz Company, the ketchup king, hasn't received direct government funds but they surely deduct money from their naming rights deal as bona fide marketing expenses. Thus, they take taxpayer dollars for "the very same kind of activity that John Kerry wants to make illegal," says Israel.
Israel, who just happened to attend the Sheryl Crow concert thrown by Northern Trust, then argues that "thousands of blue-collar jobs are created by the sports and sports hospitality business. The people who will really suffer are the hourly workers who will find themselves without hours to work," including car parkers and kitchen workers at the golf tournament.
Minow says Israel has a point of sorts. "But the fact that non-rich people get paid to support these events does not mean that shareholders and taxpayers should be the ones who are subsidizing them."
"The broader issue here is when the federal government becomes so deeply involved with the banks, even if you stipulate they might be doing the right thing, how much of a hand should they have in deciding how the banks should be run?" says Jim Glassman who, like Minow and Israel, is a Jack/Jill of many trades.
Glassman is a financial journalist and former magazine and newspaper publisher who just served as Under Secretary of State for Public Diplomacy and Public Affairs in the lame-duck final months of the Bush administration. That was the job previously held by Bush acolyte Karen Hughes and meant to improve our worldwide image. (In fact, if you read Glassman's speeches during his fleeting tenure, you'd wish his eminently sensible, less bellicose, tack had been central to Bush's initial foreign policy strategy).
"I go with the assumption that, in most cases, when businesses attach their names to these things, they do so for business purposes," said Glassman, co-author of the distinctly upbeat 1999 book, "Dow 36,000" (oops!).
"Sure, there is some ego-driven satisfaction for a CEO to play with Tiger Woods. But, by and large, they do it to promote their firms. To simply say it's bad is wrong. These things have real-life business consequences."
Interestingly, Glassman even has second thoughts about AIG canceling more than 160 conferences and events, at a total cost of $8 million, which are "not strictly justified by legitimate business needs," according to an AIG statement.
At AIG, argues Glassman, a big part of its business is selling insurance through personal financial advisers. They've often done same at fancy conferences in posh resorts where there are well-compensated speakers. The ulterior motive is to sell the advisers AIG products. Does doing away with these nifty gatherings potentially make AIG less competitive, especially if rivals who don't get federal dollars wine and dine the same folks without threat of public rebuke?
Well, one can hope that executives get a bit smarter and cut down on hubris; of spending company money mostly so they can be bigshots at fancy venues and suck-up to jocks and celebrities. Think a bit harder about unintended consequences of how one dispenses shareholder money. Don't use government funds to reward employees with all-expenses-paid weekends in Las Vegas. These days, they should knock on wood they've got a job.
As for the politicians, they should probably stay out of all this as best they can, even if they find that difficult. Some seem like the Peter Sellers character in Dr. Strangelove, who can't resist throwing up an arm in the Nazi salute. They just can't help themselves. The incentives for grandstanding are too great, all the more so when so many voters are hurting and outrage can bring easy access to a local front page or the late-night local news back home.
As a product of the newspaper industry, I'm ultimately envious of all this lavish spending. My industry seems genetically incapable of selling itself. Its traditional expenditures on real marketing, as a percentage of budgets, are minuscule and constitute one of its many self-inflicted wounds. Arrogance bred marketing invisibility and, now, some are dying, with a Seattle paper the latest to announce its print demise.
So I now dream of a government bailout of newspapers, whose survival is critical not just to democracy but also to television and radio producers desperate for a daily news cheat sheet. And I dream of ingenious ways to use those bailout funds.
Come to think of it, AIG is exiting its splashy deal with Manchester United next year.
So imagine Manchester United then hosting Liverpool, which two weeks ago extended for four years a sponsorship deal with bailout recipient Bank of America (didn't know that, did you, Barney Frank?). Being another of the world's richest sports franchises, Liverpool, with household names (in non-U.S. households) Steven Gerrard and Fernando Torres continuing to benefit from BOA generosity, could face a truly inspiring site.
With presumably hundreds of millions watching worldwide on TV, we'd no longer see a Manchester United jersey with a gaudy "AIG" across the front. Instead, there could be "NEW YORK TIMES," "WASHINGTON POST," OR "THE GUARDIAN."
If only our elected officials would then just hush up, and let the marketing begin.
Calling all HuffPost superfans!
Sign up for membership to become a founding member and help shape HuffPost's next chapter