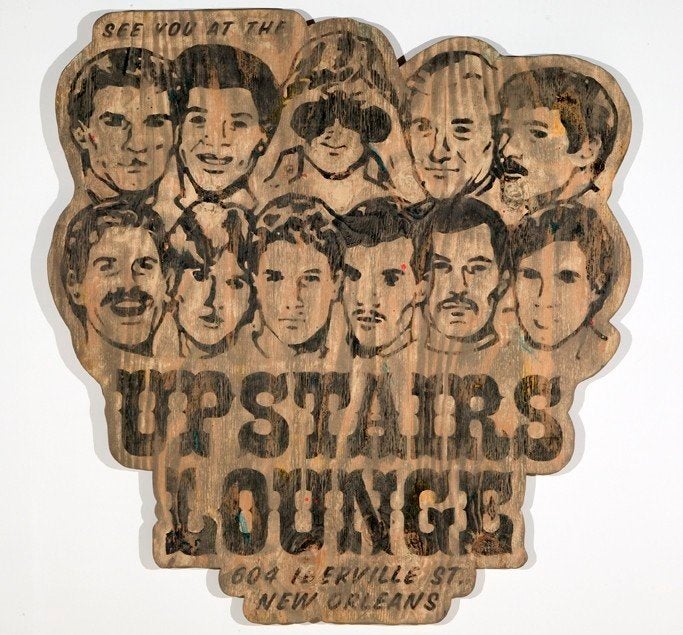 Before a rant about Chick-fil-A made me a Huffington Post blogger and GLAAD media spokesperson, I was (and remain) a composer and playwright. My musicals were small, self-produced affairs, written entirely by me (book, lyrics and music) and fleshed out by a director, a pianist and a small cast. They were manageable and successful (for a certain narrow definition of success), and I was serious about them as an artistic enterprise, if not as an avocation.
Then I learned about the unsolved arson fire at a gay bar and the 32 who died. That changed everything.
I was reading Don't Be Afraid Anymore by Troy Perry, the gay founder of the LGBT-friendly Metropolitan Community Church, in which he recounts the church's early years, including the 1973 arson fire that killed an MCC pastor and 31 other LGBT and allied people at the UpStairs Lounge in New Orleans. I put the book down. I cried. Then I got online and tried to learn more.
The UpStairs Lounge arson attack ranks as the largest single crime against LGBT people in U.S. history. Thirty-two lives a lot like my own, many of them activists and leaders in the community, were lost in an unspeakable act of violence. No one was ever arrested for the crime. This disaster, this horror, had happened in my lifetime, just four hours from my rural Louisiana hometown, and I'd never heard of it. In fact, few had.
Every artist, no matter the medium, experiences that moment of captivation when you know that this subject, this idea, this concept -- it will own you for a while. This was mine. I was overcome with questions: Who set the fire? Who were the victims? What were they like? Why was the story of this fire not a permanent part of U.S. LGBT history, as iconic as Stonewall?
The books I read provided some answers but were ultimately unsatisfying. Perry's book was not about the fire, so it only devoted a chapter to it. Johnny Townsend's book Let the Faggots Burn, though invaluable for the facts it contained, didn't weave a set of narratives or attempt to place the tragedy in historical perspective. However, it did tell me more details about the victims, and what I learned amazed me.
I came away from my research knowing I'd be writing about the UpStairs Lounge Fire for a long time to come, and that my writing would take the form of tribute, of memorial, even of hagiography. There was so much that I thought people should know.
People should know about the love story for the ages that played out as the bar began to burn.
People should know that a woman and her two sons perished in the fire. In a gay bar. In 1973.
People should know that the victims came from all walks of life: preachers, hustlers, soldiers, musicians, parents, professionals and more.
People should know that although no one was ever arrested for the fire, there was a primary suspect whose motives and rationales may have been far more complex than the typical "hate crime" narrative.
And what qualified me to tell these stories? Willingness. Willingness to put it all on the line to say what happened, how and to whom.
"But theater?" you ask. "Why theater?" Because theater is an embodied art form. Theater is flesh. Theater demands that we see people -- people who breathe and lust and dance and laugh and fight and die -- not just memories or names on a page or flickering lights on a screen.
Why a musical? Because the UpStairs Lounge was a musical place, with cabaret shows and drag. Because a jazz pianist died in the fire. Because New Orleans is an inescapably musical city. Because I'm a composer and a playwright, and if I'm going to give my all to this tribute, it's going to take that form. Because calling it "opera" would invite people to expect classical music.
Because when royalty dies, they get a requiem, and these dead deserve no less.
I also knew that this wouldn't be another of my small, local productions. It would be an ambitious attempt to learn all I could, tell all I could and do all I could to bring the stories of the victims and survivors into the public consciousness on a national level. To that end, it would premiere in New Orleans on the weekend of 40th anniversary of the fire, June 20 to 24, 2013.
It's been five years since I began this undertaking. I'm 15 pounds heavier (OK, maybe 20), my beard is graying and my credit cards fraying. My sources of income have dried up, and other projects are neglected. It's been the most difficult undertaking of my life. There's a reason most people don't write a whole musical themselves, produce it and premiere it in a city not their own. But, thankfully, I haven't been alone. It's been a journey dotted with miracles.
There was the Miracle of Dr. Clayton Delery, who graciously let me read the manuscript of his as-yet-unpublished book Nineteen Minutes of Hell. It's a brilliant, incisive, focused account of the fire and its aftermath, and it helped me shape my own narrative.
There was the Miracle of the Amazing Cast and Crew. When people know your heart's in the right place, they'll lend their talents for far less than they are worth. Our singularly talented team for the New Orleans premiere includes Jeff Roberson, the creator of famed Varla Jean Merman.
There was the Miracle of the Kindness of Strangers, in which organizations like PrideNewOrleans.org and the Arch and Bruce Brown Foundation sought me out to offer endorsement and financial support.
There was the Miracle of the Successful Workshops, which saw solid, appreciative Bay Area audiences who said things like, "It was an amazing production. I am still thinking about it days later, and other people who saw it said the same thing. Art, theology, history, beautiful music, on an achingly sad theme, talented ensemble. ... Brilliant" (Rev. Jim Mitulski of the Pacific School of Religion).
Even my presence here on The Huffington Post counts as one of those miracles, as last summer's romp through the world of "going viral" has expanded my audience, allowing for the Miracle of the $10K in Kickstarter Funding.
And when it's finished, what will we have accomplished? We will have honored the 40th anniversary of the UpStairs fire in a way that doesn't merely mourn but remembers. We'll have a narrative about the fire that makes the victims more than victims and celebrates what made them special. I will be a better person for having discovered, learned from, told of and honored these amazing individuals. And if you see the play, you will know something you didn't know before, about history and maybe about yourself.
It is my hope that this story will be told again and again, and perhaps finally begin to take its rightful place in the history and lore of the LGBT community in the United States.
Calling all HuffPost superfans!
Sign up for membership to become a founding member and help shape HuffPost's next chapter