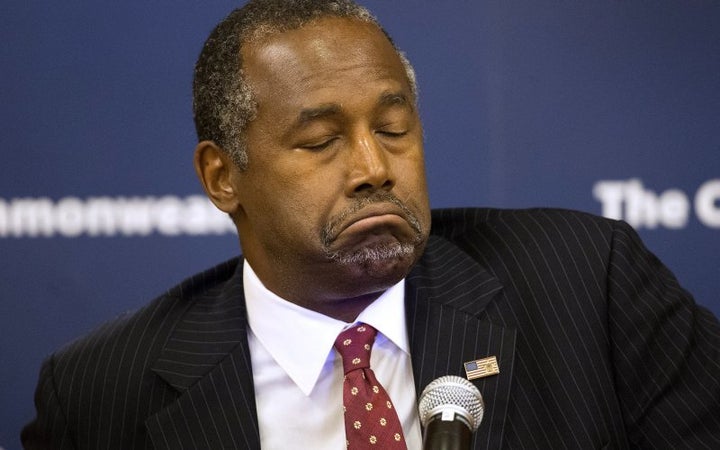 Some of the nation's leading scholars on housing and urban affairs have signed an open letter opposing president-elect Donald Trump's nomination of Dr. Ben Carson to be Secretary of Housing and Urban Development. The letter, addressed to Republican Senator Michael Crapo, chair of the Senate's Committee on Banking, Housing, and Urban Affairs, and Senator Sherrod Brown, the ranking Democratic on the committee, notes that Carson not only remains dismissive of government responses to poverty in general, he has publicly expressed disdain for HUD's particular mission to ensure a safe home for every American.
The letter was initially circulated Monday morning. Within a few hours, more than 30 professors — some of them with experience working at HUD as well as state and local housing agencies — had signed the letter, with the number growing every hour. A number of graduate students and lecturers signed the letter as well.
Here is the text of the letter:
Honorable Michael Crapo, Chairman, U.S. Senate Committee on Banking, Housing, and Urban Affairs 534 Dirksen Senate Office Building, Washington, DC 20510
Honorable Sherrod Brown, Ranking Member, U.S. Senate Committee on Banking, Housing, and Urban Affairs 534 Dirksen Senate Office Building. Washington, DC 20510
Re: Reasons why Dr. Ben Carson should not be confirmed as HUD Secretary
Dear Chairman Crapo and Ranking Member Brown:
We the undersigned are strongly opposed to the appointment of Dr. Ben Carson as the next Secretary of the U.S. Department of Housing and Urban Development. Apart from his personal views on a variety of political and social issues, we consider Dr. Carson completely unqualified to arrive at or promote solutions to the pressing housing and urban needs facing our country.
Created in 1965 to further the nation's housing and urban revitalization agenda, HUD's role was to implement the nation's housing goal, first articulated by Congress in 1949: "a decent home and a suitable living environment for every American family." Sadly, this goal has not yet been achieved. It remains, nevertheless, an aspiration that HUD is obligated to promote, and one that will be greatly undermined should the U.S Senate confirm Dr. Ben Carson.
The signatories below include scholars and experts working in the fields over which HUD holds direct administrative responsibilities, including federally subsidized housing programs to assist lower income households, development of housing policy, urban revitalization strategies, ending homelessness, programs to support homeownership, and fair housing.
We ask you to deem Dr. Carson a poor choice to lead HUD and to deny him Senate confirmation for the following three reasons:
1) Dr. Carson has no experience relevant to HUD's mission: Past HUD secretaries, serving under both Republican and Democratic presidents, typically have had significant public sector experience. They also, for the most part, worked in areas directly related to the work of HUD. Dr. Carson has absolutely no prior experience with the programs and policies administered by HUD or with management or leadership of a large public agency. Indeed, Dr. Carson's close friend, Armstrong Williams, has acknowledged that Dr. Carson: "has no government experience. He's never run a federal agency. The last thing he would want to do was take a position that could cripple the presidency."
Housing is an enormously complex issue. It requires, among other things, an understanding of finance, economics, labor markets, land use, transportation, energy, and the many legal underpinnings that govern housing and development policy. Dr. Carson's background does not include knowledge about ANY of the areas that are so important to a smooth-functioning department.
Of additional concern, we have learned the hard way that when someone with little or no experience running a large, complex department is in charge there is room for unscrupulous behavior on the part of the firms and agencies with which it interacts. Unfortunately, HUD has not been immune to corruption and mismanagement. A HUD secretary without a deep familiarity with the issues within his jurisdiction will likely prove unable to adequately "mind the store."
2) Dr. Carson has expressed disdain for HUD's mission: Among HUD's key responsibilities is the enforcement of the nation's fair housing laws—laws created to reduce discrimination still faced by non-white, disabled, LGBT, and other households seeking secure and decent homes to rent or buy. Rather than understanding the continuing need for the enforcement of the laws that protect the rights of all who are seeking housing, and acknowledging that the government has an ongoing commitment to provide opportunities for low-income people who are eager to move to low-poverty areas, Dr. Carson has dismissed fair housing as being "a mandated social-engineering scheme." He has shown nothing but disdain for HUD's statutory obligation to affirmatively further fair housing.
3) Dr. Carson has displayed a lack of understanding of poverty and the role of government: Dr. Carson does not appear to have any appreciation for the complexity and interplay of the many factors that result in housing being unaffordable to lower income people. Often, at the root of housing unaffordability are issues of poverty which, astonishingly, Dr. Carson sees as "more of a choice than anything else." Dr. Carson seemingly does not have any understanding about the changes in the global economy, the loss of manufacturing jobs in the U.S., the history of employment discrimination, and how these factors collide to harm low-skilled workers and advance poverty.
Moreover, rather than appreciating the critical role that HUD's programs play in assisting millions of households to secure decent, affordable housing, Dr. Carson believes that the solution lies in individual effort, as well as church-based and other community initiatives. These were strategies that were pursued in the late 19th and early 20th centuries, proving to be less effective than government efforts time and time again. Voluntary efforts were and remain important accompaniments to a strong federal role. In their scope, scale, or long term impact, however, such efforts cannot possibly replace the work of government.
To conclude, we cannot imagine that a person with Dr. Carson's views about fair housing, the role of government, and the roots of poverty could possibly be an advocate for the very programs for which HUD is responsible. We believe that the appointment of Dr.
Carson would severely jeopardize the well-being of the nearly 5 million households across the country who rely on HUD and have no other means of securing housing. We strongly urge you to decline to confirm Dr. Ben Carson as HUD Secretary.
Alaina Morgan—Graduate Student, New York University
Alejandro Velasco—Associate Professor of History, New York University
Brian Goldstein—Assistant Professor of Architecture and Planning, University of New Mexico
Catherine McNeur—Assistant Professor of History, Portland State University
Chad Williams—Associate Professor of African and Afro-American Studies, Brandeis University
David Hochfelder—Associate Professor of History, SUNY—Albany
Elaine Lewinnek—Professor of American Studies, California State University—Fullerton
Eric S. Yellin—Associate Professor of History, University of Richmond
Florence Wagman Roisman—William F. Harvey Professor of Law and Chancellor's Professor, Indiana University Robert H. McKinney School of Law
George Derek Musgrove—Associate Professor of History, University of Maryland—Baltimore County
James Zarsadiaz—Assistant Professor of History, University of San Francisco
Jeff Donnelly—Lecturer, University of Miami Jeffrey Helgeson—Associate Professor of History, Texas State University
Jilene C. Chua—Graduate Student, Johns Hopkins University
Julia Gunn—Lecturer, University of Pennsylvania
Keeanga-Yamahtta Taylor, Assistant Professor of African American Studies, Princeton University
LaDale Winling—Assistant Professor of History, Virginia Tech University
Leif Fredrickson—Ambrose Monell Fellow in Technology and Democracy, Miller Center for Public Affairs, University of Virginia
Lily Geismer—Associate Professor, Claremont McKenna College
Marcia Chatelain—Associate Professor of History, Georgetown University
Marisa Chappell—Associate Professor of History, Oregon State University Michael Reagan—Graduate Student, University of Washington
N. D. B. Connolly—Herbert Baxter Adams Associate Professor of History, Johns Hopkins University
Nancy Kwak—Associate Professor of History, University of California—San Diego
Pedro A. Regalado—Graduate Student, Yale University
Rachel G. Bratt—Professor Emerita, Tufts University; Senior Research Fellow, Joint Center for Housing Studies, Harvard University
Rachel Guberman—Visiting Assistant Professor, Indiana University—Bloomington
Tikia K. Hamilton—Lecturer, Princeton University
Timothy Stewart-Winter—Associate Professor of History, Rutgers University—Newark
Susan Saegert - Professor, The Graduate Center of the City University of New York
James DeFilippis, Associate Professor, Bloustein School of Planning and Public Policy, Rutgers University
Robert W. Lake, Professor, Bloustein School of Planning and Public Policy, Rutgers University
Alex Schwartz, Professor of Urban Policy, The New School.
Janet L Smith, Associate Professor, Department of Urban Planning and Policy, Co-Director, Nathalie P. Voorhees Center, University of Illinois at Chicago
Peter Dreier, E.P. Clapp Distinguished Professor of Politics and chair, Urban & Environmental Policy Department, Occidental College
Rebecca Anne Goetz, Associate Professor of History, New York University
David M. P. Freund, Associate Professor of History, University of Maryland, College Park
Michael Mulvey, Assistant Professor of History, St. Thomas University
Jessica Ann Levy, Graduate Student, Johns Hopkins University
Lisa K. Bates, Associate Professor, Toulan School of Urban Studies and Planning, Portland State University
Sophie L. Gonick, Assistant Professor, Metropolitan Studies Program, Department of Social & Cultural Analysis; Core Faculty, New York University
Popular in the Community