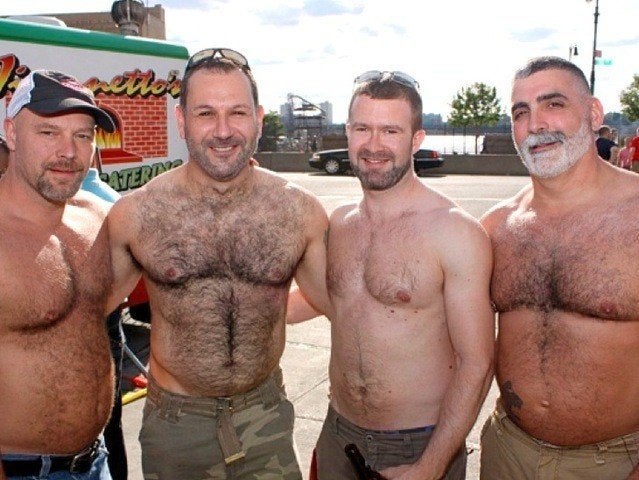 MANHATTAN — Crowds of fuzzy, cuddly bears will flock to Manhattan's West Side this week, but not the kind that live in the woods.
Urban Bear NYC will celebrate the subculture of gay men who refer to themselves as "bears" from Thursday through Sunday in the Meatpacking District, Greenwich Village and Chelsea, with a full calendar that includes a street fair, a pub crawl and an all-bear comedy show.
Robert Valin, executive producer of the festival now celebrating its fourth year, defined "bear" for the uninitiated.
"The stereotypical bear is a blue-collar guy with a little bit of extra weight and facial hair," Valin said. "I don't think most bears look gay to people. They look like the kind of guys women want to bring home to their families."
The bear fest is expecting about 2,000 people this year, up from 1,500 last year, Valin said. Men from as far away as New Zealand, Australia and Spain have said they will attend.
"We've been marketing this internationally, so we think we'll have men coming from all over the world," he said.
A promotional video for the event, set to dance music, flips through photos of last year's festivities as the words "HOT HAIRY SEXY MEN EVERYWHERE!" slowly appear on the screen.
The highlight of Urban Bear NYC is the Urban Bear Street Fair, which will take over Little West 12th Street between Washington Street and 10th Avenue in the Meatpacking District Sunday from 1 p.m. to 6 p.m., rain or shine.
The fair will offer food trucks, beer and "an afternoon of male bonding, New York style," according to the festival's website.
Also on the agenda are a Friday afternoon tour of the High Line, a Friday night "Bear Crawl" to West Village bars and a Saturday afternoon rooftop barbecue in Chelsea.
Urban Bear NYC has no specific events for women, but that doesn't bar them from attending, Valin said.
"Women are certainly welcome; they just might not get laid," he said.
When Valin talks about Urban Bear NYC, people often think it concerns children or animals.
"When I describe it, though, everyone get a smile on their face," he said.
Valin added that the festival demonstrates that gay men come in all shapes and sizes.
"Now that there's 'metrosexual,' and straight men are doing everything from having their eyebrows waxed to removing their body hair, what does gay even look like anymore?" he asked.
REAL LIFE. REAL NEWS. REAL VOICES.
Help us tell more of the stories that matter from voices that too often remain unheard.
BEFORE YOU GO