You can tell it is graduation season when all of the news stories, tweets and Facebook posts become a steady stream of rousing speakers and inspirational quotes. But in the midst of the "welcome to your new world seniors" cacophony, there was one high school graduation that made me pay attention, listen to and appreciate what was being said.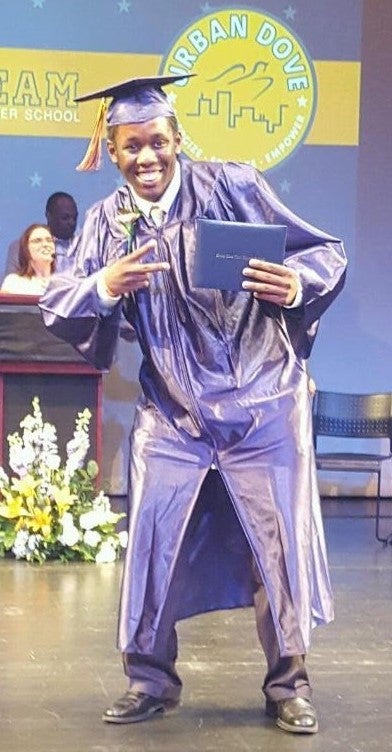 Jai Nanda is the founder and Executive Director of Urban Dove and the founder of its partner school - Urban Dove Team Charter School (UD Team) in Brooklyn, NY. Jai was a panelist for a module on School Models that was part of the 2015-16 New York Cohort for the Revive The Dream Fellow's program in educational reform. (They are currently accepting applications for the 2016 NYC Cohort through July 1st). The Urban Dove Team Charter School (UD Team) is a transfer high school for under-credited 9th and 10th graders. The NYC Department of Education website describes Transfer Schools (as) are small, academically rigorous, full-time high schools designed to re-engage students who have dropped out or who have fallen behind in credits. Students are between 15-21 years of age and have completed at least one year of high school.
UD Team was founded in 2012 and graduated its second senior class on June 23. I wanted to learn more about the UD Team model and Jai was kind enough to invite me to visit the school and the graduation ceremony. In speaking with Jai he mentioned that one of the biggest surprises over the past five years has been the skepticism of the UD Team model.
"We are serving a very challenging population of student – in fact, the first high school ever designed to exclusively serve this population – and the first high school to use Sports as a way to re-engage these students, so not everyone was convinced when they first heard about it."
Jai Nanda, Founder, Urban Dove
Begin with the person then develop the athlete-scholar
The UD Team model focuses on engaging the person. The idea is to provide social and emotional support and targeted academic interventions that meet students at their skill levels. In this model the linchpin of engagement is sports. Students spend 2-3 hours each school day in a Sports-Based Youth Development (SBYD) program, developing athletic and life skills focusing on UD Team's Core Values of Communication, Teamwork and Leadership. The SBYD program consists of year-round varsity sports, weight/cardio training, yoga, group counseling and health education. SBYD is the framework in which the students develop strong relationships with their teammates and coaches and develop the social and emotional skills they need to become fully engaged with people and community. The ability to engage constructively, communicate and work in teams is the baseline of social emotional and cognitive skills that is the pathway to being productive students.
Every student who enters UD Team is placed on a single gender team and assigned a full-time coach. The Coach is the central adult to each team and student, working with teachers, social workers, guidance counselors and administrators to ensure their students are fully engaged at all times. They are the advocated for their students in all school environments and in addition to working with students in the SBYD sessions, they are often pushing into classrooms, having one-on-one meetings, setting up parent meetings, or engaging in Restorative Justice "circles" with other students and adults. The team is the underpinning of the students' experience at school. They play with their team, go to class with their teams and receive support services with their team, including regular Team Time Circles which act as a kind of group counseling session. Team and class size are small averaging 17 students. Much like a professional team there is a tremendous investment of resources to support the "success" of the team. In addition to a coach there is a guidance counselor, social worker and other adults. The first year the students only take three academic classes; Math, Social Studies and English Language Arts so that they may gradually establish the academic proficiency necessary for high school work. Each academic class has two licensed teachers, General Education and Special Education.
In US college sports student-athletes are allowed to redshirt. During a redshirt year the student-athlete attends classes, practices with the team (sometimes traveling with the team) but does not participate in the matches thus retaining the eligibility of that year. One reason is that the athlete may not be ready to balance the demands of academic requirements with athletic requirements. However to redshirt is most often associated with allowing for and developing the physical maturation of the student-athlete without sacrificing the four years of collegiate eligibility to compete in their chosen sport.
In essence what UD Team has done is to invert the redshirt model with promising but preliminary results. UD Team is fully enrolled with 265 students. 60% are boys and 40% girls with 40% of the students requiring Special Education services. Over 94% qualify for free or reduced lunch. 98% live in Brooklyn and 65% are African American while 35% are Hispanic. (All figures were provided by UD Team).
With only two graduating classes so far, the data is limited as far as measuring success, but the initial numbers are impressive and encouraging. The graduation rate is over 55%, and compared to DOE data for this population, UD Team is meeting or, in most cases, exceeding graduation rates for similar students elsewhere in the system, including a 50% increase for students deemed "Most At-Risk" by the DOE.
Urban Dove is accustomed to skepticism despite the hard won early successes. So where does one go from here? Not surprisingly it is an audacious plan. Employing an ambitious dual track tact; 1) Urban Dove will monitor, track and validate their results-to-date building a baseline for research and analysis with the objective to improve and validate the efficacy of their model****. 2) As they prepare for their charter renewal next year, they are exploring replicating the model beyond Brooklyn. In a sense the graduation of UD Team's first two senior classes is also a graduation celebration of their model.
***Currently, they are reaching out to universities and doctoral candidates. Interested parties can contact them at jnanda@urbandove.org****
Related
Popular in the Community