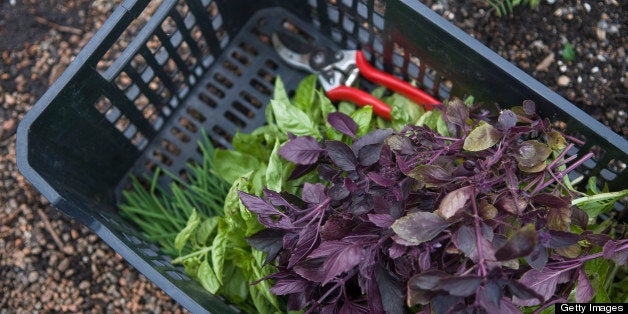 "My definition of 'farm,' Martina Fugazzotto says, "is really just a living space that brings together homegrown vegetables and fruits, animals, flowers and trees, and concoctions that use all of these ingredients together." If that's the case, then what Martina's got going on in the tiny concrete "alley" that serves as her back patio in Bushwick, Brooklyn, is a farm and then some.
Martina, who also goes by "FarmTina," is a graphic designer by day. She brings a refreshing dose of whimsy to a grower's movement that too often is accompanied by portentous statements about global peril and the ethics of eating locally. But Martina presents things much more naturally. "I'm not trying to become a professional farmer or raise all of my own food or make a statement about GMOs or locavore culture," she says. "I just really like to eat. Like, seriously, I really like to eat."
And so she's growing in garden boxes and buckets, and even lately in a sewn canvas pouch that she's hanging from a back fence, trying to use her available space as best as she can. She plants blueberries, corn, cucumbers, edamame, eggplant and herbs, among many other gustatory delights, and often finds herself lugging a huge bag of stinky fertilizer home on the subway.
But Martina's problems go far beyond the logistical. She lives in New York City, where resources are scarce if you're not well-heeled. You have to be ingenious. She recently wrote a helpful blog post about how to keep sewer rats out of your garden (the two top tips: don't leave food scraps laying around and keep your food raised because sewer rats for some reason can't climb). And she also ran into a serious gardening problem this season: She had no access to an outdoor water supply.
But rather than despair, Martina went to Home Depot and bought a $99 rain barrel. "Sometimes it's ok to say, 'I could make that. But I won't,' she writes on her website. It doesn't ruin your DIY-cred, I promise."
It hasn't been an easy weather run for Martina, who began experimenting with her farm just when New York's always mercurial climate started getting really weird. She's endured record heat waves, massive snowfalls and two major hurricanes. And yet she's discovered domestic plants are remarkably resistant to climactic fluctuations, particularly when they're rooted in good soil and have a loving caretaker. Where other people see limitations, Martina sees only possibilities.
"There are so many options for us city gardeners!" she says. "By growing my food and interacting with it from start to finish, I hope I can learn some things about the world that I've missed by living my whole life in cities. This private concrete space is my ticket to understanding the entire living world!"