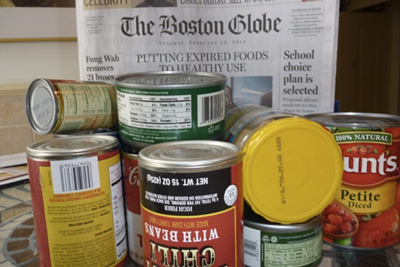 Supermarkets throw out about $47 billion worth of food each year, much of it still safe and healthy, a deplorable fact that has led Doug Rauch, the former president of Trader Joe's, to launch a commendable project called the Urban Food Initiative. He wants to put to good use food that is near or just past its expiration date by cooking and selling take-out dishes in a store in Dorchester, a Boston neighborhood that is something of a food desert.
The idea is to offer this food at low prices to low-income people who would otherwise rely on such unhealthy choices as cheap fast food or convenience store snacks. Rauch's hope is that his first store will be a success and that the concept will spread to other communities across the nation.
There is nobility in this effort to provide healthy meals to people who could benefit from them, but there is more to consider besides the nutritional and economic value of this plan. Apart from providing nourishment, food is loaded with meaning for people.
One challenge facing Rauch's project is that the food will be perceived as garbage that better-off people would never want to eat. Even though most foods are still safe and healthy at expiration dates, people tend to believe that they are not, so Rauch's project is going to meet some challenges.
Where the New England Kitchen went wrong
I know this because there was a similar project in 1889 called the New England Kitchen. Led by Boston reformers, it attempted to uplift the poor by offering them cooked food that was cheap, nourishing and hygienic. This was an era when calories and the composition of foods -- proteins, carbohydrates and fats -- had just been discovered. People were paying attention to "scientific cooking"; that is, cooking foods that yielded the most nutrition for the least amount of money.
The founders of the New England Kitchen held onto this principle along with their desire to quickly assimilate new immigrants into a Yankee way of life by getting them accustomed to such New England favorites as soft bread made with cornmeal and molasses, pork chowders and casseroles covered in white sauce. Those dishes turned out to be unacceptable to Italians and Jews, two of the largest groups that made up the newly-arrived immigrants. The founders of the New England Kitchen hoped to wean immigrants from salami sandwiches and other garlic-laden foods repulsive to New England noses, but never bothered to understand the food cultures basic to their targeted groups.
No thought was given to the attachments people had to their customary foods, let alone that dietary laws would forbid immigrant Jews from even crossing the threshold of the decidedly non-kosher New England Kitchen. Furthermore, Italians insisted on buying familiar crusty breads from Italian bakeries, rejecting the sweet and puffy loaves sold at the Kitchen.
When the New England Kitchen experiment failed, the founders were deeply disappointed and allowed themselves to believe that people were lacking the intelligence to eat what was good for them, never taking into consideration the desires of the people they were trying to reach. This thought was convincingly expressed by an anonymous Irish woman who said of the Kitchen's food, "I don't want to eat what's good for me; I'd ruther eat what I'd ruther."
It seems to me that there is a lesson here for Rauch and his Urban Food Initiative. Americans have always preferred to decide for themselves what foods they will eat, and are resentful of reformers who think they know best, even when intentions are filled with good will and common sense. New York Mayor Michael Bloomberg's so far failed attempt to limit the size of cups of sugary soda is a case in point. Coupled with such resistance is the fact that people perceive that eating foods past their expiration date is the next thing to dumpster-diving. They will be wary of buying this food and conscious of the fact that better-off people are not expected to eat this way.
To succeed, it will not be enough for the Urban Food Initiative to collect food from participating markets and prepare healthy and appealing dishes. The challenge will be to get disadvantaged people to accept this fare. Sound educational programs will have to be developed along with a persuasive public relations campaign aimed to convince people the food is safe, healthy and enjoyable. Getting local star chefs engaged in menu-planning may be a good start, and then bringing into the store recognizable politicians to purchase food and be seen eating it with their families.
How about engaging star athletes from New England such as Tom Brady, David Ortiz and Dustin Pedroia to talk up the meals? And then there are local Boston boys who made good in Hollywood. Perhaps Ben Affleck can be tempted to help the cause, along with Donnie and Mark Wahlberg who, by the way, have a brother who is a local chef and restaurateur. The only thing missing is a female voice and perhaps Barbara Walters and Amy Poehler, both Boston-born, could be called upon to lend a hand.
They all can help put Boston on the map as a center for bringing good food to good people. But everyone involved will have to keep in mind that the nobility of the project is not enough to bring success. Attention will have to be paid to what foods people like and what food prejudices will have to be overcome.
Top photo: The Urban Food Initiative wants to collect expired food for prepared dishes. Credit: Barbara Haber
Zester Daily contributor Barbara Haber is an author, food historian and the former curator of books at Radcliffe's Schlesinger Library at Harvard University. She is a former director of the International Association of Culinary Professionals, was elected to the James Beard Foundation's "Who's Who's in Food and Beverages" and received the M.F.K. Fisher Award from Les Dames d'Escoffier.