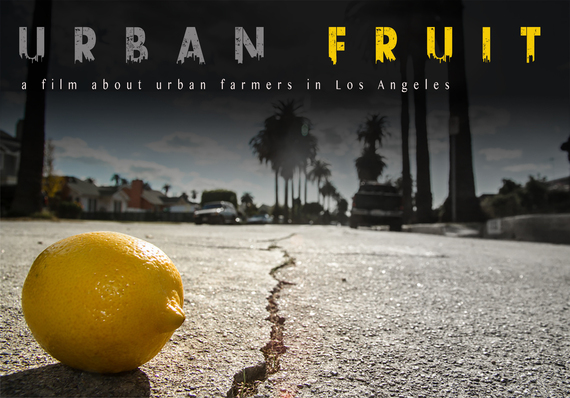 For the last several years I've been on a journey toward conscious living, particularly conscious eating and community well-being. This is not an easy endeavor in an urban setting, where communities are dotted with fast-food restaurants, and residents are moving too quickly to consider where and how their food is produced. For the most part, my efforts have involved learning how to purchase and prepare locally grown organic foods, I also planted my own vegetables! The local farmers markets and my urban garden have become central venues in my life. So I was excited to discover a documentary film about urban farmers in Los Angeles called Urban Fruit.
The film, directed by Roman Zenz, explores the plight of several L.A. residents who have dedicated their lives to shifting the way they approach organic food and urban gardening. It features three protagonists: Rishi Kumar, who, much to the dismay of his Indian American relatives, gave up a promising I.T. career and moved back in with his parents in order to start an urban farm in their backyard. Ron Finley, a resident of the fast-food mecca that is South L.A., who decided to teach people how to grow food in front of their homes. His front-yard gardens were unfortunately in violation of the city zoning laws, and Ron's fight with City Hall made his efforts an Internet sensation. Lastly, the film looks at the activities of Adam and Jenna Barber, a young hipster couple growing vegetables and raising chickens in the mid-city area. The Barbers find that their love for their garden ultimately intensifies their love for each other. They grow food for themselves and trade the surplus to the local restaurant Forage for dining credit.
Urban Fruit premiered at the American Documentary Film Festival in 2014, and won several awards. Among them, best environmental documentary at the Chagrin Film Festival in Ohio. It's now available for streaming on iTunes, Amazon, Vudu and X-box. Information about the film can be found at Urban Fruit.
Calling all HuffPost superfans!
Sign up for membership to become a founding member and help shape HuffPost's next chapter