Alex Evans' intricate work explores both mathematical and biological forms through architectural inspired drawing.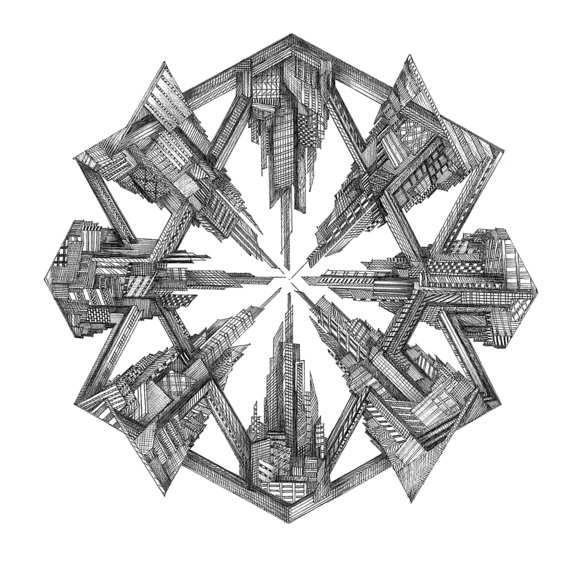 Crushed, 2014. Pen on paper, 30cm X 38cm
Growing up in Milton Keynes might not inspire everyone to develop a passion for architecture, however for artist Alex Evans that certainly was the case. He explained to me that as a result of living in a new town, he became aware of urban planning and the built environment from an early age. That said there is aesthetically very little similarity to be seen in the fantastical hand drawn futuristic cityscapes that Evans' produces today.
His meticulously detailed architectural illustrations are not based on actual skylines but are drawn purely from the imagination. Geometric shapes are created with a fine ink pen, creating beautiful graphic and very personal interpretations of contemporary architecture. Also inspired by 20th Century urban planning theories, there is a strong sense of order within the underlying structure of the drawings. Yet Evans' chooses to disrupt this against ideas of nature evoking the inherent chaos of the metropolis. A good example of this can be seen in Drift where foliage and city smoke have been stripped away, leaving organic voids that disrupt the ordered facades of the buildings.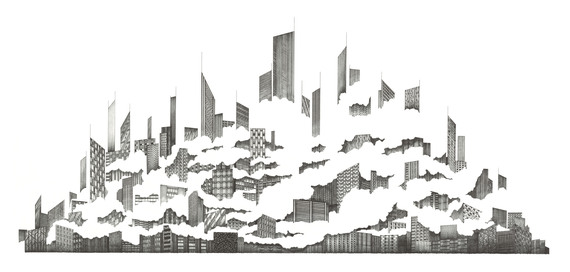 Drift, 2015. Pen on paper, 87cm X 51cm
Surprisingly though you can also see similar irregularities created from geometry, evident in one of his most ambitious pieces. Entitled Truncated Icosidodecahedron, Evans assures me that if cut out and folded together, this 2 dimensional drawing would indeed make this complex 3 dimensional shape. But looking at it flats reminds me of nature once again, this time in the form of an impossibly irregular snowflake.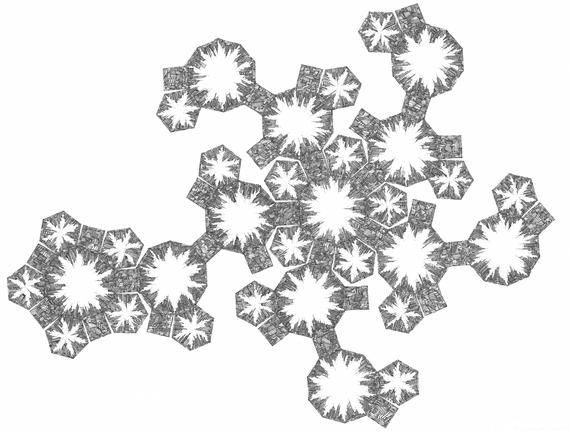 Truncated Icosidodecahedron, 2014. Pen on paper, 78cm X 68cm
Alex Evans' work is currently on display as part of the Urban Dialogue exhibition at the Anise Gallery, London (Until 17th October 2015), and is presented alongside the photography of Agnese Sanvito. Both artist's interpretations of the urban landscape create an interesting juxtaposition of the real and the imagined through two separate disciplines.
Related
Popular in the Community