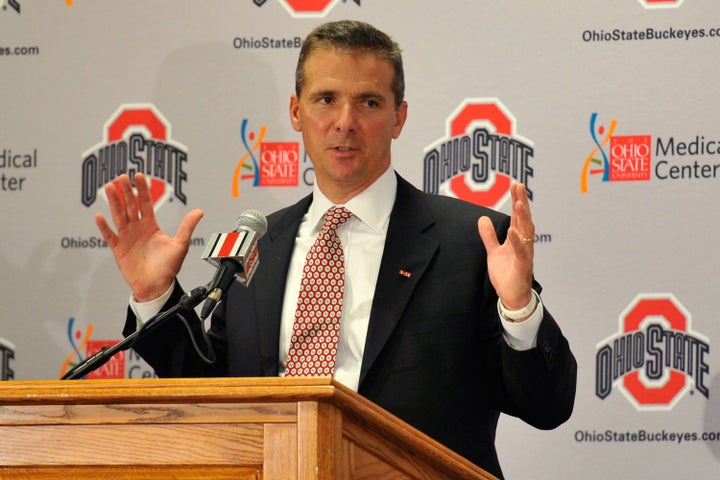 Newly hired Urban Meyer will earn $4 million a year as Ohio State's football coach. The average college professor earns $81,491.
Higher learning isn't required to know that's a big difference. Too big perhaps?
The argument comes up whenever a coach secures a giant contract, as outrage mounts at education's priorities. The deals play worse in bad times.
The Kenan Institute for Ethics' student arm at Duke University pointed out earlier that Texas Tech University froze $3 million in faculty salary while giving football coach Tommy Tuberville a $500,000 raise to $2 million a year. And what did the school get for its money? Texas Tech finished 5-7, its first losing record since 1992.
Tuberville has never won a national championship. Meyer has won two of them at the University of Florida.
But neither has made advances in the study of autism, schizophrenia, dementia and fetal alcohol disorder. Joseph Steinmetz has. Steinmetz is a psychology professor and executive dean and vice provost of arts and sciences at Ohio State. He gets paid pretty well at $325,008 a year, according to a public database. But is Steinmetz just 8 percent as valuable to the university as Meyer is?
Xiaodong Zhang is an engineering professor and the chair of Ohio State's Department of Computer Science and Engineering. He helped innovate microprocessors so we can get our information faster, according to his university bio. Zhang makes $217,692. Is Zhang worth just 5 percent of Meyer?
Zhang and Steinmetz presumably do not get use of a private jet and millions in bonuses either, as Meyer does.
"I think he makes contributions in a different way," Zhang wrote in an email. "My salary is high compared with my colleagues."
The university said Meyer was too busy for an interview, and Steinmetz did not respond to requests for comment.
Of course, coaches run programs that generate millions for their schools. Meyer is taking over a scandal-plagued team that still turns an $18.2 million profit annually, according to Bloomberg. The university is hoping his presence will perhaps mean Texas-size increases in revenue, as in the University of Texas. The Longhorns go about $70 million in the black every year and pay their coach, Mack Brown, more than $5 million a year.
That's a long look up for Hugh Freeze, the coach at Arkansas State. He occupies the salaried rear of Football Bowl Subdivision coaches, earning a paltry $151,660 a year. Maybe he ought to get into the neuroscience business.
Related
Popular in the Community