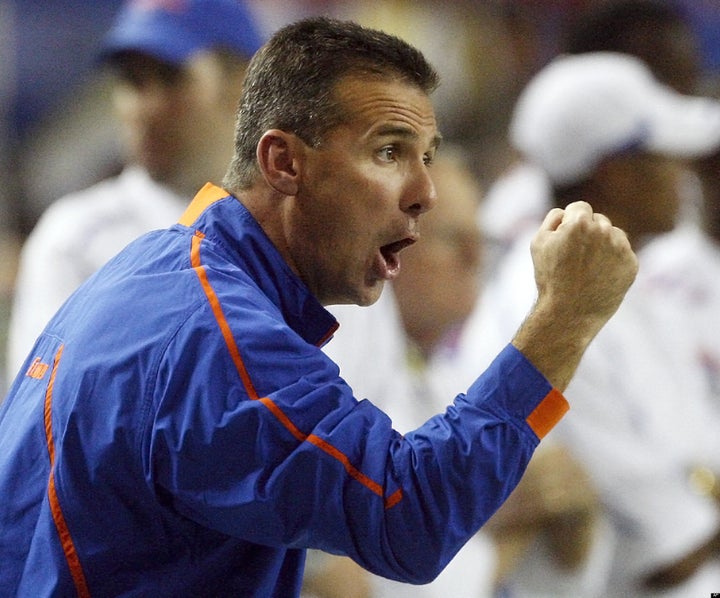 UPDATE: Urban Meyer may be taking an indefinite leave of absence, leading to a possible comeback next year. Click HERE for more.
UPDATE: Urban Meyer SPEAKS. Click HERE for more.
EARLIER: Click HERE for possible health issues that may have led to Meyer's resignation.
(AP) GAINESVILLE, Fla. -- While his coaching successes mounted and his tough-as-nails reputation grew, Urban Meyer admits there was one thing he didn't pay much attention to - his health.
That hit home when chest pains sent him to the hospital after Alabama beat his Florida Gators in the Southeastern Conference championship game on Dec. 5.
And so on Saturday, exactly three weeks later, the 45-year-old Meyer shook all of college football by saying he was stepping down. He resigned after five seasons and two national titles. In so many words, he said he needed to get his priorities straight.
He will coach his final game at the Sugar Bowl against Cincinnati on New Year's Day.
He leaves No. 5 Florida with a 56-10 record that includes a 32-8 mark in league play and a school-record 22-game winning streak that was snapped by the Crimson Tide in that SEC title game.
"I have given my heart and soul to coaching college football and mentoring young men for the last 24-plus years and I have dedicated most of my waking moments the last five years to the Gator football program," Meyer said in a statement. "I have ignored my health for years, but recent developments have forced me to re-evaluate my priorities of faith and family."
By leaving, Meyer walks away from a program that has become one of the jewels of college football and at a time when he is considered one of the best coaches in the nation.
Meyer had maintained he would never coach as long as Florida State's Bobby Bowden or Penn State's Joe Paterno. He planned to go long before anyone asked him to leave.
He probably didn't expect it to end like this, though.
Meyer consulted with his family, doctors, school president Bernie Machen and athletic director Jeremy Foley before deciding it was in his best interest to focus on his health and family.
He has scheduled a news conference in New Orleans on Sunday afternoon.
"Coach Meyer and I have talked this through and I realize how hard this was for him to reach this decision," Foley said. "But the bottom line is that Coach Meyer needed to make a choice that is in the best interest of his well-being and his family. I certainly appreciate what he has meant to the University of Florida, our football program and the Gator Nation. I have never seen anyone more committed to his players, his family and his program. Above all, I appreciate our friendship."
Although reports quickly surfaced that Meyer was suffering from, among other things, a stroke and a defective heart muscle, a person close to Meyer said they were false. The person spoke on condition of anonymity out of respect for Meyer's privacy.
"He just had a wake-up call," the person said. "He got scared and realized he can't do it anymore. His tank is empty."
Last month, Sports Illustrated chronicled Meyer's coaching career and reported that he suffered from persistent headaches caused by an arachnoid cyst that becomes inflamed by stress, rage and excitement.
Meyer told the magazine that since the diagnosis in the early 2000s he has tried to stay composed during games. Nonetheless, it didn't prevent him from spending several hours in a Gainesville hospital following the 32-13 loss to Alabama.
"This wasn't something that just happened last week or last month," the person close to Meyer said. "This has been a long time in the making."
News of Meyer's retirement stunned his peers.
"He is a first-class coach, and the success he's had is unmatched in our profession, especially over the last five years at Florida," Alabama's Nick Saban said. "We hope he is able to regain his health and have the opportunity to coach again in the future. Urban Meyer is a great person as well as a great coach, and the game of college football is better with him as a part of it."
Said Bowden, who retired Dec. 1 after 34 years: "It's a surprise to everybody. I hope he's OK physically because he's done as great a job at the University of Florida as has been done there, or anywhere else. I admire the way he handles himself and I really like his family. The college coaching profession will really miss him."
A tireless recruiter and creative motivator, Meyer came to Florida from Utah in fall 2004 amid speculation he would end up at Notre Dame.
Meyer brought most of his staff with him - some of whom worked with him at Bowling Green (2001-02) and Utah (2003-04). Together, they restored the program to national prominence two years later with the school's second national championship.
The Gators upset Ohio State 41-14 in Glendale, Ariz.; they won another one last January by beating Oklahoma 24-14 in Miami.
With just about his entire team returning this fall, Meyer spent all season coaching under intense pressure and sky-high expectations. He said he welcomed it all as the defending national champions tried to become just the second team in the last 14 years to repeat.
But the season was far from smooth. Florida dealt with distraction after distraction, prompting Meyer to call it "the year of stuff."
It included preseason talk about perfection; flulike symptoms that ravaged the team; quarterback Tim Tebow's concussion; linebacker Brandon Spikes' eye-gouging incident; Meyer's hefty fine for criticizing officials; defensive end Carlos Dunlap's drunk-driving arrest; a few controversial calls; some close games; and what seemed to be a season-long offensive slump.
Indeed, the Gators went through just about everything in 2009. Still, the loss to Alabama was the most crushing blow - until this.
The Crimson Tide derailed Florida's perfect season and left Meyer in the hospital. Team officials initially said he was treated and released for dehydration. But Meyer later acknowledged chest pains. Though he declined to talk much about his hospital stay, he said he needed to take better care of himself.
"He puts a lot on himself and he cares a lot and he takes a lot of the burden on himself," Tebow said last week. "That's something we talk about a lot. You've got to take care of yourself. Although we're both very passionate, you can't always let it all feel like everything is on your chest."
Meyer is married with three children - the oldest recently started college at Georgia Tech - and has said repeatedly he planned to leave coaching to spend more time with his family. No one expected it to be this soon.
"He leaves a lasting legacy on the field, in the classroom and in the Gainesville community," Machen said. "I am saddened that Urban is stepping down, but I have deep respect for his decision."
Related
Popular in the Community