No, Urban Outfitters. Just no.
The retailer's parent company, URBN, which also oversees Anthropologie and Free People, asked some of its salaried employees to volunteer at a fulfillment center in Pennsylvania in anticipation of a busy month, Gawker reported earlier this week. What this means is that employees at the URBN home office were being asked to work for free in order to help make sure customers got their orders speedily.
Reached for comment from The Huffington Post, the company said that employees were enthusiastic about the request:
[W]e received a tremendous response, including many of our senior management. Many hourly employees also offered to pitch in -- an offer which we appreciated, but declined in order to ensure full compliance with all applicable labor laws and regulations. The dedication and commitment of URBN employees are second to none, and their response to this request is a testament to their solidarity and continued success.
Urban had been making some progress on labor practices. The retailer announced Wednesday that it would end on-call scheduling in its New York stores. But clearly it still has work to do. 
The the chain doesn't have the cleanest record when it comes to cultural or political sensitivity, either. Here's a reminder of some other controversies Urban Outfitters has stirred in years past:
Supporting anti-gay agendas
CEO and founder Richard Hayne has donated $14,000 over the years to presidential hopeful Rick Santorum, who has been vocal in his opposition to gay marriage. In 2008, Urban Outfitters quickly discontinued a T-shirt that had the slogan "I support same-sex marriage."
Appropriating Native American culture
After releasing Navajo-themed clothes and accessories in 2011, Urban Outfitters was slapped by a lawsuit from the Navajo Nation for using its name on products. 
Commercializing the death of students
Someone at the the company actually thought it was a good idea to make sweatshirts emblazoned with "Kent State" along with some bloody-looking stains. Four students were killed and many others wounded in a shooting at that Ohio university in 1970. The retailer received immediate backlash and pulled the item from its site, claiming the stains were the result of discoloration and "natural wear and fray."
Ripping off artists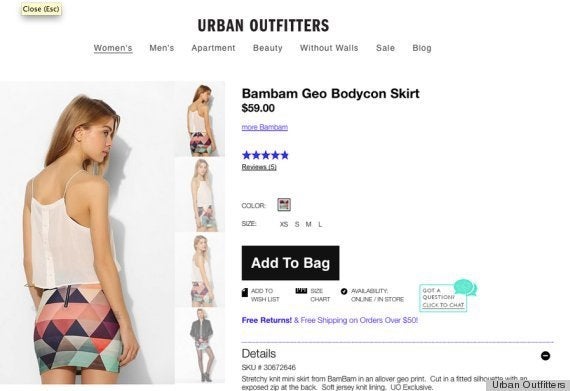 Urban Outfitters has a long history of stealing other people's designs. It's lifted freely from jewelry sellers on Etsy and artists who are trying to sell their work online.
Calling all HuffPost superfans!
Sign up for membership to become a founding member and help shape HuffPost's next chapter