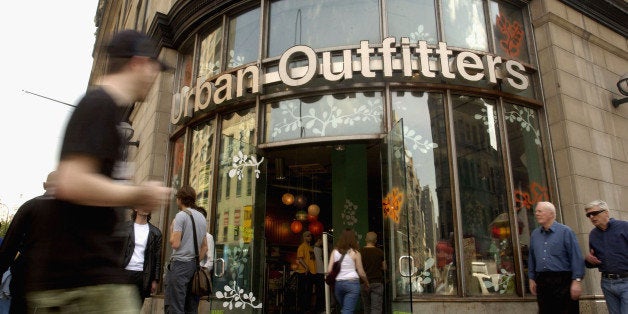 Just in case Urban Outfitters hasn't made enough people angry with its controversial product decisions, the chain-clothing store is reported to have a new plan that will likely make even more people upset.
Urban has submitted an application for a liquor license at a planned store location in Brooklyn, New York, the Daily News reports. The store, soon-to-be located in the hipster-heavy neighborhood of Williamsburg, is just one of 37 new establishments applying for a liquor license in the area.
"I can't think of a circumstance for which it would be appropriate for Urban Outfitters to have a liquor license," City Councilman Stephen Levin (D-Greenpoint) said in a statement obtained by the Daily News.
Urban did not respond immediately to a request for comment by The Huffington Post.
Urban may be the first major U.S. clothing retailer attempting to make alcohol an active part of its in-store experience. But mixing shopping with booze is by no means a novel concept. Since as far back as 2009, men's clothing boutiques in New York and Washington D.C. have used alcohol as a way to get male shoppers to hopefully purchase items more impulsively, the New York Times reported.
Why Urban wants to sell drinks at its newest New York location remains unclear. The clothing shop popular with teens and young professionals has come under fire in the past for selling shot glasses, flasks and beer koozies all made to resemble prescription pill bottles. In May, Urban was forced to discontinue the line after public outcry.
The prescription-drug themed items are just one of many product lines that Urban has recently pulled from stores. In 2012, the retailer took down its "Jewish Star" t-shirt from its website that some said mimicked the tragedies of the Holocaust. In July, the store pulled another t-shirt from its line that had a striking resemblance to the symbol for a popular Chicago gang.
REAL LIFE. REAL NEWS. REAL VOICES.
Help us tell more of the stories that matter from voices that too often remain unheard.
BEFORE YOU GO
PHOTO GALLERY
7 Hippie Companies That Aren't As Liberal As You Think