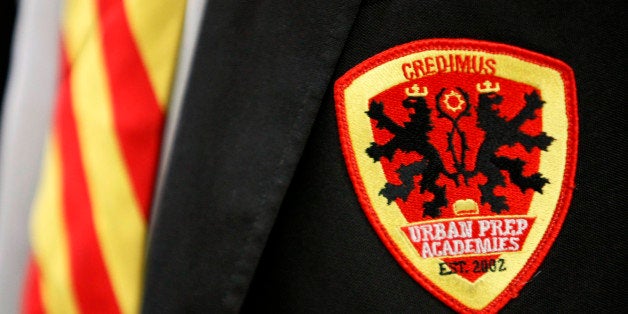 As a new school year is beginning at Urban Prep Charter Academies, I have had the opportunity to reflect on my time as an educator at Urban Prep's Englewood Campus. As I reflect on some of the people that have been so formative in my growth as an educator and as a person, my thoughts immediately go to the students and the faculty both past and present at Urban Prep. One of the students I got to know is now a college graduate, and a few months ago I saw something that he wrote on social media that really hurt me. In response to the firing of several teachers across the three Urban Prep campuses he wrote, "I thought Urban Prep wanted to help Young black men?" This student's comment stung because it struck a chord with my own feelings of pain and concern. I too was taken aback by the actions of Urban Prep in June.
Many of the educators who were let go were critical to my development as a teacher, and many of them were actively involved in the unionization efforts at Urban Prep. The vast majority of these teachers were black educators that were highly invested in Urban Prep. Of the 17 people that were fired at the end of the year, 13 of them were African-American. The average years of service at Urban Prep between the educators that were fired was about three years of service. Some of these teachers consistently pushed their students to achieve the highest growth on standardized testing across the Urban Prep network. A consistent theme among the highest performing teachers at Urban Prep is that they make strong relationships with their students. The student whose comment I mentioned earlier told me that he wrote this comment because he felt that the relationships he had built with those teachers were pivotal to his success. He felt that losing those teachers would greatly disadvantage his younger brothers at Urban Prep not being exposed to the educators that had built great relationships with him. The black educators that mentored me in my time at Urban Prep were some of the most competent in the skill of relationship building.
In my research of Urban Prep before applying for a teaching position, I came across a video clip, which may be removed as soon as this post becomes public, of Tim King, our founder and CEO, discussing the importance of black educators to the work of Urban Prep. I know that I have been profoundly shaped by all of my colleagues at Urban Prep, but none more so than the dedicated black educators of Urban Prep.
One of the black educators to whom I will forever be in debt is Natasha Robinson. Natasha was especially talented at building relationships with the students of Urban Prep. The relationships that students have to their teachers have been critical to the ability of Urban Prep to fulfill its mission. The students that I teach are wary of new teachers because these new teacher have not yet demonstrated a commitment to them. However, these same students are fiercely loyal and intensely invested in the educators that they have seen year after year. Natasha was the freshman lead teacher the year that I came to Urban Prep. She was the epitome of excellence in teaching. She took no nonsense from her students and challenged them academically. She is quite possibly one of the most efficient people that I know. When I was struggling to figure out a day's lesson within a unit, Natasha had already developed the summative assessment and created a detailed unit plan that she executed with precision. Had it not been for Natasha's guidance and support I would never have made it to six years of teaching English. She was my role model.
As a 7-year veteran of Urban Prep, I witnessed Natasha Robinson sacrifice endlessly for her students and the school. She went to the school on Saturday mornings to provide nourishment to our athletes, she invested countless hours in training our students in leadership classes, and she has donated of her time and money to support our school store. Urban Prep has always said that they value relationships; in fact, it is one of the 4 R's that is at the core of Urban Prep's work. Yet on June 19th, I was informed that Natasha Robinson's employment at Urban Prep had been terminated. Not only had her position been terminated, but several other black educators had been fired that same day.
Natasha taught me what it takes to educate black boys from marginalized neighborhoods. We had tough conversations about race and education by which I have been fundamentally changed. Natasha is just one of many black educators that have been formative in my understanding of how to effectively teach black children. As an Asian-American man, there is much that I will never fully understand about the challenges faced by African-Americans on a daily basis in this country. It was thanks to black educators like Natasha with her on-the-ground, informal professional development that helped me to grow into an educator that could capably reach my students.
Despite Urban Prep's rhetoric of gratitude to its teachers, dedicated educators -- including several African-American educators -- were fired on one day. What did they do to thank Natasha Robinson? They told her that she was not wanted at Urban Prep. It seems suspicious that a dedicated educator like Natasha would be asked not to return shortly after our vote to determine whether we should have a union. They fired Natasha Robinson, who suffered for seven long years as she wanted to do more for her students but was held back by the administration of Urban Prep. They fired Natasha Robinson, who defended her students that were marginalized and bullied because of their sexual orientation. They fired Natasha Robinson, whose impact as a black educator reaches beyond the impact on the students that she teaches because she invested in non-black educators like me so that they can best serve the young men of Urban Prep.
Unfortunately, Natasha is not the only teacher that was fired in June whose impact on Urban Prep is immeasurable. I could go on about LaTroy Farrow and how he developed a brand new Basketball program at Urban Prep-West into a team that competes at a high level in CPS. I could tell you about Mathias Muschal who essentially built the English department at Urban Prep-Bronzeville and helped to shape the english curriculum across the network. This is seemingly what Urban Prep does to educators that want to have a union. So Natasha Robinson, I need to say thank you. To all the educators, and especially the black educators, who were unceremoniously fired in June, I say thank you, because clearly the administration of Urban Prep won't.
Calling all HuffPost superfans!
Sign up for membership to become a founding member and help shape HuffPost's next chapter