A recycling station housed in an old factory building might not seem like a novel concept, particularly in a city with a plethora of underutilized or vacant industrial space. Like Detroit.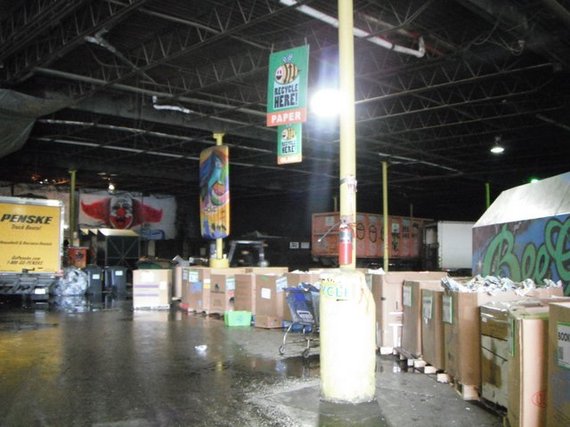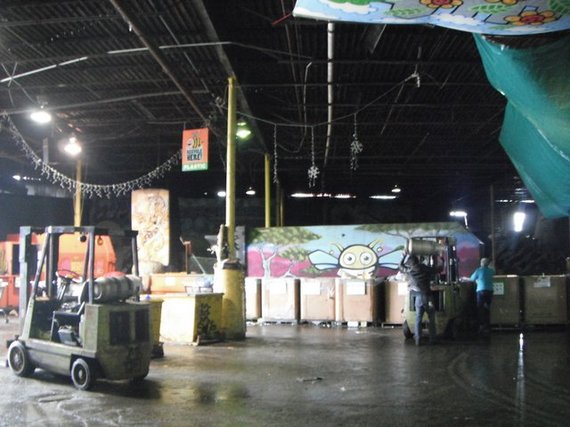 And even the appearance of it -- a pastiche of industrial chic, street artistry, found objects and, yes, even a pretty extensive panoply of bins for reusable materials, all monitored by reliably bearded and tattooed staffers -- is probably closer to the mental image of what community recycling could, or should, look like. "Taking out the trash" isn't just utilitarian and mundane; it's fashionable, eye-catching and even sorta fun.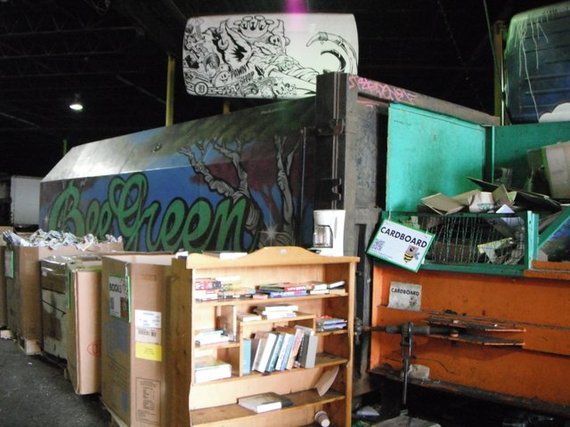 Despite my evocation of hipster clichés, Recycle Here! feels like a novelty, at least in part because it's among the few ways that residents of the Detroit can divert their discarded objects from landfills, since it was long notorious as the largest city in the country without a municipal recycling system (both elective and compulsory). A group of Wayne State University students founded Recycle Here! in 2005 as a response to the obvious dearth of options serving Midtown, then as today an emerging neighborhood with visible signs of homespun reinvestment.

As smart as the initiative was, it couldn't easily both fund itself and support a demand that clearly stretched well beyond Midtown. By 2007, the Greater Detroit Resource Recovery Program (GDRPP) began funding Recycle Here! as the City's de facto recycling center, all while expanding its outreach by offering additional drop-off days, a broader array of recyclable materials and satellite locations elsewhere in the city. Beyond growing over 50 percent in volume recycled each year since opening, the GDRPP/Recycle Here! partnership has allowed curbside recycling pilot programs in three neighborhoods: Rosedale Park, East English Village and Palmer Woods/University District -- with a long-term intention of providing curbside throughout the city.
Even if it's essentially an arm of city government, the Recycle Here! facility never for a moment feels like one. The loudspeakers churn out tunes from a diverse array of genres, no doubt reflective of the eclectic taste of whoever is in charge at that moment. On the busiest days of operation (typically Saturdays), a local vendor offers cheap French press coffee and various food trucks tote their comestibles in the outside parking lot. Another staffer sells screen printed t-shirts, virtually all of them featuring the ingenious and ubiquitous Recycle Here! bumblebee logo, designed by local artist Carl Oxley III: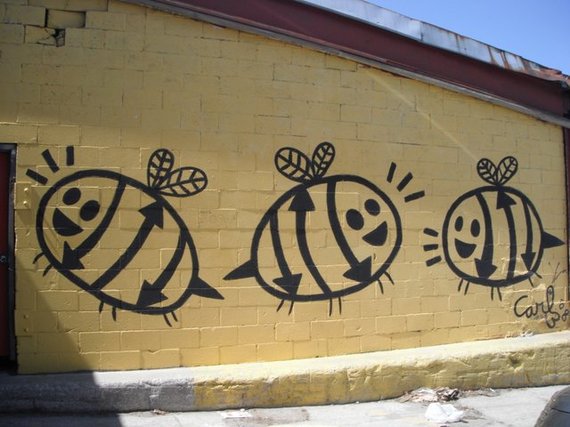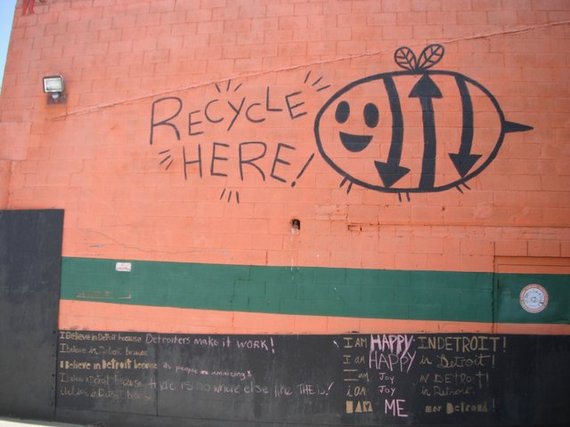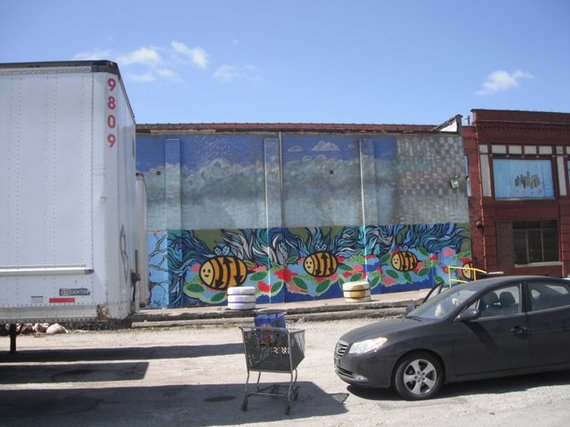 And the bumblebee receives its share of competition from the other sculptures and murals that form a consistent backdrop to the more utilitarian goings-on up front: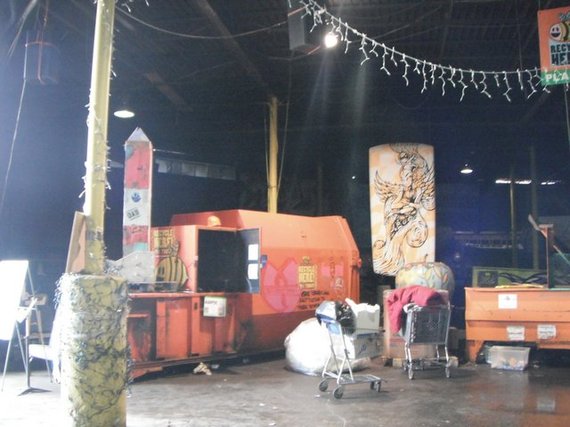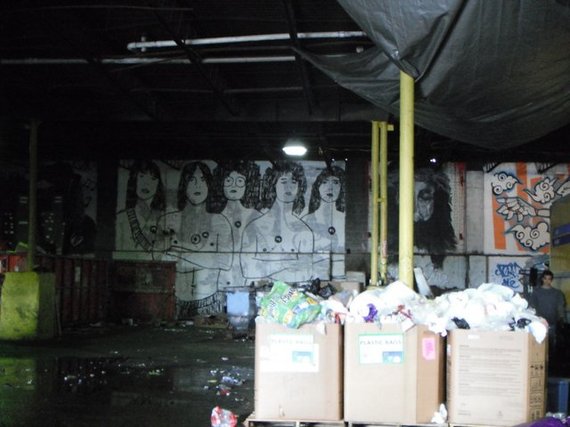 If it isn't already obvious, Recycle Here! has achieved what it ostensibly needed to do in order to ensure survivability: it evolved into a smartly-branded community gathering place. And it's a good thing it works so well: the process of recycling here is far from hassle-free.

Yes, the bins separate Styrofoam peanuts from other types of Styrofoam. Visitors also have to hold all their plastics up to the light to see if the etching indicates a #1 or #2 (one bin) or #3 through #7 (a separate series of bins). And cardboard gets separated from office paper, which in turn has a separate bin from newspaper, as well as glossy paper.
And less common materials need separating too.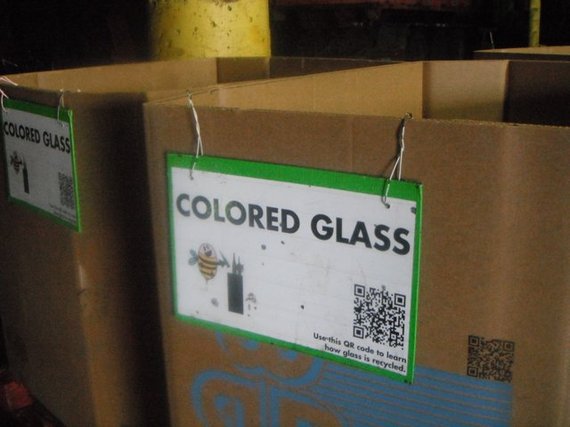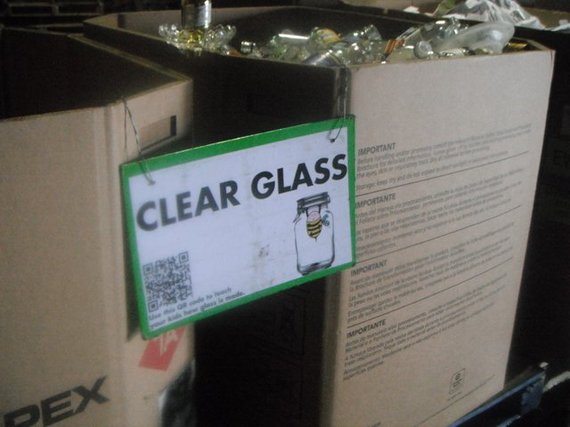 Clear glass could contain a lot of items: salad dressings, pasta sauce, artichoke hearts, pickled pigs' lips. But colored glass usually captures a discrete family of consumable products.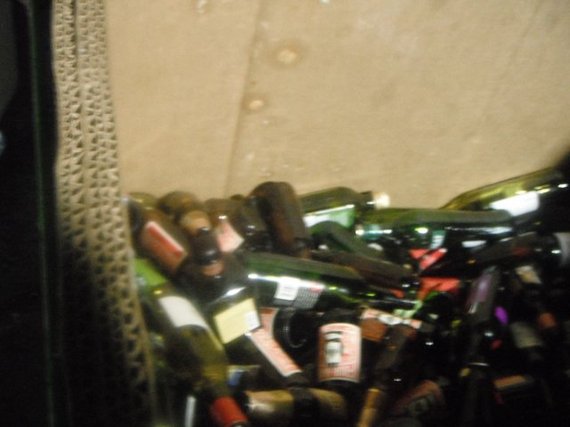 Booze. These days, varietals of wine do not delineate social strata that easily; even a few highbrow wines might reach the dinner table in a cardboard box. But it's very easily to distinguish consumers by the type of beer they drink. And the beer bottles at Recycle Here! overwhelmingly fit a certain category: the non-corporate.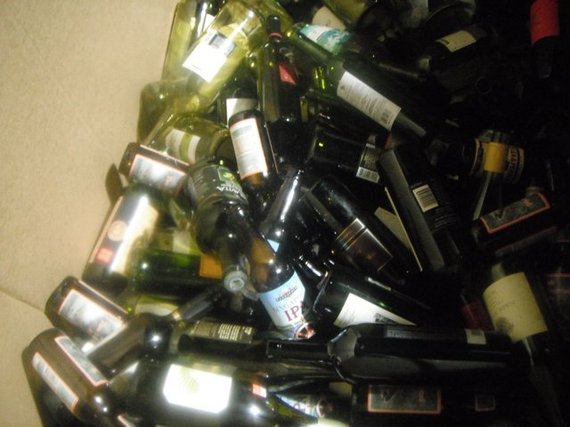 Whether it's a microbrew from the Upper Peninsula or a Singaporean IPA, the beers being recycled here are the opposite of what about 85 percent of America drinks. No watered-down Coors, Michelob, Budweiser. The only beers found in the bins that would pass as mainstream working-class Americana are Pabst Blue Ribbon or this Miller High Life, like the one strangely perched, unopened, on the rim of the Clear Glass bin.


In other words, hipster beers.
Probably I'm going out on a limb by making inferences about a culture by the type of beers they consume, but not really, or at least not enough. I don't think we witness a dearth of Budweiser bottles simply because Detroiters don't drink cheap beer. The beers in these bins broadly reflect the ethos of people who go out of their way to recycle, and in Detroit, "going out of the way is" precisely what most people have to do. In short, the act of recycling not only requires the active involvement of driving to the facility (at least for everyone outside those three affluent pilot neighborhoods), it also requires extra initiative once you get there. If you have two boxes to deposit, it could take you over an hour to get it all done. The staff at Recycle Here! makes the compelling argument that their approach not only ensures more material gets successfully recycled than if it all gets lumped together, but it also encourages the population to become more invested in the process. While this may be true, it almost undoubtedly also scares off a huge contingent who simply doesn't want to be bothered.
Thus, Recycle Here! succeeds because there are enough Detroiters, favorably disposed toward urban living, educated enough to have some disposable income and predominantly left-of-center, all of whom at least value the idea of sustainability in its various incarnations: locally sourced food, fair trade or free-range growing practices and regional brews with higher alcohol content (and higher prices). It fits like a hand in glove, and the fact that quality French press coffee gets served on Saturdays makes as much sense as the absence of a vendor selling McDonald's, no matter how much Mickey Dee's coffee has improved in recent years. Through Recycle Here! and the pilot programs in those selective, higher-income, stable neighborhoods, the GDRRP has found the right niche to plant a seed. It offers a confident start to set the trajectory for a city-wide recycling system.
Now if only they could figure out where all those bottles of Bud Lite are going.
This article originally appeared in the author's personal blog, American Dirt. All photos taken by the author.
Calling all HuffPost superfans!
Sign up for membership to become a founding member and help shape HuffPost's next chapter