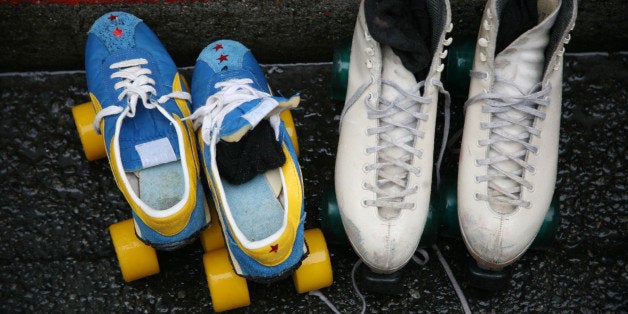 CHICAGO, Feb 4 (Reuters) - On a frigid winter night, snow blankets hundreds of cars in the dark parking lot outside the Rink on Chicago's south side.
But things are cooking inside the aging roller rink. Under colored lights, a huge crowd of skaters wearing black leather and four-wheel skates shoots around the wooden floor doing dance routines in groups, or solo twirls, Axels and acrobatics to R&B remixes.
The Rink and a handful of other decades-old skating venues put Chicago at the center of a vibrant African-American subculture of urban roller skate dancing that stretches from Atlanta to Detroit and from Los Angeles to New York.
While mainstream roller skating has been on a long decline, a new generation of skaters including 28-year-old Josh Smith - whose skating handle is "Batman" - travel a circuit of rinks around the country to compete and show off their moves.
"Skating is on my mind 24/7, in my dreams. I always try to raise the bar," says the goateed Smith, who has competed all over the United States and as far away as England and draws influences from arts such as ballroom dancing and the Brazilian martial art capoeira.
Out on the floor Smith spins, jumps, break dances and does splits. Purple lights glow under his skates. At the end of a long night of skating in Chicago, at 1 a.m. he jumps in a car with skating buddies and heads to Alabama to compete at a national gathering known as a skate jam.
The evolving skate dance form does not even have a name, and each city has its particular style. Veteran Chicago skaters call themselves JB skaters - after remixed James Brown songs that are a local staple. Other skaters in the United States will recognize JB skaters for their old-fashioned, loosely tied black boots and specific moves such as big wheel and crazy legs.

The scene is intense and vibrant, but it is also threatened as roller skating rinks close down in many big cities. And those that survive are financially strapped.
"We're defending a dying sport," said Buddy Alexander, 36, one of the owners of Rich City Skate in a Chicago suburb. He and his brother Mark, 31, bought the rink in 2006 and have worked hard to keep it alive. Other venerable rinks such as the Loop and the Rainbow Roller Rink have shut down.
"There are a lot of rinks closing around the country because they aren't open to this community. In many big cities, there's no rinks left," says Dyana Winkler, who is working on a documentary about the skating culture called "United Skates."
The roller skating tradition is four generations deep in cities like Chicago. Despite rink closures, the culture is getting stronger as styles evolve, said Winker's co-director, Tina Brown.
Case in point: 46-year-old Chicago educator Lavonne Jones, who has skated most of her life. Her parents, her children and her grandchildren all skate. "We're keeping the tradition alive."
"Skating was our refuge. If we didn't have skating we'd be dead or on drugs or in a gang," says Jones, echoing the sentiments of many fellow skaters in Chicago, a city plagued by shootings and homicides.
In January, Jones continued her traditional weekly outings to the Rink even though she had lost her beloved skates in a house fire, seeking comfort from the close-knit skating community.
Some 10 to 15 years ago a skating renaissance began - aided by the rise in social media - as the different skate scenes around the country connected and started traveling to each other's cities.
Jeremy Stephens, 38, has skated in 28 different states at national skate parties, and he promotes a major national gathering of hundreds of skaters at the Rink each year on Halloween.
Stephens said he got hooked on skating eight years ago when a friend suggested it would be healthier than nightclub-hopping.
"It's an outlet. It's a lifestyle," Stephens said. "When I started skating I wasn't getting into trouble anymore. It becomes a family." (Editing by Scott Malone and Lisa Shumaker)

Popular in the Community