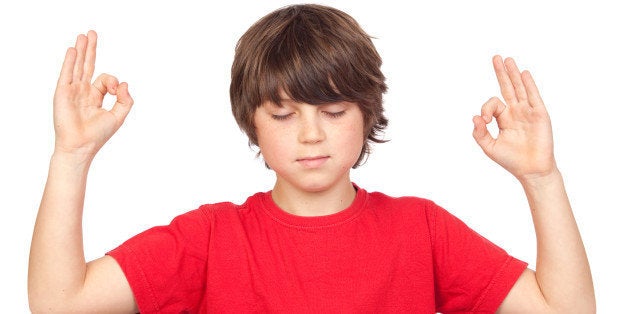 At a school district where 61 percent of its student population qualifies for the federally funded free or reduced lunch program, it's not surprising if San Francisco Unified gives pause to "public education and academic excellence."
High numbers of minorities and families living in poverty aside, their Academic Performance Index (API) continues to rise and meet yearly state and federal benchmarks.
While there's no silver bullet, SF Unified boasts a unique approach to tackling the biggest threat to student achievement: stress.
Meet the Quiet Time Program
Beginning in 2007, SF Unified partnered with the David Lynch Foundation to incorporate transcendental meditation lessons as a stress reduction tool. Participating schools implement twice-daily "quiet time" periods to the morning and afternoon schedule.
These 15-minute breaks are held in all classrooms and are overseen by all teachers.
The Transcendental Meditation technique is simple, and easy to learn and implement. Many studies of this secular (non-religious) practice support its effectiveness for youth and adults. Meditation is designed to provide lifelong stress reduction.
Scientific research shows that simply focusing on breathing has a profound effect on our physiology, slowing respiration, lowering blood pressure levels, and reducing harmful levels of stress.
And many of San Francisco's schools report reductions in truancy, behavioral referrals and suspensions after implementing Quiet Time.

The High Cost of Chronic Stress
Over 7,000 students drop out every day in the U.S. -- 1.3 million annually -- greatly increasing their chances of being unemployed, on government assistance, or going to prison.
Almost one-third of America's teachers leave the profession during their first three years in the classroom with nearly 50 percent quitting after five years -- and the rates are even higher in low-income communities. (School district's cost to replace a teacher: $11,000).
You can't ignore the hard, cold numbers.
As a psychotherapist with many years experience in school social work, I've suggested Quiet Time to several administrators in the Los Angeles Unified School District.
Ironically, their lack of action is eerily similar to the Quiet Time model itself: Sitting in silence and not responding. Sadly, I'd bet the farm that none of them contemplated using meditation for even 15 minutes.

Which is a shame on many levels. Los Angeles Unified's demographics mirror SF Unified. And U.S. students continue to fall behind their Asian and European counterparts in core subjects like math and science.
And it's not just students who miss out, but educators, too. Teachers in poor neighborhoods must possess patience and resolve to deal with kids who have emotional or behavioral problems.
At El Dorado Elementary School in San Francisco, school psychologist Allyson Holmes said educators spend a lot of time working on simple things such as transitions from play time to study time that can prove more difficult at schools in rough neighborhoods.
"It is important to have teachers and staff that are very sensitive and are aware of the experiences of these kids," said Holmes. "There's a certain level of consistency and predictability that a lot of these kids need."
Quiet Time periods allow students to quiet their minds, rest their bodies, and restore their readiness to learn.
Common Core Standards aside, Quiet Time addresses a crucial aspect of learning: brain development.
Children who grow up with constant change and environmental stress have a harder time accessing the part of the brain which controls rational thought and the ability to focus and remain calm.
And children who can't find self-control will inevitably encounter principals, deans and suspensions due to emotional outbursts, fighting and other mental health issues.
I've provided counseling services on many inner-city campuses and the average teacher spends more than 30 minutes daily dealing with behavioral problems.
Is What We're Doing Working?
"We tell him every day how to behave, but it's like he just doesn't listen!"
If I had five dollars for every time a teacher or educator blamed a disruptive student's behavior on willfulness or other issue, I could fund Quiet Time on every American campus.
School district's shell out big bucks on social skills and anti-bullying curricula yearly. Kits average $300-$500+ per educator.
Those step-by-step lesson plans end up collecting dust on classroom shelves. Teachers are generally too frazzled or too burned out to spend 15 minutes of twice-weekly emotional skills lessons.
So what it is about transcendental meditation that doesn't add up with our school system?
Perhaps it's the concept of sitting and "doing nothing" that educators find bothersome.
There's the proverbial gun to the principal's head about raising test scores after getting the news she must cut three teachers and a dozen teacher assistant's for next year.
Meditation is not an easy sell.
But it's a step in the right direction.
Carlos Garcia, Superintendent for SF Unified said it best:
"If we continue to do what we've always done, we're always gonna get what we've always got. Is that good enough?"
In summary, stress is damaging to learning. So is teacher turnover, poverty, violence and cuts to education. There's no one-size fits all or quick fix to reduce the environmental toxicity facing many of our next generation.
But 15 minutes at the beginning of each day and 15 minutes before our kids leave the classroom can provide the anchor, balance and nurturing that no text book could ever deliver.
Because if you don't know what's going on inside of you, it's almost impossible to thrive in the world around you.
Calling all HuffPost superfans!
Sign up for membership to become a founding member and help shape HuffPost's next chapter