Rob Walker's newest project for New Orleans proves him to be no less than a bonafide optimist.
The New York Times Magazine's "Consumed" columnist wants us to look around at some of the Crescent City's down-at-the-heels architecture and view it in a new way.
He wants to deliver a jolt and a double-take to pedestrians strolling the mundane, the ho-hum and the indeterminate environs of Treme, Ninth Ward, Downtown, the Quarter, Central City and Magazine Street. Even before Katrina hit in 2005, many of the buildings there already lay in various states of degradation. They're largely ignored now, not only by their owners, but also by those who pass them by on a daily basis.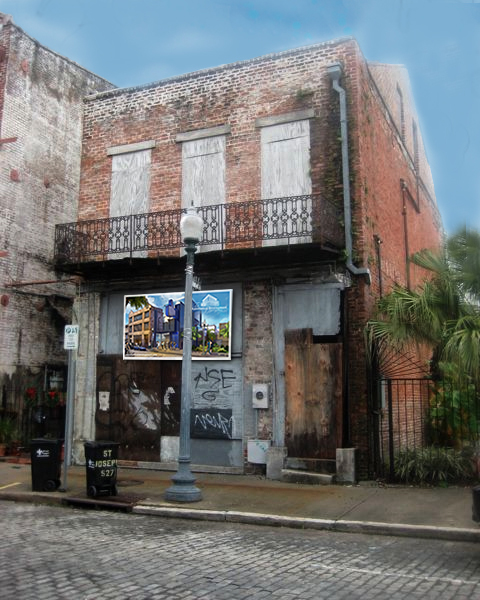 "They have no foreseeable future, but I want people to experience them with an upbeat ending," he said. "I want them to see things in their environment in a new way -- and give them a little smile."
Though he lives now in Savannah, the 41 year old spent a lot of time letting the good times roll in the Big Easy back in the late '90s and early 2000s. In fact, he wrote a book on the subject in 2005, calling it Letters from New Orleans. A collection of his own emails about life down there, its topics include debutantes, mortality, fine dining, drunkenness, celebratory gunfire, the riddle of race relations in our time and urban decay.
So he clearly knows the city well.
He knows his audience too. For this project, he figures, it's an adventurous, art-loving and city-centric lot. "They're flaneurs," he said, using Baudelaire's derivative of the French word meaning "to stroll." "They're the curious people who get about the city."
Sadly, they're strolling around town in a time with a serious sense of entropy these days -- not only for New Orleans but for the nation and the economy in general. And the ten buildings he's selected for his new project are pure and unadulterated symbols of this most unfortunate era in the life of the Republic.
"I see it as a comment on the times we live in," he said.
He got the idea for the project as he walked through Savannah and noticed an abandoned building for sale, adorned by an aging sign with an old rendering depicting a total reconfiguration for a new and improved use.
"It was a hypothetical future," he said. "I told my partners -- my wife, Ellen Susan, and then G.K. in New Orleans."
Shortly after, the Hypothetical Development Organization (H.D.O.) was born. It is, the organization's web site says, a new form of urban storytelling. Members scour the New Orleans streets for buildings that have fallen into disrepair -- structures condemned to tell stories only about their past, but not their future.
That's where Rob and his band of artists, architects and photographers come in. As a public service, their site says, H.D.O. invents a hypothetical future for each selected structure.
"If they're not going to be developed, then let's have fun with them," he said. "It's a pleasure-giving response to this crummy situation with the economy, where development isn't happening. But this is not mean or depressing -- it's joyous."
H.D.O. intends to create persuasive renderings of imagined futures for its selected ten New Orleans buildings. The renderings of each structure will be printed onto two large signs and then shared with the public -- first on the buildings, and then in a gallery exhibit in April 2011.
One case in point is what appears to be a 19th-century brick box of a building, its wrought iron second floor railing collapsing, its doors and windows boarded up. But Rob and cohort Dave Pinter, a writer/artist/photographer from New York, envision a very different kind of future. Their rendering reveals the "Museum of the Self," with a completely renovated façade that employs the very modern symbol of an upbeat, can-do attitude -- the "thumb's up" sign -- atop its second floor.
"We're spreading a little happiness," he said. "There's no payoff for us, other than that it would be cool."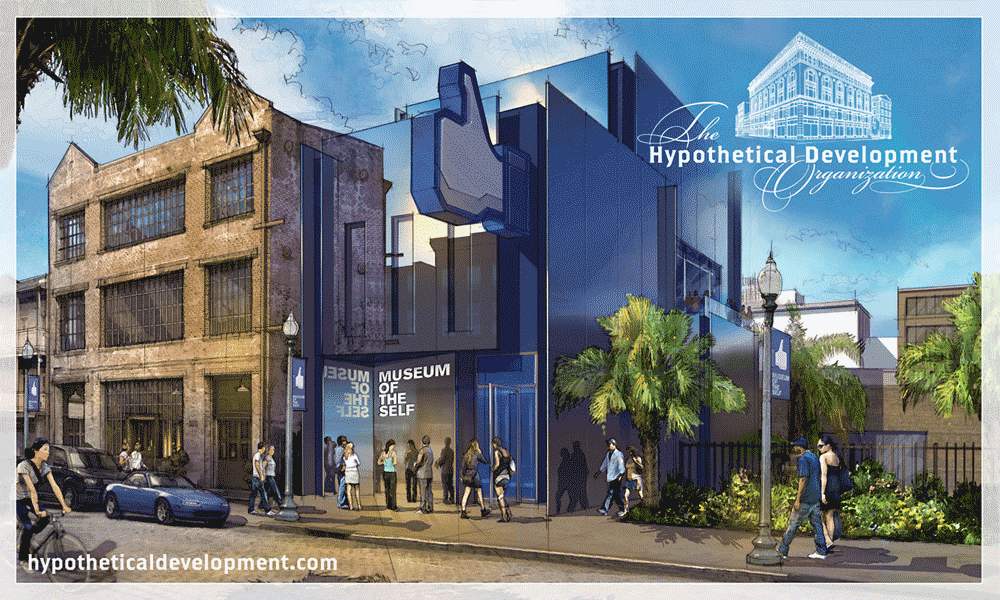 The group estimates its costs for the signage at $3,900 and has embarked on a fundraising quest that includes a web site and a video. With a deadline of Oct. 28, they'd already raised $461 from 13 backers by Sept. 22. Naming rights to projects are available for contributions of $1,000 or more, though the H.D.O. will settle also for a minimum $10 donation.
Some restrictions do apply, however. "We reserve the right to refuse BP," Rob said. "We're not doing any BP project -- it's just not going to happen."
Unveiling for the first five projects will take place in December, with more going up every couple of weeks afterwards. Renderings in the gallery exhibit will be sold, along with a photo of the sign on its building, to compensate artists for time and materials.
For the flaneurs planning to take the tour, Gowalla, the travel-oriented app for smartphones, will help create a custom "Hypothetical Development Trip" for the project.
And it is for other audiences too. "There will be people who'll experience it only online," Rob said. "We hope there will be an accidental audience too, of people just wandering by."
Though he's skeptical that any of the hypothetical developments will actually come to life, he hasn't ruled that out. The group considered offering the opportunity to actually develop all the projects for a donation of $10 million. Realistically, though, he doesn't believe it will happen.
But perhaps that's not important here. These are not Pritzker-Prize-winning designs, after all. These are thought provokers.
What's significant here is that a writer -- not an architect -- is proposing that we use art and design to alter our perceptions of a downtrodden environment. He's suggesting that if we merely think about it, our world does not have to be the way it is -- architecturally, economically or any other way. He's implying that we all might take a look around at wherever we live and come to grips with what an optimistic Robert F. Kennedy, quoting George Bernard Shaw, used to say:
"Some men see things as they are and ask why... I dream things that never happened and ask why not?"
Thinking like that can lead to a great many good things, architecture included.
Popular in the Community