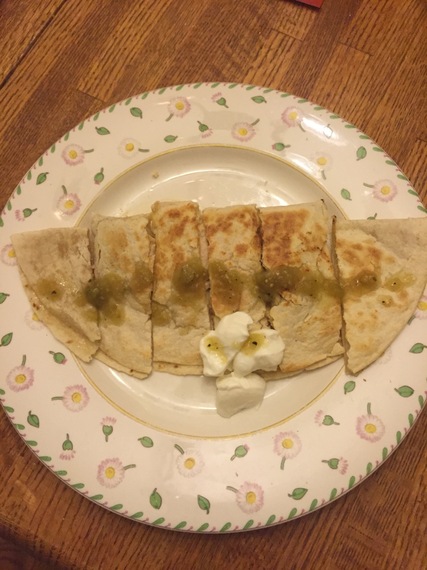 Yes! You heard correctly. I recently made Tandoori Chicken Quesadillas for my friends and they were very delighted. I love bringing different cultures together and serving some delicious home cooked dishes. The greatest asset living in California is the diversity and the mix of cultures everywhere you go.
On that note; let's make this amazing dish.
Tandoori Chicken Quesadilla
Serves 2
1. 2 Chicken Breasts
2. 1 tsp Gara Masala
3. 1 tsp Red Chili Powder
4. 1 tsp Salt
5. 1 cup Non-Fat Yogurt
6. 1 tsp Garlic
7. 1/2 tsp Ginger
8. Large Flour Tortilla's
9. Shredded Cheese
1. In a large bowl, add 1 cup yogurt and all the spices.
2. Add 1 tsp garlic, 1/2 ginger and 1 tsp salt to the bowl.
3. Mix spices and yogurt until it makes a nice creamy marination.
4. Take 2 chicken breasts and cut 3 slices in the middle. You want to cut the slices so you can put the yogurt marination inside the chicken as well the outside.
5. Coat the chicken with the marination. Make sure you add the marination inside the slits you just cut.
6. Put a paper towel on marinated chicken and put it in the fridge for 6-24 hours. The longer you put it in the fridge the better it will taste.
7. Take the marinated chicken out of the fridge after six hours.
8. Put a large size skillet on medium-heat on stove.
9. After 2-3 minutes add 2 tablespoons olive oil.
10. Put chicken on skillet and grill chicken breasts for about 8-10 minutes.
11. You know the chicken is done if you can slit a knife right through the chicken easily. If you can't then grill for a couple more minutes.
12. After chicken is finished, turn of stove and cut it in small pieces.
13. Take a large tortilla and add shredded cheese to it.
14. Put the tortilla with cheese on medium-size skillet and place it on stove on medium-heat
15. When you see the cheese melting, add the chicken pieces and fold the tortilla in half.
16. Grill the tortilla with the chicken and cheese in it for a few minutes.
17. Once done, put it on plate and cut tortilla into a few pieces. Add hot sauce on top with some sour cream.
18. Enjoy.