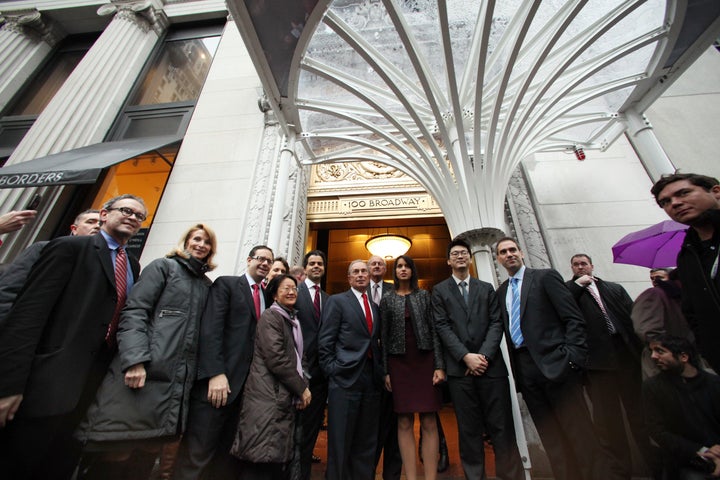 Mayor Bloomberg unveiled the first model of "Urban Umbrella," a beautiful new design for the city's scaffolding structures, in Lower Manhattan on Wednesday.
The design was the winner of the urbanSHED competition which sought to revamp the city's current scaffolding designed more than 60 years ago. Project Engineer Sarrah Khan, Architect Andres Cortes, and Designer Young Hwan Choi who all helped bring the structure to life were also present for Wednesday's unveiling.
Buildings Commissioner Robert Limandri praised the new structure for both its aesthetic design and safety:
This prototype is safer and more pleasing to the eye than the current model, and we expect many property owners will take advantage of this new design during their construction operations. The sidewalk shed is critical to ensuring public safety in such a dense, urban environment like New York, but for too many years, it has become an eyesore for New Yorkers. The Urban Umbrella is the solution to that problem."

The Times reported that although the use of the new design will not be mandatory, the city believed that many buildings would opt to do so because of lower maintenance costs and more inviting aesthetics.