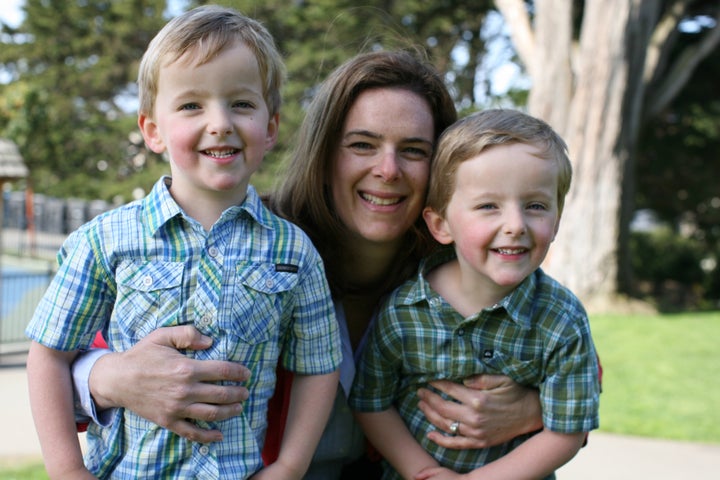 When the babysitter calls out sick, even the best dinner reservation in town quickly becomes worthless. For entrepreneur Lynn Perkins, that was not just her experience as a mother -- it was an "ah-ha" moment.
"You can book a table in 30 seconds, but not a sitter" recalled Perkins, now the founder and CEO of UrbanSitter.com, a San Francisco-based startup that helps parents and sitters connect online. "I felt the whole thing could be more efficient."
In October 2011, Perkins launched a parent-sitter matchmaking app to make finding a babysitter easier for parents. UrbanSitter is now available in 15 cities nationwide and was valued at $20 million by investors last fall. To say it's made securing childcare more efficient is an understatement: The average time it takes for a sitter to respond to an available job is between three and four minutes, Perkins said.
Yet for any would-be entrepreneur hoping to build a tech startup out of a flash of inspiration, the UrbanSitter story shows that success is as much about timing as it is about the founder's experience and passion.
By the fall of 2010, when Perkins hatched the UrbanSitter idea, smartphone apps, online payments and social media sites like Facebook had taken off in popularity. Advances in the tech world helped Perkins give shape to her product, which relies on all these elements: The app allows for instantaneous matchmaking, while required Facebook logins allow parents to see which of their friends are also using the service. Although anyone can post a profile as a sitter, the app helps with scheduling interviews, and provides recommendations made by other families as a safety measure.
Perkins's own work experience was key to her success as well: She had more than a decade of consumer-facing experience in both the corporate world and at startups. That gave her investors confidence.
Today, the 39-year-old Perkins has built UrbanSitter into a company with a staff of eight and received two rounds of funding -- all while also raising her twin boys. Perkins is now pregnant with her third child. "I would say that doing this while I am juggling family makes me prioritize more," she said.
And investors have agreed. Even as Silicon Valley maintains a reputation of being a "boy's club" that disfavors female tech founders, Perkins has disabused the notion. She points to her successful raising of $6 million in venture capital funding last fall even as she announced her pregnancy as evidence that Silicon Valley is more about ideas than gender.
If anything worries her at all, it is the female culture within the tech space, Perkins said. Yahoo's CEO Marissa Mayer famously worked through her maternity leave last fall. "I hope people who are setting the pace on female side show that a work-life balance is OK," said Perkins, who, like Mayer, graduated from Stanford University.
While UrbanSitter could be characterized as both an service provider and an online community, it is still a tech company at its heart. The product's ease-of-use has increased its user base among dads as well as moms. With online booking and even online payments, the tech app has helped reduce the potential awkwardness that comes when you have a 40-something male interacting with a 20-something female, Perkins said. "Now, it's a business transaction."
The company currently makes money off credit card transaction fees when parents pay sitters online by credit card. It plans to move to a subscription service soon, Perkins said.
In some ways, using the UrbanSitter app can still feel a bit like cruising for a Saturday night date on OKCupid: Parents can instantly browse hundreds of sitters, scanning qualifications like languages spoken and whether they know CPR, and post jobs. Sitters post availability and smiling profiles, and can easily snag new jobs that fit their schedules. There are around 75,000 people registered on the site.
But just like online dating, some parents are hesitant to make the leap from word-of-mouth recommendations to digital hookups. "I need for a friend or someone I know personally to recommend them," said Dorothy Robinson Scott, 32, who works full-time and has an eight-month-old son.
"That being said, I'd probably use it in a pinch. And pinches happen often."
REAL LIFE. REAL NEWS. REAL VOICES.
Help us tell more of the stories that matter from voices that too often remain unheard.
BEFORE YOU GO
PHOTO GALLERY
Worst Advice Given To Women In Tech