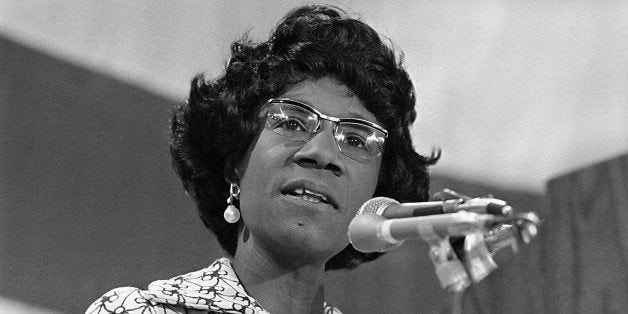 Today would have marked the 91st birthday of an American trailblazer. Congresswoman Shirley Chisholm (D-NY) approached public service with unmatched zeal and urgency. She became the first Black woman elected to the U.S. Congress in 1968, and the first Black person and first woman to win delegate votes at a major party presidential convention in 1972.
Paving the way for those after her by running for and winning elected office is only part of Chisholm's legacy. As a legislator and educator, she challenged the status quo and advocated for policies that would improve the well-being of the country's most vulnerable populations. Shirley Chisholm both recognized and embodied the difference women make in politics.
She once said, "At present, our country needs women's idealism and determination, perhaps more in politics than anywhere else." This statement rings true today, as Black women remain on the front lines for social progress in the 21st century. Black women -- both in and out of elected office, from the streets of Ferguson to the Baltimore courts and the South Carolina state capital -- have advocated and agitated for social change that addresses the disempowerment of the Black community and the invisibility of women there.
Those voices, like Chisholm's, are needed in government and at the ballot box, and the 2016 election provides the next major opportunity to harness and expand Black women's political power.
Black women made some notable gains in the 2014 elections, representing one-fifth of new Democrats, nearly one-third of new women, and five of six new Black members -- including delegates -- elected to the 114th Congress in November 2014. However, according to our latest report -- Voices, Votes, and Leadership: The Status of Black Women in American Politics -- Black women, who are 7.4 percent percent of the U.S. population, remain just 3.4 percent of Congress, less than 1 percent of statewide elected executive officials, 3.5 percent of state legislators, and 1.9 percent of mayors in cities with populations over 30,000.
Historically, only 35 Black women from 15 states have ever served in the U.S. Congress, only 10 Black women from 9 states have ever served in statewide elected executive offices, and three states have still never elected a Black woman to their state legislature.
While these numbers may seem grim, the rise in Black women's political representation is both recent and steady, demonstrating great potential for growth. In fact, since 1994, the growth in Black state legislators can be wholly attributed to Black women. Of the 10 Black women who have served in statewide elected executive office, all but one has entered since 1993. And 28 -- or 80 percent -- of the 35 Black women who have served in Congress have entered since 1993.
In 2016, Black women have already announced candidacies for competitive congressional and statewide offices, including the U.S. Senate -- where any Black woman elected would become only the second Black woman ever to serve and the first to serve in 17 years, in addition to joining the only woman of color currently serving there, Senator Mazie Hirono (D-HI).
Black women are not only poised to expand their power on the ballot, but must also leverage their power at the ballot box. Black women have registered and voted at higher rates than their male counterparts in every election since 1998. Moreover, they surpassed all other race and gender subgroups in voter turnout in 2008 and 2012.
As the most reliable Democratic voters in the past two presidential elections, Black women are an essential part of the winning coalition that any Democratic candidate will need to win in 2016. Harnessing that power by turning out the vote and tying those votes to policy demands and priorities can ensure than Black women's voices will not only be heard, but will move further to the center of today's political debates.
In her 1970 memoir Unbought and Unbossed, Shirley Chisholm emphasized the potential for making positive social change, writing, "I don't measure America by its achievement, but by its potential. There are still many things that we haven't tried ... to change the way our present system operates."
Included among those things are identifying new leaders and mobilizing a diverse electorate. She explains:
We need men and women who have far greater abilities and far broader appeal than I will ever have, but who have my kind of independence -- who will dare to declare that they are free of the old ways that have led us wrong, and who owe nothing to the traditional concentrations of capital and power that have subverted this nation's ideals. Such leaders must be found. But they will not be found as much as they will be created, by an electorate that has become ready to demand that it control its own destiny. There must be a new coalition of all Americans -- black, white, red, yellow and brown, rich and poor -- who are no longer willing to allow their rights as human beings to be infringed upon by anyone else, for any reason. We must join together to insist that this nation deliver on the promise it made, nearly 200 years ago, that every man be allowed to be a man. I feel an incredible urgency that we must do it now. If time has not run out, it is surely ominously short.
The urgency that Chisholm felt in 1970 resonates strongly today. But so, too, does her optimism for a better future. Empowering Black women in politics provides one route toward that better future.
Calling all HuffPost superfans!
Sign up for membership to become a founding member and help shape HuffPost's next chapter