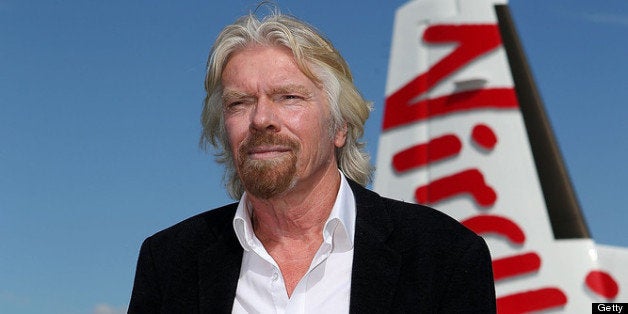 The best prizes at nonprofit auctions typically go to the biggest bidders. A recently launched fundraising platform, however, is democratizing the system.
The Urgency Network is making it possible for do-gooders to shake hands with Richard Branson, chill with Linkin Park at a festival, or even hang out backstage with Paul McCartney by being a social good advocate.
Participants on the site who sign campaign petitions, watch informational videos, share social media posts, and of course donate have chances to make a big impact while also winning sweet prizes.
Brandon Deroche, the co-founder of the Urgency Network, breaks down how the site, which launched this past week, works.
"It's a modern-day consumerism version of instant karma," he wrote in a Huffington Post blog entry. "The more impact you create, the more you earn. As your points rack up, redeem them for things like festival tickets, merchandise, memorabilia and completely ridiculous experiences."
With the help of the grand prize celebrities, the Urgency Network is working to raise funds and awareness for three important environmental and social causes.
Users who want to meet McCartney and also help maintain a healthy frozen North can use the site to spread awareness about Greenpeace's Save The Arctic project. This campaign aims to stop oil corporations from working in the Arctic.
The Urgency Network is also sponsoring the Carbon War Room's Ten Island Renewable Challenge to help island countries transition off of fossil fuels and develop renewable energy models. Those who participate in this initiative have a chance to meet business mogul Richard Branson in Manhattan.
Linkin Park decided to team up with the fundraising platform to support Music For Relief's Power The World, an initiative that aims to develop sustainable clean energy projects for energy poor regions.
McCartney, Branson, and Linkin Park have all tweeted to support their various Urgency Network-sponsored causes.
The site plans to feature several more campaigns and prizes soon, Deroche told The Huffington Post.
The raffles for meeting Linkin Park and Paul McCartney end on August 1 while the chance to meet Richard Branson ends on September 10.
REAL LIFE. REAL NEWS. REAL VOICES.
Help us tell more of the stories that matter from voices that too often remain unheard.
BEFORE YOU GO
PHOTO GALLERY
Richard Branson's Stewardess Getup