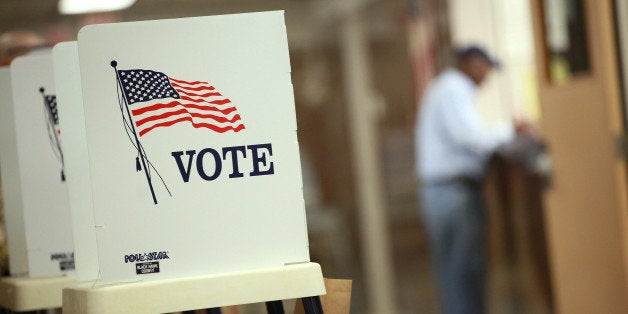 Over the weekend I read a piece in The New York Times titled "Black Vote Seen as Last Hope for Democrats to Hold Senate." In short, the black vote can swing elections in key states and ultimately decide which direction the nation will go. As I've toured six states in the last three weeks, I've witnessed a perceptible lack of enthusiasm among black voters, largely because there's a disconnect between voting and what we are concerned about. With continued officer-involved shootings, attempts at voter suppression, and ongoing racial and economic disparities, it is easy to push voting to the side. But it is precisely because of tragedies like the deaths of young Michael Brown in Ferguson and Eric Garner in Staten Island, and because of an unequal educational and employment system, that we need to show up at the polls now more than ever. Even though at times we may feel as if the cards are stacked just too high against us, we must remember how much power we truly have. The black vote can literally dictate the course of this country, and that's exactly why so many are trying to stop us from getting to the voting booth this November.
We are now more than three months since police used an illegal chokehold on Eric Garner, a father of six, in Staten Island. The horrific incident was captured on videotape and went viral across the country and around the world. National Action Network (NAN) and I led thousands in rallies demanding justice for Garner and his family. We continue to host vigils and marches pushing for an arrest of the officer(s) involved, or for federal intervention to take over the case. We have yet to see either come to fruition.
At the same time in Ferguson, it is now over two months since the death of Michael Brown. Over the weekend we saw published reports that Darren Wilson, the officer accused of shooting and killing the 18-year-old, is now claiming that he killed Brown because he allegedly feared for his life, but the only gun at that scene was Wilson's. NAN and I also led rallies in Ferguson demanding that Wilson be arrested and/or that federal authorities take over the case. When I was there, I did a eulogy for the young man, and at the end of the month, we will be leading a four-day rally in Ferguson, as we have yet to see a hint of justice for the Brown family.
There is a strange, troubling parallel between the claims made by Officer Wilson and those made by George Zimmerman in the Trayvon Martin case, Michael Dunn (who was just sentenced to life for murdering a Florida teen over loud music) and Officer Daniel Pantaleo in the Garner case: They all claim that they were somehow in fear for their lives when the only gun present was the one in their hands. It is a peculiar fear that has been directed toward the black community, and especially toward young black men, for far too long. From racial profiling and being pulled over just for "driving while black" to this new phenomenon of killing unarmed people out of some preconceived idea of fear, our lives and our children's lives are not being valued. It is up to us to change laws on the books like "Stand Your Ground" laws and push elected officials to enact regulations that hold police officers to the same standards as the rest of society. This is why we vote.
A few days ago the Supreme Court ruled that Texas could indeed proceed with draconian voter-ID requirements despite the fact that many, including Justice Ruth Bader Ginsburg, have called the law discriminatory and compared it to a poll tax. Justice Ginsburg wrote a scathing, six-page dissent on the decision and said this voter-ID requirement risks denying the right to vote to hundreds of thousands of eligible voters. Early voting for the midterms begins today in Texas, and unfortunately many minority, elderly, poor and young voters will be disenfranchised from the process yet again.
In an era of so many police-involved shootings, attempts at blocking our vote and continued institutional racial divides in many areas, including housing, employment and education, it is easy to become disillusioned. But we must remember that the only way to change things is to change things. Everything from who sits on your local board of education to the prosecutors and judicial appointments in your area and much more are all impacted by who holds political office. The power rests in our hands this November.
If the black vote does not come out in big numbers in the age of Ferguson and voter ID, it will empower our adversaries and enhance our marginalization. We cannot be distracted by professional anarchists on the left or cynics on the right who would deter us from channeling our justified outrage and anger into concrete measures for progress and change. Despite voter-suppression tactics in 2012, black voters outvoted whites, percentage-wise; let's do that once again.
As we continue to peacefully march with our hands up and our resolve unshaken, we must go to the polls and show that we're mad enough to make change. That is the fierce urgency of now.
Popular in the Community