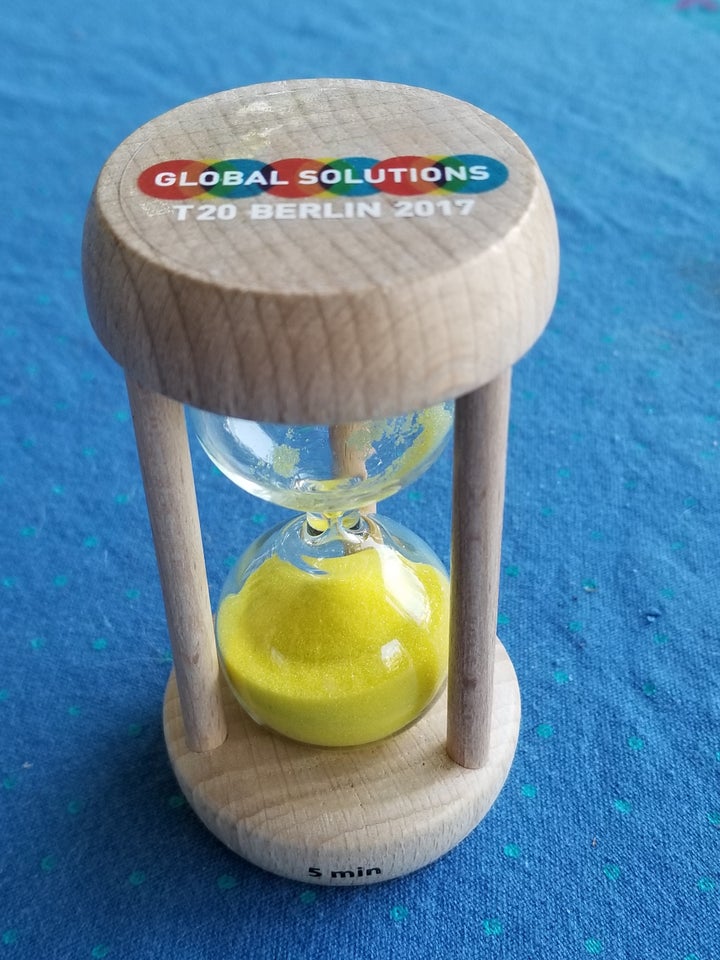 There's a palpable sense of urgency as leaders of the world's largest economies prepare to meet in Hamburg, Germany early next month for the G20.
The oddly named G20 is an odd entity, formed in 2008 to address world economic challenges. It includes in fact 19 countries with some 35 participants around the table (transnational organizations like the EU, IMF, and UN also attend). The G20 has no continuing secretariat and leadership moves with a rotating country leadership. Informality is almost a mantra, and the exclusion of most country leaders is justified by a desire to limit the group to a size where personal engagement is feasible. Last year China was in the lead, next year Argentina, and this year Germany.
There's no avoiding the fact that the leaders who gather as the G20 represent a powerhouse. And in these troubled, turbulent times Hamburg is a focal point. The G20's initial focus on economic matters has broadened to include a wide agenda, from climate change to forced migration and the welfare of Africa. So in effect it amounts to a special global summit.
This week saw the culmination of the T20 engagement process in an ambitious summit in Berlin. Its leaders portrayed the effort as an intellectual winnowing of the wisest and most demanding solutions for world problems. Distilled solutions were handed to the German G20 sherpa, the widely used term for those charged with preparing the G20 event itself.
The Berlin summit was an impressive affair, featuring Nobel economics laureates, a flock of bright young people, business leaders, and representatives of a rich array of think tanks who had prepared solutions briefs chock full of ideas and, perhaps, dreams. Hour-glass emblems adorned tables at the conference dinner, and interventions were strictly and visibly timed (with an audible cough for anyone who dared to speak too long), epitomizing the sense of urgency.
The state and fate of economies was central but so was unease about social issues. Donald Trump was a large elephant in the room. Jeffrey Sachs delivered a blistering critique of US politics to loud applause, and others were not shy in pointing to both causes and consequences of populist sentiment and voter anger. Among the solution themes was the need to focus on narrative. That means above all conveying ideas in ways that resonate, but at least to a degree the narrative argument also was understood as an imperative to listen and to hear different and discordant voices.
The T20 organizers invited two groups to focus on religious perspectives across the G20 agenda. One goal was to counter the narrative that links religion to violence. Another was to introduce the thoughtful ideas and extensive action of religious actors on G20 agendas. Perhaps these religious ideas could contribute to a new moral commitment to the common good and a compassion for the suffering that many undergo.
The first brief focused on a specific dimension of the critical global challenges of forced migration and humanitarian response: refugee resettlement above all in G20 countries. Drawing on a remarkable range of experience with advocacy and direct action, it highlights areas where leadership and action by G20 leaders is vital, starting with recognition of religious actors as critical partners. The second highlighted the gravity and urgency of the famine emergency that the UN has declared for Nigeria, South Sudan, Somalia, and Yemen. Again, religious actors have a compelling role as advocates for action but they also bring rich experience of direct involvement through transnational faith-inspired organizations, cooperation with organizations like the World Food Programme, and community action through churches, mosques, temples and the like.
Religious actors aspire to a continuing engagement in the G20 process and both ideas and roles will be the subject of an interfaith summit at Potsdam in mid-June. Among the groups that contribute to the global dialogue that the G20 inspires, an F20 (faith) or R20 (religion) could help ensure that vital human and ethical issues are always part of discussions.
Related
Popular in the Community