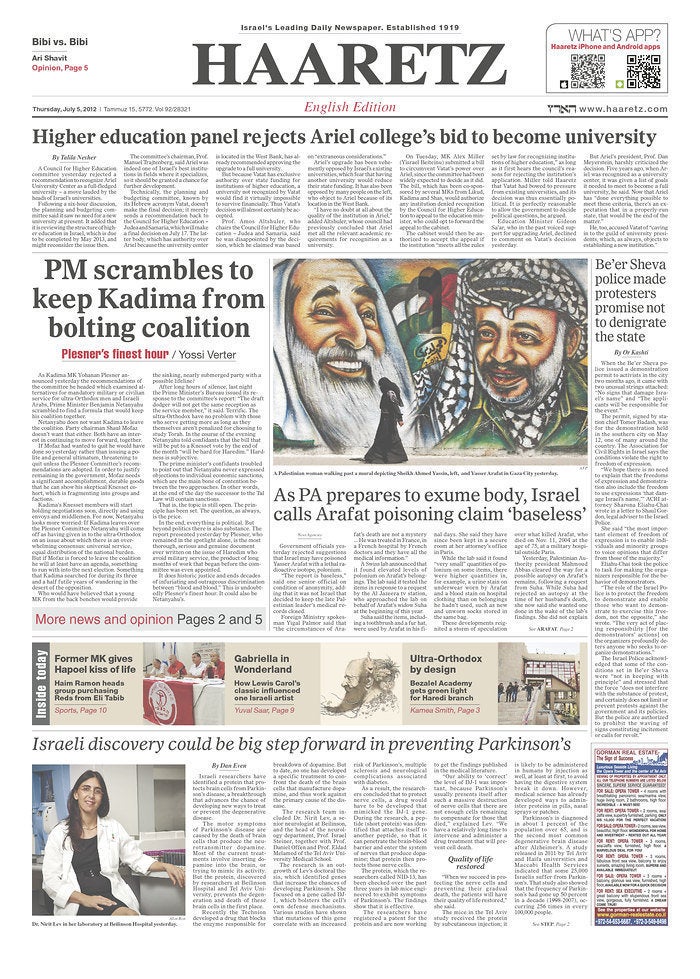 JERUSALEM, July 5 (Reuters) - An Israeli journalist who drew on leaked army documents to report the alleged assassination of Palestinian militants, prompting a prosecution and debate about press freedom, was spared jail time in a plea bargain on Thursday.
Uri Blau of the liberal Haaretz newspaper will do four months' community service after confessing to reduced charges of possessing classified information without authorisation but "with no intent to harm national security", Israel's State Attorney's Office said in a statement.
Prosecutors had earlier stated Blau could face more serious espionage charges. That provoked protests from journalists who argued Israel's reputation for media freedom was at stake.
Blau reported in 2008 that top army officers in the occupied West Bank had given shoot-to-kill orders to troops chasing Palestinian gunmen, in a possible violation of Israeli law.
The front-page story was based on documents given to Blau by former army conscript Anat Kamm, who had downloaded them, and hundreds of others, from her computer while a clerk with the military's high command. Kamm was jailed for 4-1/2 years in October under a separate plea bargain.
Human rights groups have criticised Israel's policy of assassinating militant leaders since the early days of the last Palestinian uprising in 2000, especially when civilians were also killed. Israel has justified the practice as necessary to combat and deter potential attackers, while saying it has refined its methods to kill its targets more precisely.
Haaretz said charging Blau was "unfortunate and sets a precedent in terms of its ramifications on the freedom of press in Israel, and especially on the ability to cover the security apparatus". Other Israeli journalists echoed the condemnation.
The State Attorney's Office said that while it recognised the media's role as "crucial guarantor of the public's right to know", Blau deserved punishment given the "huge" security risk posed by the documents leaked to him, some of which were classified top-secret.
Blau's plea bargain is subject to formal approval by Tel Aviv District Court. (Writing by Dan Williams; Editing by Alessandra Rizzo)