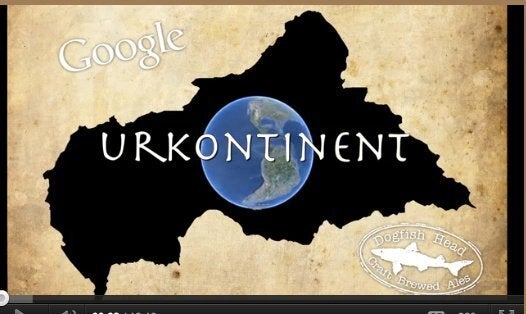 An unlikely partnership between search giant Google and craft beer pioneer Dogfish Head has culminated in a limited-edition beer called URKontinent. Named after the original supercontinent thought to pre-date Pangaea, the collaboration conveniently exploited a broad swath of Google's products suite, starting with surverying thousands of Google employees around the world on what they'd like to see in a Dogfish Head-Google beer. A smaller team from Google then worked with Dogfish Head to refine the concept for the beer, create the recipe, track down the assortment of obscure ingredients they had settled on and ultimately brew it.
They ended up with a Belgian Dubbel-style beer with additional ingredients proposed by Googlers, like chocolate malts and Belgian dark candi syrup, wattleseed from Australia, amaranth from South America, green rooibos from Africa and myrica gale from Europe. Fortunately, they made a short documentary on the project that explains the whole thing:
Dogfish Head's...head, Sam Calagione, who has previously spoken at Google, touted the then-upcoming collaboration at a recent event for his book at another Dogfish Head partner, Eataly's rooftop restaurant-brewery Birreria. URKontinent is, in his words, "a valentine to boot-strapping creative entrepreneurs in all kinds of industries all over the world."
URKontinent won't be bottled soon, but attendees of this week's Great American Beer Festival in Denver should be able to try it in draft form and it will be available for a limited time at the Dogfish Head Brewery in Rehoboth Beach, Delaware.

Related