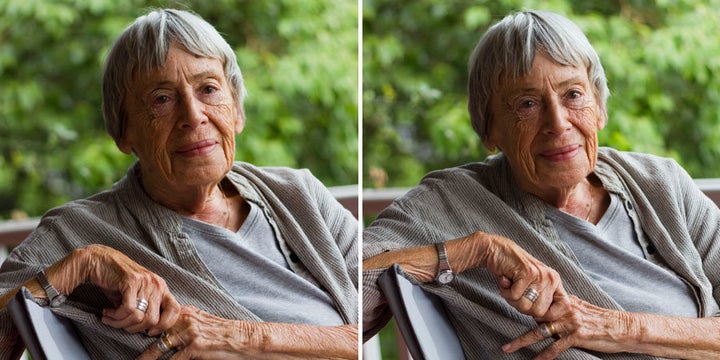 On the evening of April 19, 2003, in a banquet hall inside Philadelphia's Radisson-Warwick Plaza Hotel, a dozen or so dinner guests, masks in hand, waited for their cue.
Each had infiltrated a different table at that year's Nebula Awards ceremony, otherwise populated by unsuspecting members of the Science Fiction and Fantasy Writers of America, or the SFWA. That night, the great Ursula K. Le Guin was being feted in absentia as the second woman ever to receive the Grand Master title, given out annually (with few exceptions) by the SFWA since 1975.
The interlopers had a plan, but they'd have to wait in secret for the announcement of the Grand Master Award before they raised their masks — cutouts of the author's face — and revealed something sort of wonderful: Ursula K. Le Guin everywhere.
Eileen Gunn, a friend and fellow sci-fi writer, was accepting the award on Le Guin's behalf. The pranksters' cue was a phrase in her speech, "You can ask your Ursula anything," and their brief was to engage attendees in conversation, in the character of Le Guin. It was as if not one person was being honored, but a dozen Le Guins. A dozen women. As if science fiction itself were in a dialogue with them all. That night, in its generosity and provocation, was the summa of a career that was a brilliant mixture of both.
The award "was a big deal," Gunn told HuffPost on Tuesday. The lifetime achievement honor arrived 19 years after the SFWA had recognized "Witch World" author Andre Norton, otherwise known as Alice Mary Norton, as Grand Master. Only four other women have been named Grand Master since Le Guin. The rest of the exalted are men; your Arthurs, Isaacs and Rays.
Le Guin's absence wasn't in protest, though you'd have reason to think otherwise. Le Guin, who died Tuesday at her home in Portland, Oregon, was a brawler, particularly on the subject of her work. The "Earthsea" novelist was known to break out in verbal fisticuffs when she felt boxed into a genre. "I don't want to be reduced to being 'the sci-fi writer,'" she told The New York Times in 2016. "People are always trying to push me off the literary scene, and to hell with it." More than that, she was acutely aware of the gender imbalance in a genre like sci-fi. In 1987, she brazenly refused to support an all-male anthology, writing, "I cannot imagine myself blurbing a book ... which not only contains no writing by women, but the tone of which is so self-contentedly, exclusively male, like a club, or a locker room."
No, Le Guin couldn't receive her award because she was on a cruise.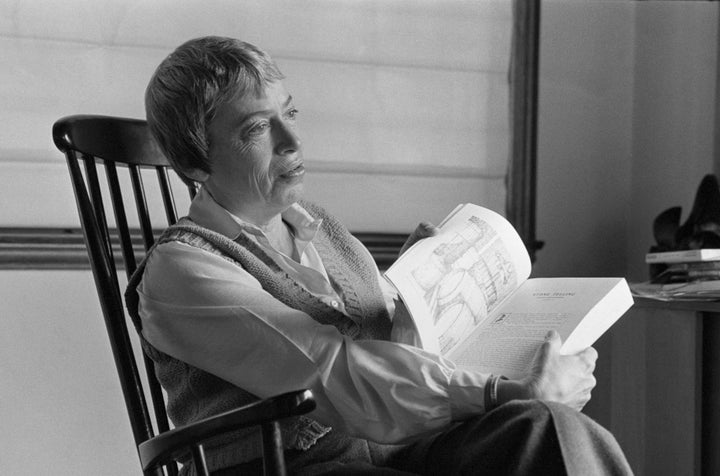 "Ursula and her husband Charles had previously scheduled a trip with friends that could not be canceled, and the award ceremony could not be rescheduled," Gunn told HuffPost on Tuesday. "So she asked me to accept the award for her."
On command, Gunn arrived at the Radisson-Warwick with a letter in one hand and a dozen or so masks on sticks in the other. With Le Guin's permission and assistance, Gunn took the stage that night and explained to a crowd of SFWA members that their newly crowned Master was "hobnobbing with blue-footed boobies at the Panama Canal" and thus would be represented at the Nebula Awards banquet by a group of proxies who were "ready to chat and have a good time."
Their cue finally came. "You can ask your Ursula anything," Gunn finally proclaimed. The anxious pranksters obediently raised their masks and sat at the ready. They'd been encouraged "to make up whatever answers they wanted," and they eagerly obliged.
Gunn proceeded to deliver a prepared script, an acceptance speech loaded with, as she described them, "a series of savvy (and slightly barbed) in-jokes about SFWA politics of 2003." Then she got to the good part. Speaking as Le Guin, Gunn read:
Recognizing the fact that there is a certain gender anomaly in making a female person a Grand or any other kind of Master (although I grant you that Grand Mistress sounds even more anomalous), and also recognizing the fact that few Grand Masters are female persons ― two, to be exact, as of tonight ― in order to adjust this imbalance, it is hereby decreed by me, Grand Master Ursie, that henceforth Grand Masters will appear at public functions in appropriately gender-anomalous clothing, that is: for the gentlemen, a low-cut evening gown, with a modest tiara; for the ladies, a dark suit, white shirt, and SFWA necktie.
"I was at the very first Nebula banquet, a century or two ago, I wish I could be at this one," Le Guin concluded her letter. "Please, everybody, have a ball!"
Le Guin had a knack for publicly indicting the conventions of her time, sometimes jokingly, sometimes not. She did so in speeches, letters and interviews up until her death. And she did so in her fiction. Her Nebula-winning 1969 novel, The Left Hand of Darkness, follows an earthling sent on a diplomatic mission to a planet inhabited by "ambisexual" creatures with no fixed gender. It was a messy thought experiment in deconstructing identities, which she followed up, in sharper terms, by means of an offshoot story called "Coming of Age in Karhide" in 1995. She said she resurrected her Gethenians because she wanted to say in the '90s, in the face of third-wave feminism, what she couldn't say in the '60s.
"I was a kind of slow-developing feminist," Le Guin told HuffPost in 2015. "There were a lot of people ahead of me in writing feminist fiction. But I did catch up slowly, and thoroughly. It's not a matter of feminists waving some sort of banner, it's just restoring a balance to fiction that was missing. Fiction was pretty thoroughly male, and male-centered. That's like hopping along on one foot. I'd rather walk with both feet."
Le Guin worried about the role of women fiction writers throughout her career — how their work was received and how their legacy would live on. "The prizes go predominantly to men, even when the juries are women," she said in the same interview. "So it's just my general worry, about all women writers, including myself. We go along happily in our lifetime, and then, poof! All of a sudden we have to be dug out by feminists 50 years later."
Le Guin leaves behind more than 20 novels, 100 short stories, a series of children's books and multiple collections of poetry and essays. Though many of her friends and admirers felt she deserved a shot at the Nobel Prize in Literature ― a surefire way for an author to cement her place in history ― Le Guin never quite made the cut. She did, however, get that Grand Master title. And it's unlikely anyone will forget that Nebula Award ceremony anytime soon.
"Her body of work is huge and varied, and reveals more of her than it's possible to get from any one person in conversation" Gunn said. "Any determined reader can have a complex relationship with Ursula, can argue with her, can experience her wide-ranging intelligence and varied moods and passions. She's still out there, she didn't vanish. Go to her." You can ask your Ursula anything.
Popular in the Community