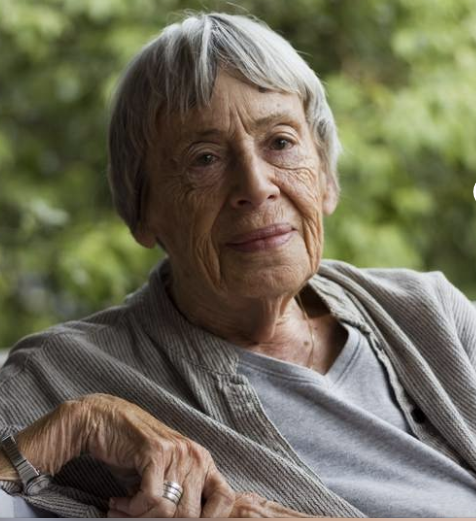 Last year The New Yorker zeroed in on the natural hazards of our coast in Kathryn Schulz's "The earthquake that will devastate the Pacific Northwest."
Maybe it is appropriate that the magazine, in their Oct. 17 issue, now focuses not on a force of nature, but a voice for humanity. "The Fantastic Ursula K. Le Guin" by Lisa Phillips offers an intimate portrayal of one of the only living authors — with Philip Roth — in the Library of America series.
Le Guin first enchanted readers in the 1960s and never stopped. Among the most honored of America's authors, she lives in Portland and Cannon Beach.
"We believe she is one of America's finest authors and a bold and honest voice in the entire field of literature," Cannon Beach Book Co.'s co-owner Maureen Dooley-Sroufe said this week.
A request for Ursula K. LeGuin's writing results in a "walking tour" of the store.
"We start in science-fiction/fantasy, head over to children's books, on to poetry, then to essays and finally Pacific Northwest Regional books," Dooley-Sroufe said. "Ursula K. Le Guin is the only author whose books we feature in this way — it reflects the great diversity and breadth of her work.
"She is a part-time resident of Cannon Beach, and we delight in knowing that she may be writing, relaxing or strolling to the beach right now," Dooley-Sroufe added.
Watt Childress, co-owner of Jupiter's Rare & Used Books, praised Le Guin in an interview with the Cannon Beach Gazette.
Le Guin's work, Childress said, "rises to the level of epic myth that burrows deeply into our consciousness. … She speaks from a place and a position that commands respect."
Le Guin's books are magical, not necessarily cheerful hocus-pocus, but with cloudy edges teased into being by a prankish wizard.
In "Unlocking the Air," the author warns: "There is no 'after' in 'happily ever after.'"
But "after" is what Le Guin pursues, our ability to reinvent, recreate ourselves: "We can tell the story over, we can tell the story till we get it right."
In The New Yorker's profile, Phillips draws a biographical arc describing a young Le Guin as an outsider uncomfortable with the cultural cliques of the 1950s and '60s, "never at home with establishments of any kind."
As a young writer, Le Guin acutely felt the closed society of both literary and male-dominated elites, each to stymy her and then shape her own genre-defining path.
A frustrating period of rejections gave way to a venture into a new genre.
"I just didn't know what to do with my stuff until I stumbled into science fiction and fantasy," Le Guin tells Phillips. "And then, of course, they knew what to do with it."
The author's success was immediate. Science fiction opened Le Guin up to writing not only about aliens, but from "alien" points of view: "composing the political manifesto of an ant, wondering what it would be like if humans had the seasonal sexuality of birds, imagining love in a society in which a marriage involves four people."
The author, through her characters was questioning and redefining the modern gender experience.
Le Guin slings wicked puns, to wit, her short story title "Ether, OR: For the Narrative Americans."
The story, like a significant part of her work, pays homage to the state where her great-grandfather arrived from California in 1873.
And who could be more of an archetypal Oregonian superhero than George Orr, the man who can stop an earthquake, in "The Lathe of Heaven"?
When on the coast, Le Guin tells The New Yorker, she "does the stupid, ordinary stuff that has to be done that you can't let go." That also includes participation in local literary activities, including the 2013 program "Get Lit at the Beach."
For a glimpse behind the front door, visit Le Guin's blog, where she provides rants, cat photos, poetry, even rules of the game "Fibble," where "the only words allowed are words that (so far as anybody there knows) do not exist."
"Doing fine but not doing very much," Le Guin posted in September.
A late October health update (Le Guin suffers from a congenital heart murmur that landed her in the hospital): "Can't hang from branches yet, but am real good at moving slo o o w w l y …"
We don't often think of courage as a literary trait — Le Guin reminds us otherwise.
"The measure of a civilization may be the individual's ability to speak the truth," Le Guin proclaimed in the 1976 essay "Language of the Night."
Le Guin encourages us to be masters of our own destiny, like Orr, whose dreams can alter reality.
Le Guin celebrates the power of imagination and the individual's freedom to express it.
"Don't worry about control! Freedom is what you're working toward!" she writes.
The unconscious mind is "the wellspring of health, imagination, creativity," to be expressed freely and without restraint.
The author's voice resonated in a passionate speech at the 2014 National Book Awards: "Right now, I think we need writers who know the difference between production of a market commodity and the practice of an art," Le Guin said. "We'll need writers who can remember freedom — poets, visionaries — realists of a larger reality."
In an age of self-censorship and media-bashing from right and left, Le Guin provides inspiration for the creative voice in all of us.
"We believe she is one of America's finest authors and a bold and honest voice in the entire field of literature," Dooley-Sroufe said. "Her support of authors, readers and the art of creative writing is legendary."
Sometimes politics jump from abstraction to "larger reality" in a jolting manner. Le Guin, like her characters, seems to possess the power to conjure a reality eerily similar to our own.
I wonder if I'm the only one reflecting on this chilling opening to Le Guin's "Dispossessed":
"There was a wall," Le Guin writes. "It did not look important. … But the idea was real. It was important. For seven generations there had been nothing in the world more important than that wall. Like all walls it was ambiguous, two-faced. What was inside it and what was outside it depended upon which side of it you were on."
In the most highly charged political atmosphere in history, Le Guin offers a steady vision into our world — internal and external — as timely as when she first put pen to page.
REAL LIFE. REAL NEWS. REAL VOICES.
Help us tell more of the stories that matter from voices that too often remain unheard.
This post was published on the now-closed HuffPost Contributor platform. Contributors control their own work and posted freely to our site. If you need to flag this entry as abusive,
send us an email
.