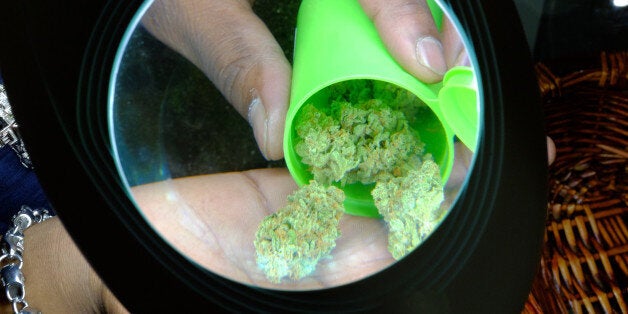 NEW YORK -- Uruguay is considering using medical marijuana to treat prison inmates addicted to a crude and cheap form of cocaine, one of the country's top health officials said Thursday at the United Nations.
The South American country made headlines last year when it became the first in the world to legalize the sale of marijuana. Now, as Uruguay prepares to implement its pioneering legislation, health leaders are considering possible uses for medical forms of marijuana -- including in prisons, where many of the incarcerated are addicted to drugs.
"Jail is not a very suitable place for someone to safely overcome drug addiction," Leonel Briozzo, the country's undersecretary for public health, said in an event at the U.N. Briozzo called for "new strategies for drug addiction treatment, especially for harder drugs like 'pasta base.' And in that sense, we harbor a possible hope that medical marijuana can play a role in this as well."
"Pasta base" -- also known as "paco" -- is cocaine base paste, a byproduct of the cocaine refining process. The cheap drug swept through Uruguay and neighboring Argentina during the 2000s, leaving public health officials struggling to control its fallout.
Research on medical marijuana's efficacy in treating addiction to other, "hard" drugs like pasta base appears limited. But other countries, such as Colombia, have begun considering projects seeking to use marijuana to treat addicts.
"The idea isn't that marijuana will substitute for what is obviously a much harder and more dangerous drug, but that marijuana can help reduce the anxieties when you go off that drug," said Coletta Youngers, an associate at the International Drug Policy Consortium.
Briozzo spoke at an event about women, drug policy and incarceration in the Americas, sponsored by Uruguay's permanent mission to the U.N. The country's president, José "Pepe" Mujica, is a former Marxist guerrilla who spent 14 years in prison. Since becoming president in 2010, he has championed drug reform efforts like legalizing marijuana.
Uruguay is not the first country in Latin America to consider using marijuana to help addicts, Youngers said, but added, "They are in a unique situation. Because of the legal markets they have much greater freedom."
With translation by Roque Planas.
Related
Popular in the Community