It was easy to miss in the United States, but newspaper front pages across the globe have been shouting about a decision on July 8 from a little-known and opaque tribunal. After more than six years of litigation, the International Centre for Investment Disputes found against Philip Morris International (PMI) in its suit against the government of Uruguay over rules on tobacco packaging. To emphasize their decision, the tribunal ordered PMI to pay most of Uruguay's legal costs.
The public health community, rightfully, is still gushing over this David-beats-Goliath victory.
Uruguay, a developing country whose GDP is dwarfed by PMI revenues, refused to back down, insisting that the health of its citizens takes precedence over corporate profits. Congratulations have filled the email inbox of Uruguayan President Tabaré Vázquez, an oncologist.
Unlike Iceland's victory over England in the Eurocup, however, the decision is much more than a feel good story in an otherwise depressing news cycle. This victory will have profound implications for the future, beyond tobacco and even beyond health policy.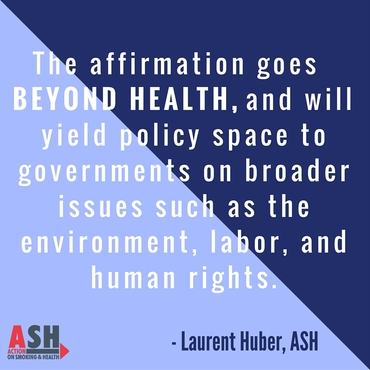 First, the Uruguay case will embolden other governments who have the political will to fight the tobacco epidemic but have been understandably circumspect about the possibility of multi-million dollar litigation. But the fact that Uruguay won is not the only positive lesson from the case. PMI and other tobacco multinationals have nearly limitless resources - they can launch cases even when they are sure they will lose.
Second, Uruguay did not stand alone. Philanthropists (especially former NYC Mayor Michael Bloomberg), civil society and academics lined up to support the government, committing both funding and in-kind help. PMI's vast resources and the power that unfortunately often seems to flow from immorality were trumped by solidarity and a confidence of being on the right side of history. David had only his sling and stone. Uruguay had a volunteer army. Mayor Bloomberg, along with the Bill and Melinda Gates Foundation, have already set up an emergency fund to support other countries who fall into Big Tobacco's cross-hairs. Those governments can count on the same army of volunteers.
More broadly, the Uruguay decision strongly affirmed the right, and indeed duty, of governments to regulate in the public interest. Tobacco is world's number one preventable killer, but there are many other health risk factors for which policy is still in its infancy. The affirmation goes beyond health, and will yield policy space to governments on broader issues such as the environment, labor, and human rights.
Finally, the Uruguay decision is a signal that the trade community finally "gets it." For decades, trade tribunals have, behind closed doors, reliably overturned public interest regulations in the interest of corporate profits, even when the regulations are not discriminatory against foreign goods or services. There have been hundreds of legal treatises about the friction between trade and investment rules on the one hand and public interest legislation on the other. This decision is a small indication that the needle may be moving in the right direction.
Trade is important and can create prosperity, but profit should not be prioritized over basic human needs.
I look forward to a trickle and then a flood of strong anti-tobacco laws in the wake of this victory. England and France have recently followed Australia and instituted standardized packaging for tobacco products. Ireland, Finland, New Zealand and others are poised to follow. All have been threatened with trade suits. It will be interesting to see how many are actually filed.
Related
Popular in the Community